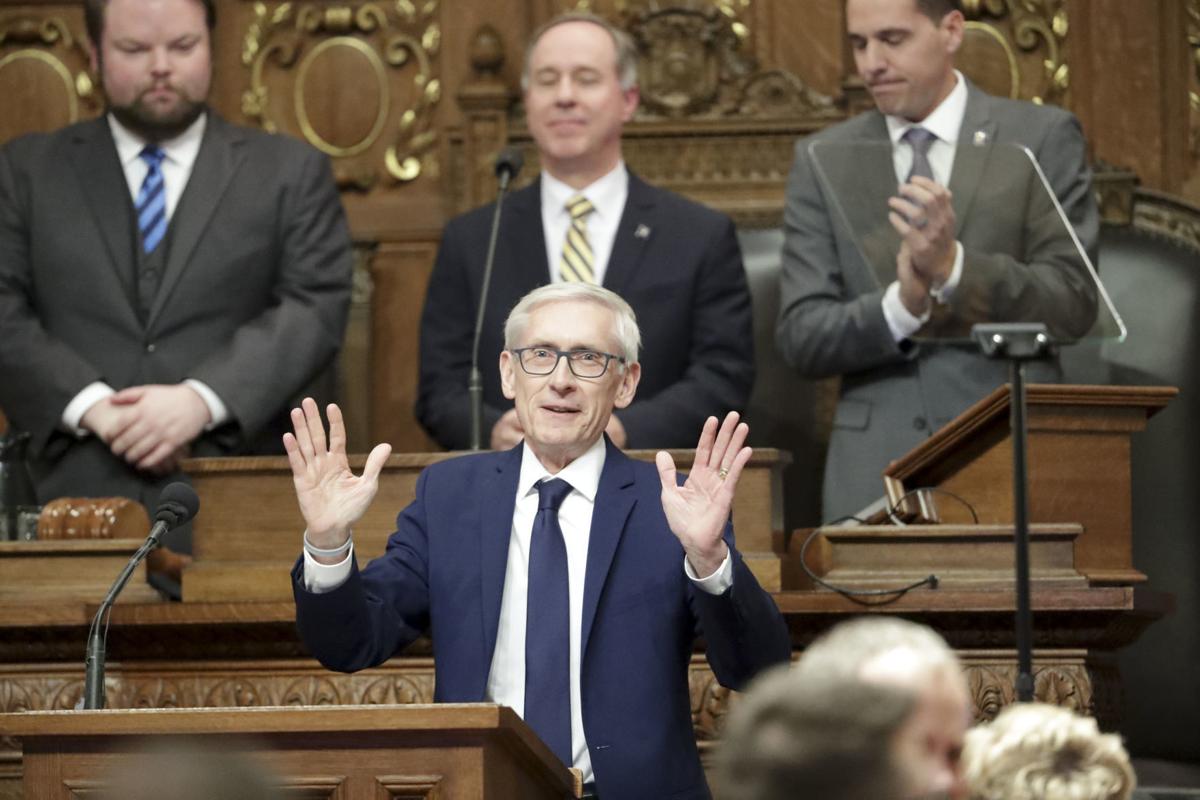 Democratic Gov. Tony Evers kicked off the state budget season Thursday with a sweeping set of proposals that would raise the state's gas tax and undo many of the changes enacted under eight years of GOP rule — eliciting wholesale rejection from Republicans who control the Legislature.
Evers' $83.5 billion budget increases total spending nearly 10 percent from his predecessor's last budget proposal and includes a barrage of measures embraced by liberals nationwide. The governor's plan also would seek to fund what Democrats have criticized as long-neglected areas, such as funding for the state's roads and public schools.
"At the end of the day, our budget is about putting people first," Evers said in a budget address Thursday night. "It's about creating a Wisconsin that works for everyone — a Wisconsin for us. This isn't the Tony Evers budget, the Democratic budget, the speaker's budget, or the Republican budget — this is the people's budget. And it's one that we crafted together."
The budget includes several measures Republican leaders have already said are non-starters, increasing the likelihood of a nasty and protracted budget battle. A finalized 2019-21 budget is due by July 1.
Republican leaders Thursday denounced Evers' plan as an "unacceptable" and "outrageous" spending increase fulfilling a liberal wish list. Republicans said they intend to ignore the governor's proposal and craft their own budget document, something they've alluded to over the past two months.
"Hold on to your hats," said Sen. Alberta Darling, R-River Hills, co-chairwoman of the state's budget-writing committee. "This is like back to the future, back to spending and taxes."
Assembly Minority Leader Gordon Hintz, D-Oshkosh, praised the governor's budget but called the provisions "placeholders," challenging Republicans to come up with meaningful solutions.
"I'm hearing a lot of criticism (from Republicans), I'm not hearing any answers," Hintz said.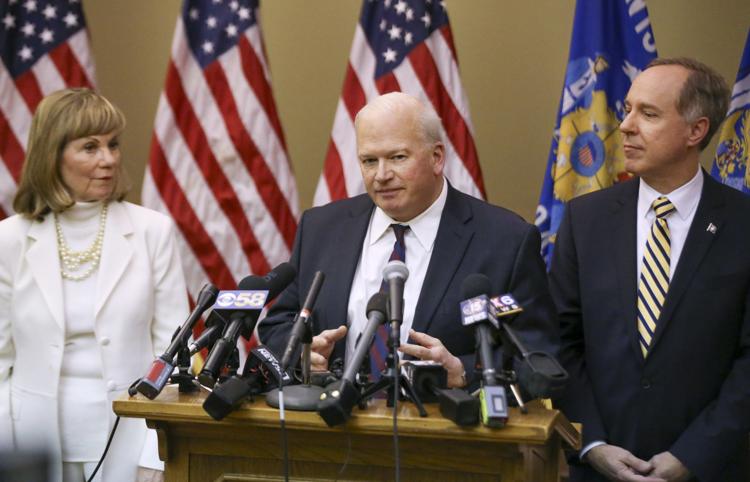 Assembly Speaker Robin Vos, R-Rochester, has previously said he'd scrap a budget built on Medicaid funding or tax increases, such as the one Evers and Democrats have already proposed to fund their middle-class tax cut.
On Thursday, Vos noted the state, due to economic growth, is already set to receive record revenue and that further tax increases are unnecessary. Vos said Republicans will instead seek to increase spending by only the amount of additional revenue the state is projected to receive if it does not increase taxes — about $1.8 billion, according to the Legislative Fiscal Bureau.
"The problem with Tony Evers' budget is it just spends too much, it spends way more than Wisconsin can afford," Vos said.
Evers' budget proposal, a document that reflects his policy priorities, seeks to increase the state's minimum wage from its current $7.25 per hour to $9 by 2021. He previously announced he would seek to decriminalize marijuana and legalize it for medical use.
At the same time it is more tempered with regard to adult corrections. Evers during the campaign called for halving the state's prison population, but absent from the proposal are major initiatives aimed at accomplishing that goal.
Gas tax increase
Evers' budget would roll back actions taken under former Republican Gov. Scott Walker by eliminating the state's so-called "right to work" law Democrats have criticized as being anti-union and would seek to restore prevailing wage laws for state and local projects to, in the governor's view, ensure workers are not underpaid relative to others. He would also roll back some work requirements championed by Republicans for Medicaid and food stamps.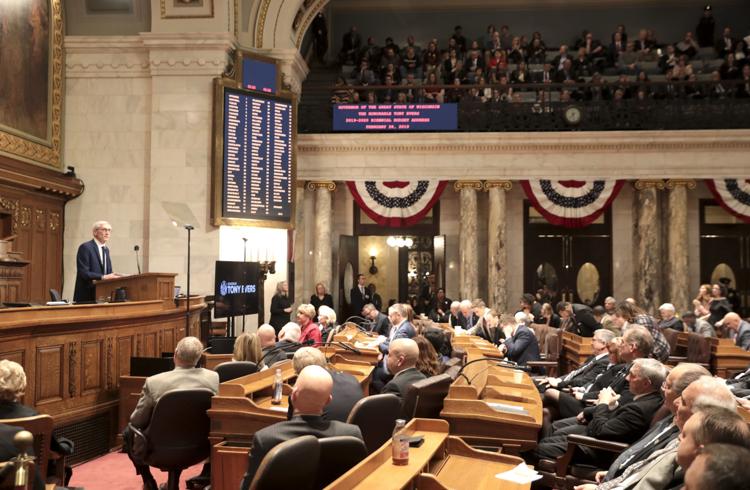 After two weeks of rolling out budget initiatives, Evers had left unanswered one big question: How would he fund the state's transportation system? On Thursday he proposed to raise the gas tax by 8 cents per gallon and simultaneously eliminate the state's minimum markup law for fuel — which bars retailers from selling gas for less than cost and also sets a minimum price markup — to provide an influx of about $608 million over the two-year budget for the state's roads.
The governor's office claims the elimination of the markup, a Progressive Era law meant to protect small locally owned companies from large price-gouging corporations, would mean drivers would actually save money: 14 cents per gallon at today's gas prices.
The transportation plan, however, would also raise the heavy vehicle registration fee and title fees, as well as impose the hybrid vehicle surcharge fee. And starting next year it would reinstate regular inflationary increases in the gas tax that were abolished in 2006.
Senate Majority Leader Scott Fitzgerald, R-Juneau, who recently said he supports tolling to fund transportation, on Thursday called the governor's proposal to repeal the minimum markup a "shell game."
Speaking to reporters after Evers' budget address, Fitzgerald said some Senate Republicans would embrace the elimination of the minimum markup law, but called the overall proposal "disingenuous" because it would be tied to a gas-tax increase.
Many Assembly Republicans had similarly proposed raising taxes on fuel while repealing the minimum markup during the 2017 budget deliberations.
Lame-duck pushback
In a move snubbing Republicans, Evers would also seek to nullify most major provisions of a law the GOP-led Legislature passed in a lame-duck session in December by restoring the attorney general's ability to settle and withdraw from lawsuits without the Legislature's approval. The move would allow Attorney General Josh Kaul to remove the state from a multi-state suit challenging the Affordable Care Act. It would also undo changes the lame-duck law made to the state's voter ID laws by generally making it easier for students to receive and use university or technical college-issued voter IDs.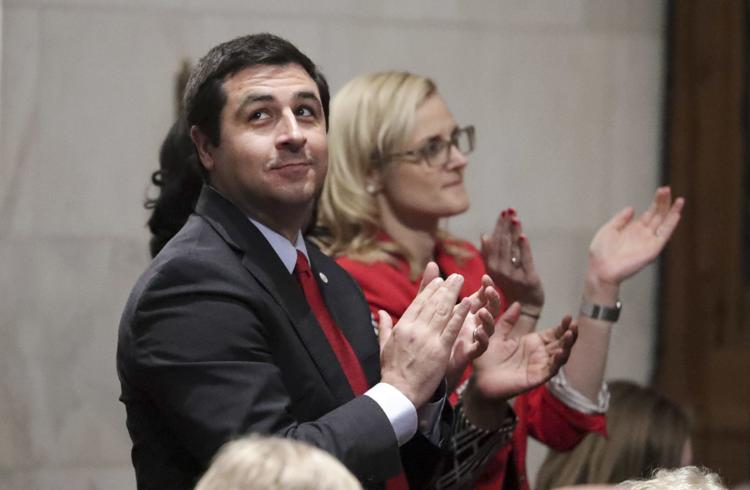 And in another proposal that Republicans derided, the governor wants to make immigrants in the country illegally eligible for driver's licenses and ID cards. The proposal also would facilitate automatic voter registration through the Department of Transportation.
The governor announced previously he would seek to take federal dollars to expand Medicaid to a now estimated 82,000 Wisconsinites, which would save the state about $325 million. On top of that, he is aiming to invest more than $100 million to increase the amount of funding hospitals receive to account for the increase in services under the expansion.
The spending increases proposed under Evers' plan, associated middle-class tax cut and the list of other proposals — about $6 billion — would be paid for by a few major general fund tax increases totaling about $551 million plus increases in the gas tax and other transportation revenue. As previously announced, Evers wants to roll back a tax credit for manufacturers that would generate about $517 million in revenue over the two-year budget cycle.
Evers additionally wants to limit a tax benefit for capital gains accrued to only those taxpayers making less than $100,000 individually or $150,000 for joint filers, generating about $505 million over the two-year budget. He is also seeking to make Wisconsin better conform with federal tax code, which is estimated to generate about $362 million over the biennium.
Get Election 2020 & Politics updates in your inbox!
Keep up on the latest in national and local politics as Election 2020 comes into focus.