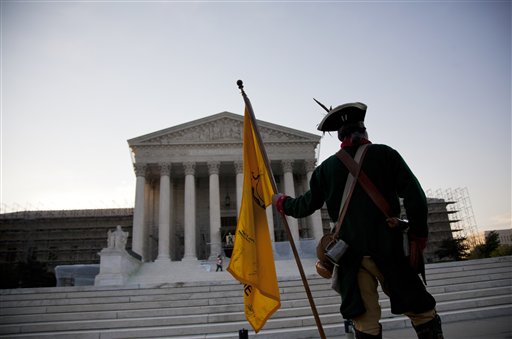 Wisconsin won't move to implement the federal health care law largely upheld by the Supreme Court Thursday, Gov. Scott Walker said, because he hopes the law will be repealed after the November elections.
Advocates praised the court's ruling, which could insure 340,000 of the state's 526,000 uninsured residents, while business groups said the law would increase costs and health care providers debated some of its implications.
Wisconsin is among 26 states whose lawsuit targeting the law's requirement that nearly everyone buy insurance led to the court's decision. Walker said the law "would require the majority of people in Wisconsin to pay more money for less health care."
Attorney General J.B. Van Hollen said Walker must "move forward and do things that the law requires" but added some "time frames have liberal windows."
In January, Walker said he would stop setting up a health insurance exchange, a marketplace with subsidies for people who have trouble getting insurance. The law requires states to create exchanges by 2014 or the federal government will step in and run them.
Democrats said the state should act now. "We need an exchange that fits Wisconsin," said state Sen. Jon Erpenbach, D-Middleton.
The court's ruling appears to let states refuse the law's required expansion of Medicaid, the state-federal health plan for the poor. In Wisconsin, about 170,000 people, most of them childless adults, would be affected.
"This clearly now is a state choice, but it's one that is going to be made further down the road," said Dennis Smith, secretary of the state Department of Health Services.
About 1.2 million people in Wisconsin, or one in five residents, are on some form of Medicaid. Roughly 777,000 are on BadgerCare Plus, which mostly covers low-income families and children.
Robert Kraig, executive director of Citizen Action of Wisconsin, said the law protects nearly 1 million people in the state from potentially losing insurance because of their medical conditions.
"This is just a huge victory for health care consumers across Wisconsin," Kraig said.
Ken Taylor, executive director of the Wisconsin Council on Children and Families, said the court's decision ensures that children will have access to quality, affordable health care. It also means 29,000 Wisconsin children who could have potentially lost Medicaid coverage won't, he said.
Sara Finger, executive director of the Wisconsin Alliance for Women's Health, said the law will prevent women from being charged more for health insurance and give them more access to cancer screenings and birth control.
But the court's decision will hurt small businesses and strip Wisconsin residents of their ability to make personal health care decisions, Bill Smith, state director of the National Federation of Independent Business, said in a statement.
"Small businesses here will be overwhelmed by mandates, taxes and burdens imposed on them by people whom we cannot as easily hold accountable," Smith said.
The law might lead some employers to drop insurance coverage for workers if the exchanges prove to be an effective alternative, said Cheryl DeMars, chief executive officer of The Alliance, a Madison-based group of 180 companies that collectively purchase health care.
"Clearly in the short term, it's going to cost employers more," DeMars said.
Yet Janet Murphy, who owns a machine tool company in Waukesha, said the law will allow her to start offering health insurance to her four employees.
Phil Dougherty, senior vice president of the Wisconsin Association of Health Plans, said the law's tax on insurers and limits on what some groups can be charged for insurance "will drive up premiums for most people."
Dr. Tim Bartholow, senior vice president of the Wisconsin Medical Society, said the law could lead more people to get primary care, preventing some costly hospital stays.
But he said the medical society is concerned about a predicted shortage of nearly 2,200 doctors in Wisconsin by 2030, especially in primary care.
"We remain absolutely concerned about the workforce," Bartholow said.
The law brings a $2.6 billion reduction in Medicare payments to Wisconsin hospitals through 2019, said Eric Borgerding, an executive vice president with the Wisconsin Hospital Association. The money will pay for the law's Medicaid expansion and subsidies for people to buy insurance on the exchanges.
Still, Wisconsin hospitals are "well positioned" to deal with the federal law because they are improving the quality and efficiency of care more than in other states, Borgerding said.
In Madison, Dean Health System and St. Mary's Hospital plan to take advantage of new Medicare payments encouraged by the law. The providers applied to become an "accountable care organization" and receive Medicare payments based on quality measures, not just on the volume of care provided.
Two-thirds of Wisconsin's 526,000 uninsured residents, or about 340,000 people, will become insured by 2016, roughly half through the law's exchanges and half through the Medicaid expansion, according to a report last year.
The report, released by Walker's administration and commissioned by the administration of former Gov. Jim Doyle, said some people who buy insurance on the individual market will face higher premiums, in some cases because the law requires better benefits. Others, especially older workers, will pay less.
About 9.4 percent of the state's population was uninsured in 2010, according to the U.S. Census Bureau. Only Massachusetts and Hawaii had lower rates. The national average was 16.3 percent.
Doyle said the public will embrace the health law more once additional provisions kick in, such as the exchanges in 2014. Democrats will be more likely to discuss the law on the campaign trail now given the court's affirmation of it, he said.
"Years from now people will look back and wonder, what was all the yelling and screaming about?" Doyle said.
— State Journal reporter Mary Spicuzza contributed to this report.
Get Government & Politics updates in your inbox!
Stay up-to-date on the latest in local and national government and political topics with our newsletter.