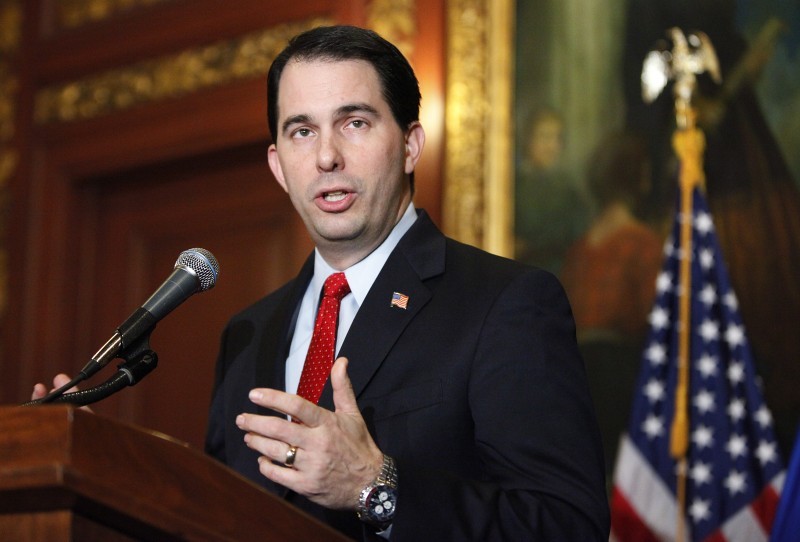 Gov. Scott Walker said Friday evening that he will be "voluntarily meeting" with the prosecutor leading the secret John Doe investigation that has already brought charges against some of his top aides.
He did not say when the meeting with Milwaukee County District Attorney John Chisholm would take place.
In a statement issued through his campaign, Walker also announced that he had hired two high-powered criminal defense attorneys, Mike Steinle and John Gallo, but said he would use no public money to cover the costs. 
"I have already said that I would be happy to sit down with the people looking into these issues and answer any additional questions they may have," Walker said. "To make that point clear, last year, my representatives voluntarily contacted Mr. Chisholm's office to arrange a time to discuss any outstanding issues. I will be voluntarily meeting with Mr. Chisholm."
Walker said his attorneys were hired to assemble additional background information and ensure he's "in the best position possible to continue aiding" the investigation. 
Steinle is a Milwaukee-based criminal defense attorney with the firm Terschan, Steinle & Ness. He has taken on recent high-profile cases, including one involving a Fox Point teen who killed his grandfather with an ax.
Gallo is listed as a partner at Sidley Austin LLP in Chicago, and the firm's website says he specializes in representing criminal defendants and grand-jury targets. 
Sidley Austin spokesman Barry Solomon said the firm doesn't comment on ongoing cases.
And Milwaukee County Assistant District Attorney Bruce Landgraf, who is leading the John Doe probe, declined to comment about Walker's statement or any future meeting between the governor and Chisholm.
You have free articles remaining.
In Walker's statement, he said his campaign has been cooperating with Chisholm over the last 20 months.
"While all of us need to let this matter run its course, I will continue to cooperate and provide any appropriate information that is requested," Walker said.
The investigation has led to criminal charges against six people, including Walker's former Milwaukee County aides Tim Russell, Kelly Rindfleisch and Darlene Wink.
Russell, who had served as Walker's former campaign aide, deputy chief of staff and county housing director, is accused of embezzling more than $20,000 in money meant for veterans and using it for personal expenses including trips to Hawaii and the Caribbean. Another Walker appointee in Milwaukee County, Kevin Kavanaugh, is accused of embezzling more than $40,000 in donations intended to benefit wounded veterans and the children of Wisconsin service members killed in action.
More charges filed last week allege a pattern of illegal fundraising and what appears to be a systemic avoidance of campaign laws by Walker's inner circle.
Chisholm charged Rindfleisch, 43, with four felony counts of misconduct in public office and Wink, 61, with two misdemeanor counts of political solicitation by a public employee. Both worked for Walker during his time as Milwaukee County executive, and both are accused of fundraising activities while at their taxpayer-funded jobs.
Also in the complaints made public last Thursday were accusations that Walker's close associates used personal laptop computers and an unofficial "secret email system" to solicit money for the campaigns of Walker and Brett Davis, who was running for lieutenant governor. Investigators say they kept the system hidden from all but a close group of Walker's insiders.
Included in the recent complaints was a May 2010 email sent from Walker to Russell, who had already left his post as deputy chief of staff in the county executive's office.
"We cannot afford another story like this one," Walker wrote to Russell about the Wink story. "No one can give them any reason to do another story. That means no laptops, no websites, no time away during the work day, etc."
Democrats quickly accused Walker's associates of corruption.
"Walker owes answers not just to prosecutors, but to the people of Wisconsin who expect clean government," said Democratic Party of Wisconsin spokesman Graeme Zielinski.