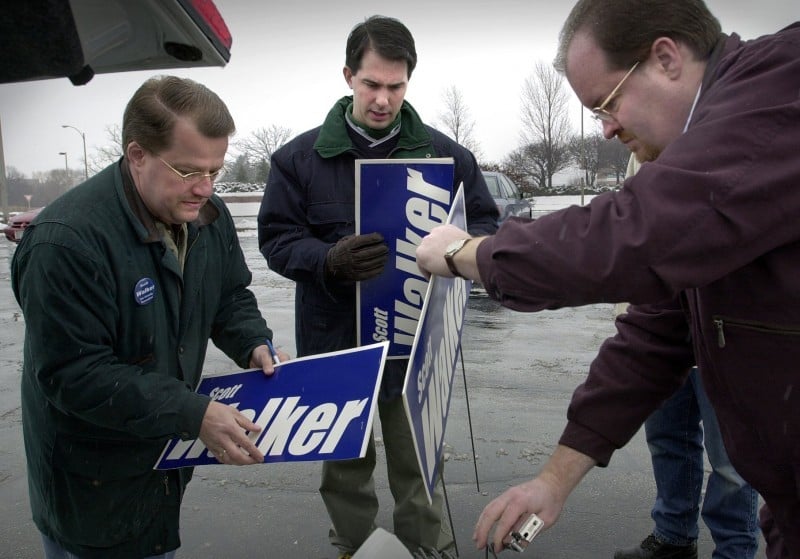 WAUKESHA — Wisconsin Gov. Scott Walker said Monday the Milwaukee County district attorney initiated a meeting with him about a secret investigation that has led to charges against five of Walker's former close aides and associates.
But Walker stressed Monday he has not been ordered to testify in the investigation or been legally required to meet with District Attorney John Chisholm. He said multiple times the meeting was voluntary, as he did Friday when he announced the meeting.
"We will continue to be cooperative as our campaign has for more than a year," Walker said. "And I think when all is said and done you will see our integrity remains just as intact at the end of the process as it did at the beginning."
He previously had not made it clear who initiated the meeting. A date for it has not yet been announced.
All five of those charged worked for or were associated with Walker's county executive office in Milwaukee before he was elected governor in 2010.
The investigation could create vulnerability for the governor, who faces a potential recall election. Democrats and others organized a recall petition drive after Walker pushed a law through the Republican-controlled Legislature that effectively ended most collective bargaining rights for nearly all public workers. State elections officials are in the process of verifying 1 million signatures submitted last month; about 540,000 are needed to force an election.
Walker spoke to reporters after a public appearance in Waukesha, where he announced that Connecture, Inc. would be eligible for $1.2 million in incentives if the company created 105 high-paying technology jobs within three years. The company also announced it was moving its headquarters to Waukesha from Atlanta. The company started in Waukesha when it was called Riverwood Solutions but merged with Atlanta-based Connecture in 2004.
The state's Democratic Party criticized Walker and said he had been misleading the public on who requested the meeting.
"Scott Walker would have the public believe that he is rushing to disclose the secrets of his corrupt county executive's office when it turns out that his 'voluntary' meeting with prosecutors was not as 'voluntary' as he has made it seem," said Mike Tate, chairman of the Democratic Party of Wisconsin. "Even when the public has become newly focused on allegations of crimes committed on his behalf, Scott Walker cannot muster a plain and honest explanation of things."
Walker said he's hired two attorneys to examine thousands of emails his gubernatorial campaign turned over to Chisholm's office. It would take him too much time to do that work "to be prepared to be able to cooperate with (the investigation)," he said.
Walker said again Monday that no public money will be used to pay for the attorneys.
When asked how the upcoming meeting would be different from his previous cooperation, he said his campaign already provided written documentation and "they'd like to talk about what they found and what additional information we can provide."
"This is the next step in terms of our cooperation," he said.
Those charged so far include Kelly Rindfleisch, Walker's deputy chief of staff before he became governor in 2011, who faces four felony counts of misconduct in office. Darlene Wink, who was Walker's county constituent services coordinator, faces two misdemeanor counts of political solicitation by a public employee.
It is illegal for public workers, while engaged in their official duties, to raise funds or otherwise work on political campaigns or use their public workspaces to do so.
Two other former Walker associates, Tim Russell and Kevin Kavanaugh, were charged Jan. 5 with embezzling more than $60,000 from veterans and their families. Another man is charged with child enticement, evidence of which was allegedly discovered during the investigation of one of the others.