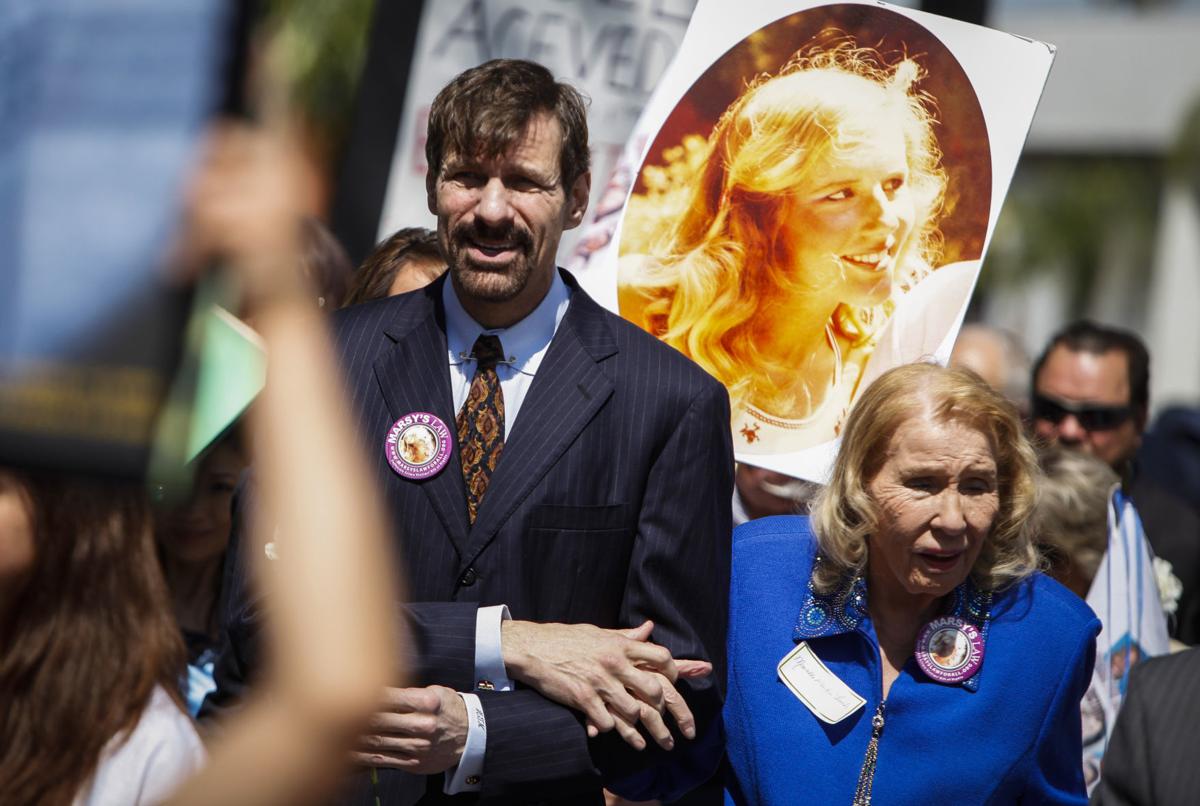 After a chaotic spring election, Wisconsin could emerge as one of several states that have significantly altered their state constitution to allow for stronger protections for crime victims.
The measure, known as "Marsy's Law" and promoted by a California billionaire, is supported by crime victim advocates who say it makes their rights just as strong as those of the accused by enshrining them in the Wisconsin Constitution.
"The victims and the accused have their own set of rights, but this would just make the victim's rights just as strong as the rights that the accused have," said Teri Jendusa-Nicolai, state chairwoman for Marsy's Law for Wisconsin. "It's really important when you're sitting in front of a judge and going through the legal system."
Defense attorneys say it would create havoc because of what they view as the amendment's unclear language and say it could undermine the rights of defendants, who are presumed innocent until proven guilty.
"The law is going to evolve over time, and little by little the due process rights of an accused person are going to be chipped away," said Craig Johnson, a Milwaukee attorney who practices criminal law and a board member of the Wisconsin Justice Initiative, which opposes Marsy's Law.
Marsy's Law was named after Marsalee (Marsy) Ann Nicholas, a University of California-Santa Barbara student who was stalked and killed by her ex-boyfriend in 1983. Just a week after the murder, Marsy's mother, Marcella, was confronted by her daughter's murderer at a local market. She hadn't been told he had been released on bail just days after Marsy's murder. Henry Nicholas III is Marsy's brother, and the billionaire founder of the Marsy's Law national campaign.
The national campaign for Marsy's Law has spent about $102 million in at least a dozen states where ballot measures were approved between 2008 and 2018. In Wisconsin, the state group spent nearly $1.2 million on lobbying in the 2017-18 legislative session and $384,500 more in the first six months of 2019.
In May 2019, the measure was approved a second time by the Legislature and put on the April ballot. The measure received overwhelming support in the state Assembly, with just 15 Democrats and Republicans voting against. In the Senate, just five of the 33 members voted against it: four Democrats and one Republican.
The question
Voters are being asked the following question on their ballot:
"Shall section 9m of article I of the constitution, which gives certain rights to crime victims, be amended to give crime victims additional rights, to require that the rights of crime victims be protected with equal force to the protections afforded the accused while leaving the federal constitutional rights of the accused intact, and to allow crime victims to enforce their rights in court?"
The Wisconsin Justice Initiative and others unsuccessfully sued to block the question from being included on Tuesday's ballot, arguing that it was deceptively worded.
Some rights for victims are already delineated in the Wisconsin Constitution, and others are outlined in statute, which carries less weight. Marsy's Law would add 16 new rights for victims while eliminating reference to a fair trial for the defendant.
Still, both U.S. constitutional protections for defendants as well as others included in the Wisconsin Constitution would still apply.
Protections cited
Among the list of constitutional protections for victims would be the rights:
To be treated with dignity, respect, courtesy, sensitivity and fairness.
To privacy.
To proceedings free from unreasonable delay.
To attend, upon request, all proceedings involving the case.
To reasonable protection from the accused through the criminal and juvenile justice process.
To reasonable and timely notification of proceedings.
To confer, upon request, with the attorney for the government.
To be heard, upon request, in any proceeding during which a right of the victim is implicated, including release, plea, sentencing, disposition, parole, revocation, expungement, or pardon.
To have information pertaining to the economic, physical, and psychological effect upon the victim of the offense submitted to the authority with jurisdiction over the case and to have that information considered by that authority.
To receive, upon request, timely notice of any release or escape of the accused or death of the accused if the accused is in custody or on supervision at the time of death.
To refuse an interview, deposition or other discovery request made by the accused or any person acting on behalf of the accused.
To receive, upon request, reasonable and timely information about the status of the investigation and the outcome of the case.
Pros and cons
Johnson, the criminal defense attorney, said the added protections are vague and could end up disadvantaging a criminal defendant. For example, Johnson said a business owner could accuse an employee of theft and, acting as a victim, could invoke his or her right to privacy in order to avoid having to present financial or other information that could help the defendant prove his or her innocence.
Another scenario he offered is a victim of an alleged crime — an assault, for example — who invokes the right to privacy to avoid presenting medical records that may show an underlying drug or alcohol abuse disorder that could have contributed to a distorted perception of the alleged crime.
Supporters of Marsy's Law, however, say medical history, especially from many years ago, isn't always relevant, and it's up to the judge to decide anyway. They say the privacy provision is simply meant to prevent "fishing expeditions" by defense attorneys to dig up irrelevant evidence.
The South Dakota attorney general concluded someone becomes a victim once a crime is committed against that person, not only if formal criminal charges are filed against the alleged perpetrator.
Left to die
Jendusa-Nicolai became an advocate for victims' rights after she survived a brutal attack by her ex-husband, David Larsen, in 2004. Her ex-husband left her to die in a freezing cold storage locker. Her experience with the legal system, she said, made her feel like a victim all over again, without a voice.
During her case, she said she would have liked more time with the DA regarding which charges to pursue, such as when he decided not to press homicide charges against her ex-husband for the death of her fetus.
"That was a huge slap in the face," Jendusa-Nicolai said. "I felt like I didn't really have a say."
Larsen later faced federal charges, where a federal judge took the miscarriage into consideration as an aggravating factor during sentencing.
She said there are other points in the criminal justice process where she wanted a greater voice in decisions that are typically left up to judges and prosecutors, such as whether to go to trial or reach a plea deal, or which evidence to admit. She also wanted more access to the judge.
While such determinations are ultimately up to a judge, Johnson said Marsy's Law adds yet another factor a judge must balance, which could increase the likelihood of exculpatory evidence being thrown out.
"One of the central problems with this victims' rights amendment is that it doesn't really recognize ... we have an adversarial system in which the outcome is not predetermined," Johnson said. "It assumes that the crime has already been proven."
Get Government & Politics updates in your inbox!
Stay up-to-date on the latest in local and national government and political topics with our newsletter.