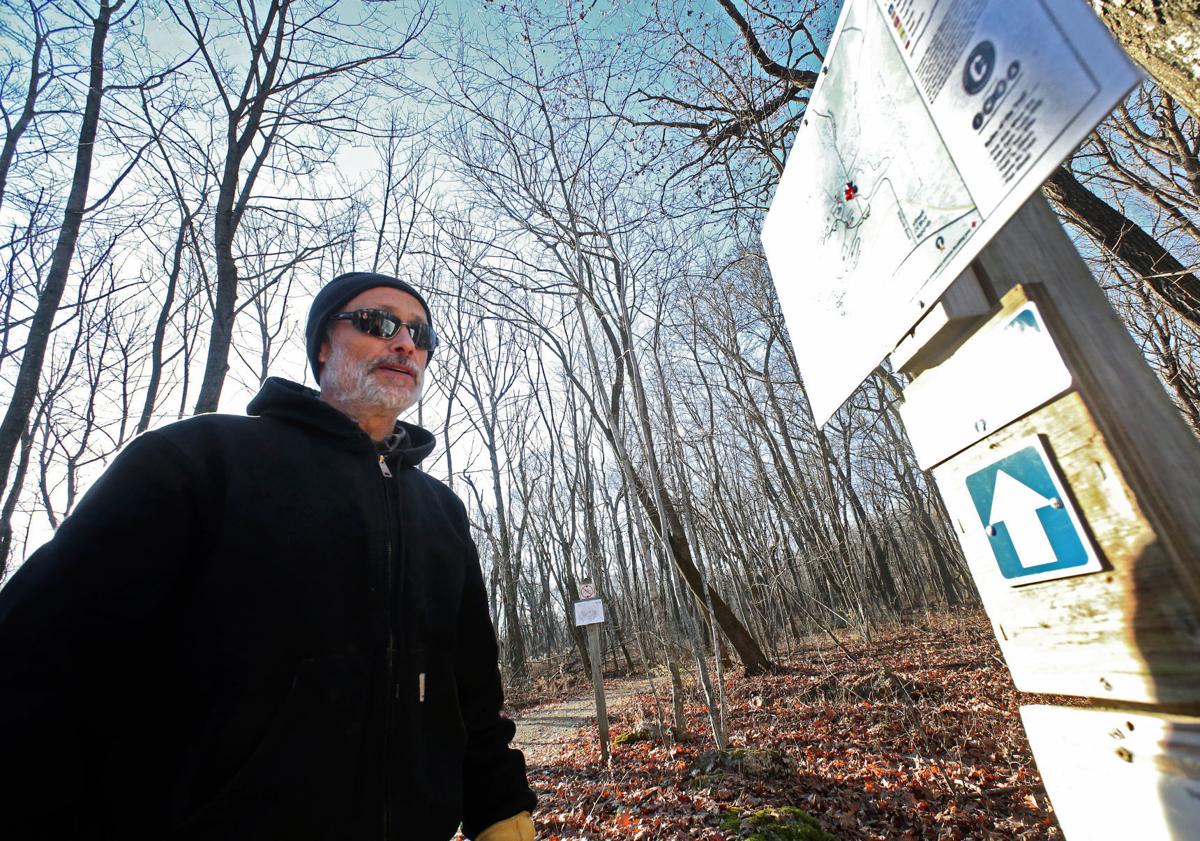 The rugged abundance of rocks and tree roots jutting from the dirt trails at Blue Mound State Park still jar bicyclists' bones and rattle their teeth.
But at least it's no longer so easy to get lost, thanks to volunteers who have replaced dozens of trail signs that had become worn — and in some cases, just plain wrong — as routes changed over the years.
"That's one of the biggest complaints we get, is that people just get turned around and can't find their way through the trail," said Walter Hougas, a volunteer with Capital Off-Road Pathfinders.
New signs installed by volunteers in recent weeks feature maps, arrows pointing the way and color coding to indicate the degree of difficulty for each section of the roughly 13-mile trail.
"Overall, (it's) just a really nice revamp and cleanup of older outdated and confusing signs," said Greg Weigand, who likes to run on the trails, which are also open to bikers and snowshoers.
Weigand and other trail-runners and off-road pedalers installed the signs.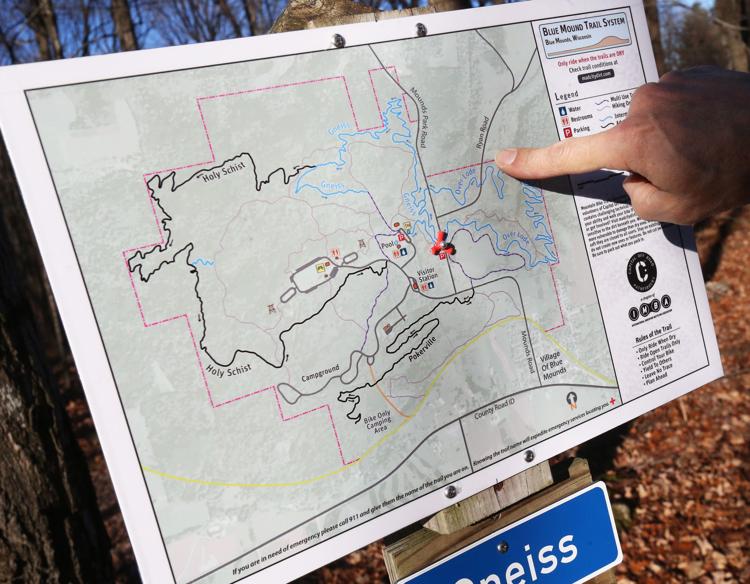 CORP and the Friends of Blue Mound State Park split the roughly $750 cost for more than 80 signs, Weigand said.
"Blue Mound State Park has top-notch, well-maintained and challenging trails, and now has excellent signage to help support the mountain bike trail system," said Weigand, a friends group board member.
Runners and mountain bikers use the trails from spring to fall. And there has been a big increase over the past four years in winter usage, paralleling growth in popularity of bicycles with fat tires that can gain traction on slippery surfaces, said Kevin Swenson, park manager.
The bikers have equipment that compacts the snow and makes the trails more inviting for fat tires and snowshoes, Swenson said.
On snowy weekends, the number of bike-riders in the park may have begun to equal the number of cross-country skiers, Swenson said.
Working together
Blue Mound has long been a treasured destination for cross-country skiing. Several miles of ski trails wind around the wooded park 25 miles west of Madison. Hikers use those trails when there's no snow.
You have free articles remaining.
Conflict between people pursuing different activities isn't unusual in public parks. But at Blue Mound State Park, cooperation has proven productive.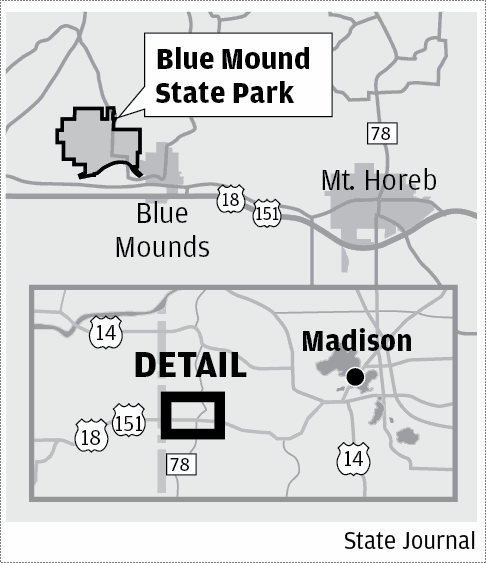 In response to a 2015 plan to weave snowmobile trails through parkland, hundreds of "silent sports" enthusiasts — hikers, bikers and skiers — registered their disapproval.
In 2017, a judge blocked establishment of the snowmobile routes because they were drawn up without heed to state laws requiring parks to be planned in ways that prevent conflicts between incompatible activities such as noisy vehicles next to places where people were seeking quiet experiences.
Steep trails
Blue Mound State Park is perched on the highest point in southern Wisconsin. The land resisted erosion for hundreds of millions of years because of stubborn deposits of Niagara dolomite, a harder rock than the sandstone and limestone that dominates the region.
"Just because of the geography of the mound, it instills the trails a very vertical (character)," Swenson said. "You're either going up or going down."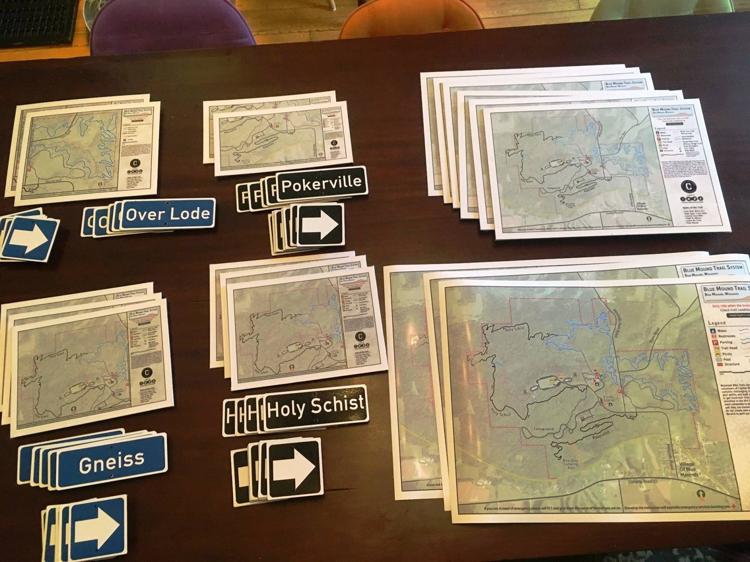 Mountain biking trails typically aren't smoothed or surfaced. You can ride on two-track roads that cut through many woodlands, but the most desirable off-road trails are single tracks where the woods are relatively undisturbed.
"Part of the fun of mountain biking is it feels a little more like an adventure," Hougas said.
The Blue Mound route features rocks big enough to be a challenge for bikers to navigate. The trail is crisscrossed by tree roots and punctuated by smaller rocks that deliver a choppy, percussive ride. It's not a fast course, but it offers opportunities to hone technical biking skills. Bikers at Blue Mound often wear helmets, shin guards and elbow pads.
The off-road bicycle trails were built by riders and are maintained by CORP, said Hougas.
Volunteers remove trees and leaves and clean up when heavy rains create washouts. Hougas said it's important that trails don't run straight up the sides of hills.
"There's a whole science of building dirt trails that won't get washed out easily in the rain and enable helping people to handle the hills," Hougas said.