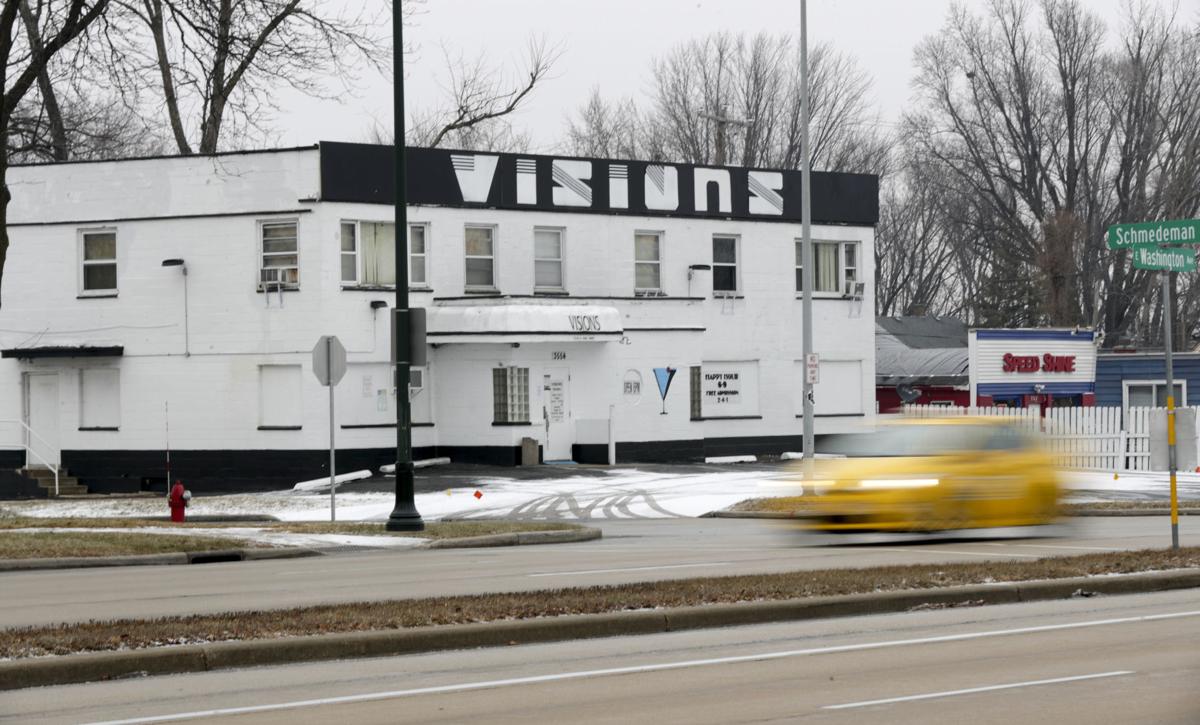 A Madison City Council member said he'll "make every effort" to get the liquor license of a strip club on the city's East Side revoked after four people were wounded in a shooting in the club early Sunday.
Ald. David Ahrens, 15th District, said Visions Night Club, 3554 E. Washington Ave., is a "blight on the neighborhood and a hub of prostitution, drug selling, binge drinking and violence."
The nightclub is in Ahrens' district. He has served on the City Council since 2013 and is not running for re-election.
Ahrens said there have been a dozen police calls made in 2018 to respond to Visions for disturbances and battery, and another half-dozen reports of vehicles being broken into or stolen from the nightclub parking lot.
Madison Police Department records show more than 50 911 calls from the Visions address in 2018, many for parking complaints or checking on people, but 17 were for more serious problems, including six for disturbances, two for battery, three for stolen autos, two for theft from autos, two for damage to property and one for theft.
The most recent incident was the most serious, with four people shot and the alleged shooter stabbed.
Cole Foster, 35, of Madison, is tentatively charged with first-degree recklessly endangering safety for allegedly firing a gun inside the nightclub during a large fight.
Police said Wednesday the investigation is far from over.
For Ahrens, enough is enough.
"Unlike a neighborhood tavern, (Visions) has absolutely no social benefit," he said. "It degrades both the women who work there and the patrons.
"Visions is an anachronism that exists due to a deal made decades ago to move it out of Downtown, but without any regard to the toll that it would take on the neighborhood where it was relocated."
The scene outside at closing time is one of people stumbling around, drunk and sick, looking for their cars, Ahrens said.
Police records show more than 50 calls from Visions in 2017, including two shooting incidents in May 2017, with one man injured in a May 24, 2017, shooting near the nightclub's parking lot.
The late-night problems are a reason the Kwik Trip convenience store at 3546 E. Washington Ave., across Schmedeman Avenue directly to the west of Visions, is closing at night instead of being open 24 hours a day.
Until Christmas, Kwik Trip will close at 10 p.m., then will close at midnight after that.
Kwik Trip public relations director John McHugh told WISC-TV the store is closing early for worker safety.
"There's been a pattern of violence in that area," McHugh said. "Our co-workers' safety comes first in a situation like this."
Those who live near the strip club also have safety concerns.
Residents of houses — where children can play on plastic playground equipment and yard toys in backyards directly behind Visions — said that they've long had problems with the strip club's patrons spilling out from the club and starting fights, being loud or congregating in front of houses late at night.
Others said they've had to confront unruly patrons that have left Visions, or that they've witnessed what appeared to be drug deals on the streets behind the strip club in front of their homes. Some said loud music could often be heard coming from the club late at night.
You have free articles remaining.
Sabrina and Michael Willis, who have lived in a house behind the strip club for about a year with their children, said they were told it has a less-than-stellar reputation when they moved in.
"It's the don't-go-there landmark," Michael Willis said.
Although they haven't witnessed or heard any violent incidents originating from the club yet, Sabrina Willis said she's worried that patrons fleeing police or leaving the strip club could potentially run through back yards or break into houses to seek refuge.
"We've been lucky to miss it," she said.
Jackie Shivers, who has lived two houses behind the building that houses the strip club since the 1960s, said loud music and parties, fights and incidents like drunken driving used to be common. She said it's been quieter recently.
Still, Shivers said Visions isn't worth the trouble for the neighborhood and would like to see it closed.
"I don't care what they do there, but I care about the aftermath," she said.
Attempts to contact the owners of Visions have been unsuccessful.
Ahrens said Visions' liquor license should have been flagged during the most recent review period because of the ongoing problems.
"I will make every effort in the four months remaining in my term to have Visions' liquor license revoked," he said.
Ald. Mike Verveer, 4th District, a longtime member of the Alcohol License Review Committee, said in an interview that Visions' liquor license has not been questioned in recent years.
However, if Police Chief Mike Koval deemed the nightclub to have imminent concerns, he could shut it down.
"The City Council granted the authority to the police chief to implement a security plan which could be implemented immediately," Verveer said. "It's seldom used, but it could range from restricting hours of operation to having the business getting a third-party security firm."
Verveer said the city attorney's office and police officials have been talking about Visions in recent days.
Koval did not respond to a request for comment Wednesday.
If Koval didn't implement a security plan, the more common procedure is for the city attorney's office to come before the ALRC to ask for a suspension or revocation of an establishment's liquor license.
"The establishment could contest it and there would be a hearing, so it takes a lot longer, unless the establishment agrees to close," Verveer said.
Another option would be for police and city officials to hold back on taking any action and see how the nightclub does in the months preceding the renewal of liquor licenses in June.
The ALRC has separated out liquor licenses for establishments that have had trouble — most recently the half-dozen bars in the 600 block of University Avenue this year, when the ALRC put certain restrictions on the bars.
The next scheduled meeting of the Alcohol License Review Committee is Dec. 19. No agenda has been posted yet.
Under current city zoning ordinances, an adult entertainment business could not be opened where Visions is located.
"It's grandfathered in as an existing non-conforming use," Verveer said. "Adult entertainment is not allowed in that area now."