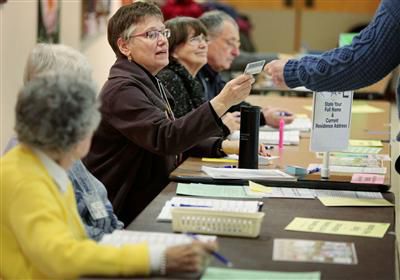 Nearly 17,000 registered voters in Dane and Milwaukee counties may have been deterred from voting in the 2016 presidential election because of the state's voter ID requirement, according to a UW-Madison study released Monday.
The study provides a more precise estimate of the effect of the state's controversial photo ID requirement, said study author and UW-Madison political science professor Ken Mayer. Other estimates have ranged from 500 to 300,000 voters affected.
"The main conclusion of the study is that thousands, and perhaps tens of thousands, of otherwise eligible people were deterred from voting by the ID law," Mayer said. "An eligible voter who cannot vote because of the ID law is disenfranchised, and that in itself is a serious harm to the integrity to the electoral process."
The estimate is smaller than Donald Trump's narrow 22,748-vote margin of victory in the state last November, the first major election since the 2011 law took effect after years of legal challenges from Democrats who said it disenfranchised students, seniors, minorities and low-income voters.
Mayer said whether the law would have changed the outcome "is the wrong measure."
Tom Evenson, a spokesman for Gov. Scott Walker, said "the public supports voter ID because it protects the integrity of our voting process, and this law makes it easy to vote and hard to cheat."
The study was paid for by $55,000 from the Dane County Clerk's Office. Dane County Clerk Scott McDonell, a Democrat who opposes the law, said the county paid for the study because the debate around voter ID has involved anecdotal evidence and that "actual data" was missing from the debate.
The study was based on a mail survey of 288 registered voters who didn't cast a ballot in November. It had a margin of error of plus or minus 3 to 4 percentage points.
The study found 11.2 percent of respondents either said they didn't have a valid ID, believed they didn't have a valid ID or were told at a polling place their ID was invalid. Mayer noted that figure doesn't include people who don't even register to vote because they lack an ID.
Mayer said the results show the voter ID law caused confusion for many voters. Most of the respondents who said they didn't vote because they lacked valid ID also said they possessed a valid ID. More than a third of respondents said they didn't see any information about voter ID prior to the election.
One in five respondents with annual income below $25,000 were deterred by the voter ID law, compared with 7.2 percent of those with higher income. And 28 percent of black respondents were deterred, compared with 8.3 percent of white respondents.
Just more than 50 percent of those surveyed listed dissatisfaction with the candidates as a reason for not voting, and a third listed it as their main reason for not voting. That was by far the biggest reason and is consistent with previous studies on the reasons people give for not voting, according to Marquette Law School political science professor Charles Franklin.
Because it was funded by the Dane County Clerk's Office, the study didn't ask participants for whom they voted or would have voted.
Sen. Devin LeMahieu, R-Oostburg, chairman of the Senate Committee on Elections and Local Government, said the voter ID law "did what it was intended to do to ensure that people who showed up at the polls to vote were who they actually were," LeMahieu said. "If they would have showed up at the polls and been denied, they could have cast a provisional ballot."