Seven months before Election Day, outside groups have given Wisconsin's U.S. Senate race an early barrage of big money unlike any other in the nation — and likely, any other in history.
That torrent of political ads has put Democratic U.S. Sen. Tammy Baldwin on the defensive. And the backing of one wealthy donor, Illinois businessman Richard Uihlein, has boosted Kevin Nicholson in his primary bid against fellow Republican state Sen. Leah Vukmir.
Nearly $10 million has been spent in the race by outside groups, more than twice as much as any other current U.S. Senate race, according to one measure by the nonpartisan Center for Responsive Politics.
Outside spending in Wisconsin likely is "unprecedented" for a U.S. Senate campaign, excluding special elections, at this stage, according to Andrew Mayersohn, a researcher for the center.
A broader view of outside spending in the race, based on data provided by Democratic and Republican sources in Wisconsin, puts the total amount spent at more than $13 million. That includes some spending on ads that name, but don't explicitly support or oppose, a candidate — meaning they aren't disclosed to the Federal Election Commission. The center uses FEC records in making its calculations.
The bulk of outside spending in the race has flooded TV and radio airwaves with ads bashing Baldwin, praising Nicholson, or both.
Some of the ads have been pro-Baldwin, and a pro-Vukmir group has begun to make its mark too.
A competitive Republican primary in the Senate race has helped fuel the spending, with Nicholson, so far, having a lopsided edge over Vukmir. Outside groups have spent nearly $5 million to support Nicholson compared to about $909,000 for Vukmir, according to the Center for Responsive Politics data.
Meanwhile, Baldwin, D-Madison, has faced a negative ad blitz that so far dwarfs any other U.S. Senate incumbent seeking re-election this fall. Outside groups have spent more than four times as much on negative ads against her than against any other senator, the Center for Responsive Politics data show.
"Tammy Baldwin is putting Wisconsin first, so it's no surprise big money special interests and billionaire mega-donors are spending millions to attack her," Baldwin spokesman Bill Neidhardt said in a statement. "But no matter how much these out-of-state right-wing groups dump into our state, Wisconsinites know Tammy listens to them."
Still, the Baldwin campaign signaled in a recent fundraising email that it is worried about the outside spending onslaught.
"If you think these attacks are ineffective, think again. We're currently losing ground in the polls," the email told Baldwin supporters. "The sad fact is, all this spending could work."
'At mercy' of PACs
Nicholson spokesman Brandon Moody said any outside ads that boost Nicholson's name ID have the potential to be helpful, while stressing the Delafield Republican doesn't control them.
Moody also noted Nicholson's campaign leads Vukmir in fundraising nearly two to one, and that Nicholson led Vukmir in a Marquette Law School Poll of the race released earlier this month. The poll found most likely GOP primary voters are not ready to back either candidate.
"Setting independent money aside, he's winning on most metrics," Moody said. "I think voters are smart enough to make up their own minds and not be influenced."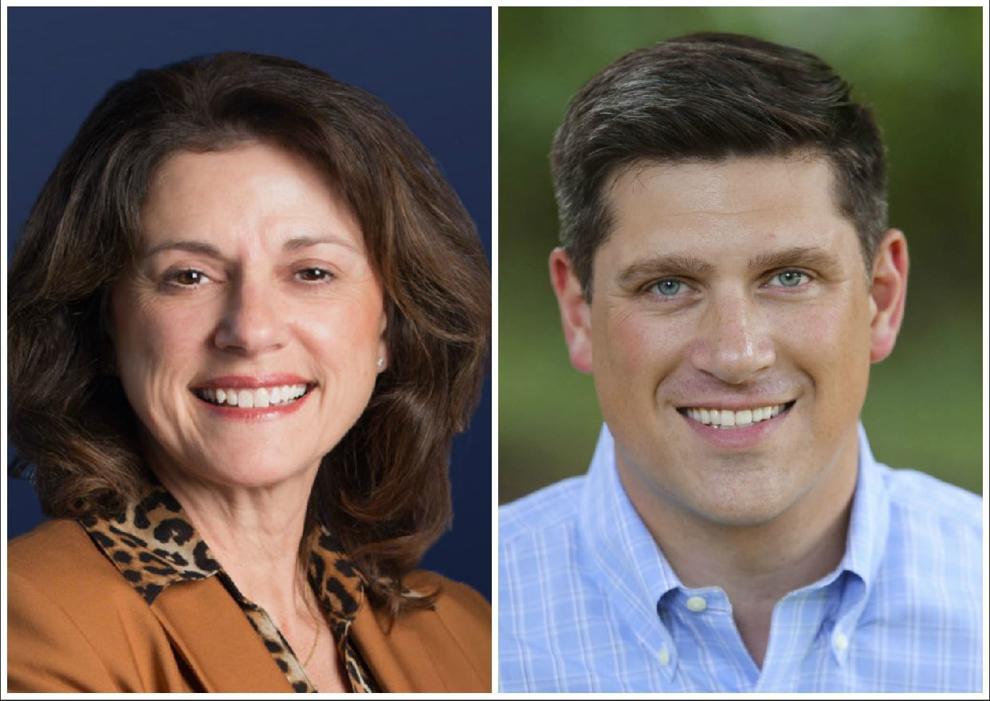 The campaign of Vukmir, R-Brookfield, said in a statement that "the hundreds of grassroots supporters that are flocking to her campaign is a testament to the success of her effort." Vukmir has amassed support from hundreds of GOP elected officials and activists, including state Senate Majority Leader Scott Fitzgerald, R-Juneau, and former Republican National Committee chairman Reince Priebus.
"Leah is focused on talking with as many voters across the state as possible. She's getting her message out person to person," Vukmir spokeswoman Jess Ward said.
Outside groups in the race, most of which are either super PACs or nonprofits, operate independently of political parties or candidates — even as they dwarf them in combined spending. Such groups don't have the same fundraising restrictions as parties or candidates, such as limits on how much they may accept from a single source.
"The parties are at the mercy of these organizations that are able to dump money into these races," said Steven Billet, a professor at George Washington University's Graduate School of Political Management.
While a large share of the spending flows through traditional mediums such as TV and radio, an increasing share goes to online ads. These are more difficult to track because they fall outside certain disclosure requirements that apply to TV and radio ads.
Much of the anti-Baldwin ad barrage comes from groups funded by the billionaire Koch brothers, among the nation's most prolific donors to conservative and Republican causes. Freedom Partners and Concerned Veterans for America are among the groups with Koch ties that already have spent millions in the Wisconsin race.
Learning from 2016
Left-leaning outside groups have rallied to Baldwin's aid, spending more to support her than any other U.S. Senate incumbent except Sen. Claire McCaskill of Missouri, according to the center.
Still, Baldwin faces a nearly three-to-one disadvantage in spending by such groups, according to the center's data.
The group Vote Vets — ads from which are not included in the center's data because it isn't disclosed to FEC — has defended Baldwin's work on veteran's health issues against Concerned Veterans for America.
That conservative group has decried her handling of reports on the Tomah VA Medical Center over-prescribing opiate drugs to veterans.
Senate Majority PAC, run by allies of Senate Minority Leader Chuck Schumer, also has spent more than $1 million in support of Baldwin, according to the center.
Baldwin supporters have argued her voting record raised the ire of GOP mega-donors now trying to oust her.
Moody, meanwhile, said the amount of money trained on Baldwin shows donors recognize her views don't match where Wisconsin is headed.
"The state is changing its politics, and so she's out of step," Moody said. "She's really an unashamed liberal progressive."
Public polling of the race is limited, though what little exists suggests Baldwin could be vulnerable. The most recent Marquette poll showed Baldwin's favorability rating at 37 percent among registered voters in Wisconsin.
Billet said donors likely are influenced by the role of outside groups in helping re-elect GOP Sen. Ron Johnson in 2016.
"The outside money pulled Ron Johnson through," Billet said. "If I'm a Republican, I'm aware of that."
"They beat Russ Feingold already doing it this way," he said.
Uihlein support key
The ads supporting Nicholson largely have touted his business and military background and his outsider status. Nicholson is a management consultant and veteran of the wars in Iraq and Afghanistan; he has not held elected office.
America's PAC and Restoration PAC, super PACs funded almost entirely by Uihlein, together have spent more than $5 million to back Nicholson or oppose Baldwin, according to the center. That accounts for a majority of documented spending by all super PACs in the race.
Uihlein made a huge early splash for Nicholson when he pledged $3.5 million to a super PAC supporting him, Solutions for Wisconsin. It has since become a key funder of America's PAC and Restoration PAC, and Uihlein has made additional contributions directly to both of the latter PACs. He also has given $850,000 to John Bolton Super PAC, affiliated with President Donald Trump's incoming national security adviser. Bolton has endorsed Nicholson and his super PAC is airing ads to support him.
National political observers say there are few, if any, recent parallels to the degree to which Nicholson, a previously unknown political newcomer, has relied on one deep-pocketed donor to fund not just the bulk of spending in support of him, but the majority of super PAC spending in the entire race.
"This is unusual for someone to put down $3.5 million-plus into a race this early," Billet said.
Vukmir has her own ultra-wealthy backer: Beloit-area businesswoman Diane Hendricks, who gave $500,000 to a pro-Vukmir super PAC, Wisconsin Next PAC. It recently launched major statewide radio, TV and digital campaigns in support of her, including a $625,000 ad buy announced last week.
With more than seven months to go in the race, it's not clear if the early spending pace will continue or abate. But Mayersohn noted most outside spending typically comes in the final weeks of a campaign.
"The fact that there's this much now," Mayersohn said, "probably means there's a lot more coming."