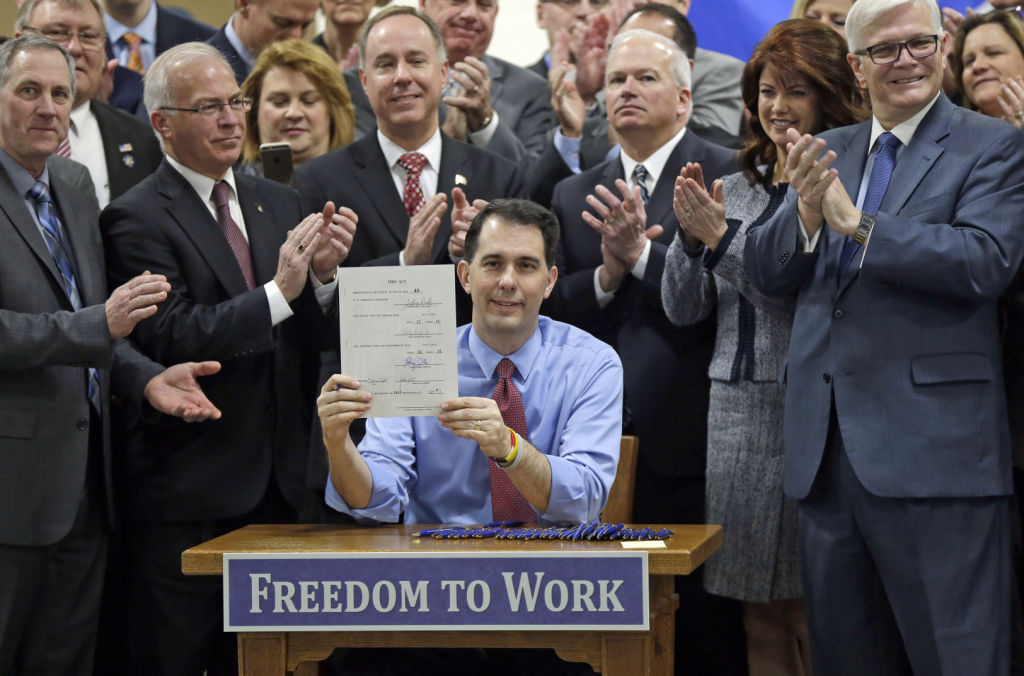 Gov. Scott Walker's proposals to radically alter federal labor law drew criticism Monday from unions, Democrats, labor experts — even a fellow Republican presidential candidate.
"Instead of treating all union members like they are the enemy, it's time we invite them to give some of us in our party a try," former Arkansas Gov. Mike Huckabee said in a statement. "Now is the time to educate and inspire workers by showing them Republican governance will not only get them back to work but it will grow incomes that have been stagnant for 40 years."
Walker is seeking to regain momentum for his 2016 presidential campaign by taking on public sector labor unions, a battle he won in Wisconsin in 2011, thrusting him onto the national stage. His proposal comes two days before the second GOP presidential debate, where he plans to emphasize solutions, "not just rhetoric," a veiled jab at current GOP front-runner Donald Trump.
Walker's labor union proposal calls for an end to federal labor unions, making right-to-work the law of the land and abolishing the National Labor Relations Board, all of which would require action by Congress. He also promises several moves on his first day in office, such as undoing President Barack Obama's executive order requiring federal contractors to provide paid sick leave.
He laid out the plan Monday afternoon in a speech in Las Vegas at XTreme Manufacturing.
"Our plan will eliminate the big government unions entirely and put the American people back in charge of their government," Walker said. "Federal employees should work for the taxpayers — not the other way around."
In interviews with the State Journal, labor economists who reviewed Walker's five-page plan called the list of a dozen proposals "radical" and "dramatic."
John Ahlquist, a political economist at University of California, San Diego, called it "a whole host of sweeping activities, several of which the president doesn't have the ability to do unilaterally."
"What he's proposing is so massively complicated and convoluted, I don't treat a five-page document very seriously as a policy document," Ahlquist said. "It's trying to appeal to voters in Republican primaries or donors or both."
Kenneth Dau-Schmidt, a professor of labor and employment law at Indiana University, said some of the proposals appear to be contradictory.
For example, Walker wants to do away with exclusive representation — which allows a union that wins a workplace election to be the sole representative for all workers there. But he also is proposing moving union elections from the NLRB to a different board that primarily focuses on airline and railroad disputes. Elections wouldn't be necessary if exclusive representation was eliminated, Dau-Schmidt said.
"It's clear to me he hasn't thought through what this all means," Dau-Schmidt said. "People looking to vote in Republican primaries are much more worried about immigration than they are about killing off the few unions that remain."
Walker criticized the National Labor Relations Board, which oversees union elections and adjudicates labor disputes, as a "one-sided proxy for the big union bosses."
Ann Hodges, a University of Richmond Law School professor and expert on labor law, said the board is made up of presidential appointees and has shifted between being more pro-business under Republicans and more pro-labor under Democrats, but she disagreed that it has become dysfunctional.
"Most NLRB decisions are pretty routine, not controversial," she said, adding that Walker is joining "a group of politicians dumping on this agency for a small number of its decisions."
Walker framed his argument as being "pro-worker," "pro-taxpayer" and "pro-family" and against "big government union bosses." He highlighted a study that found taxpayers spent $156 million in 2012 to subsidize 3.4 million hours of federal employees engaging in collective bargaining and lobbying Congress.
"Collective bargaining is not a right," Walker said. "It is an expensive entitlement."
Joel Cutcher-Gershenfeld, professor of industrial relations at the University of Illinois Urbana-Champaign, disputed Walker's critique that federal employee collective bargaining wastes taxpayer dollars.
"In fact there's quite a bit of evidence that government employers and government unions in collective bargaining have come up with innovations that save taxpayers money and improve services," Cutcher-Gershenfeld said. "Collective bargaining has the potential to be a platform for innovation."
Labor unions decried the proposal, a reaction that some political observers thought might be something the Walker campaign is counting on.
"It's a very, very desperate candidate doing a very desperate act," said J. David Cox, president of the American Federation of Government Employees.
Cox noted that federal employees can't bargain over wages and benefits. Before Walker took office in 2011, Wisconsin public employee unions could bargain over wages, benefits and working conditions. Now, with the exception of public safety unions, Wisconsin public employees can only bargain over inflationary increases in wages.
Walker invoked Democratic President Franklin D. Roosevelt, who signed the National Labor Relations Act in 1935 granting certain labor union rights for private workers, but also said collective bargaining "cannot be transplanted into the public service."
In calling for the elimination of public sector labor unions, Walker is targeting a major political funding source for Democrats. According to the Center for Responsive Politics, labor union-affiliated political action committees spent about $60 million in the 2013-14 midterm election cycle. Nine in 10 dollars went to Democratic candidates.
Overall union membership in the U.S. has fallen from nearly 25 percent in 1980 to 11.1 percent last year. Private sector union membership fell to 6.6 percent last year, while public sector union membership topped 35 percent..
"If Scott Walker thinks the way to save his ever-sinking campaign is to disparage Nevada's and America's working class, well then best of luck to him," U.S. Sen. Harry Reid, D-Nevada, said in a statement.
Cary Covington, a University of Iowa political science professor, said labor unions are a "red meat core issue" that might help Walker carve out some territory that distinguishes him from other Republican candidates.
"This is just music to the ears of Republican voters," Covington said. "The best thing for him would be to get a lot of outraged reaction from defenders of public unions. It will just make him look courageous."
It also might appeal to Republican business owners and donors, a top concern for any candidate who has fallen so far in the polls, said Larry Sabato, director of the director of the University of Virginia Center for Politics.
"He's being accused of a certain lack of authenticity because he can be an automaton on the campaign trail. But he's authentic on that issue," Sabato said. "No one can ever accuse him of being pro-labor.
"What's Trump going to say: 'I hate labor unions more than you do'?"
Editor's Note: This story has been corrected to accurately reflect the university at which John Ahlquist works.