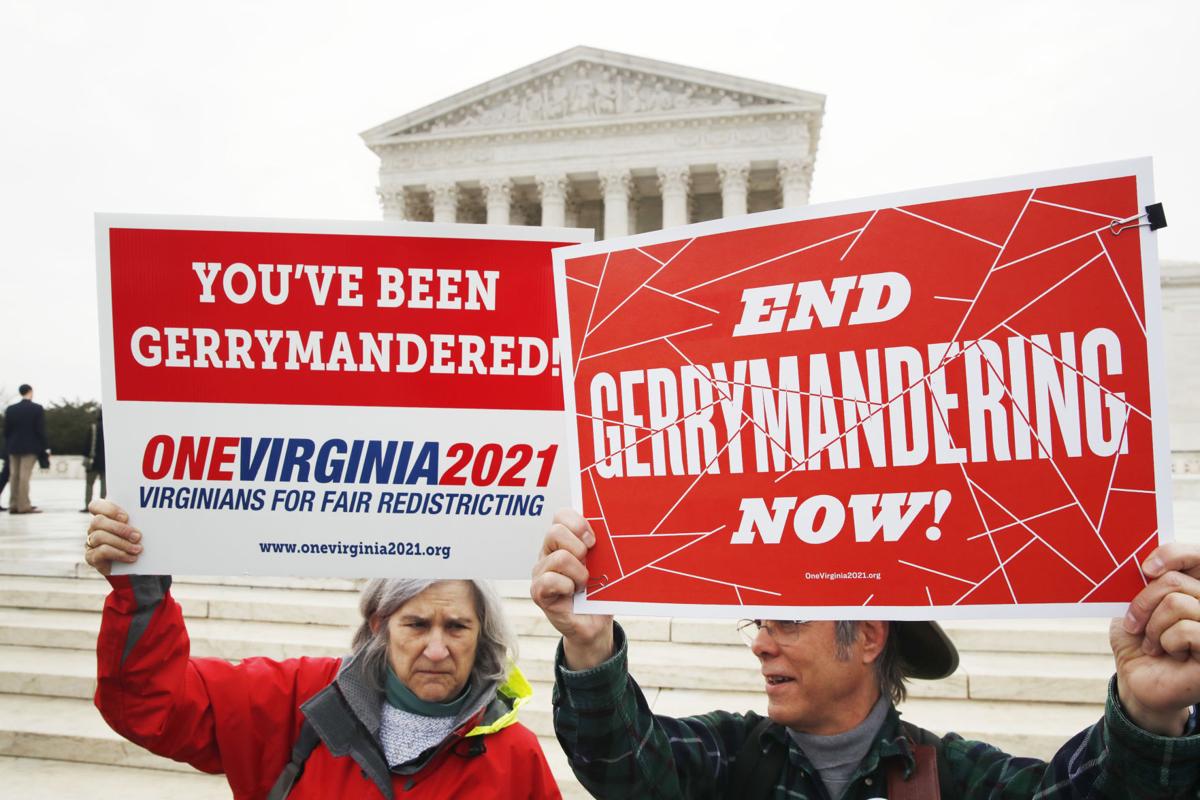 A U.S. Supreme Court decision declining to place limits on partisan gerrymandering has left a case challenging Wisconsin's own political maps with dim prospects.
The 5-4 decision Thursday from conservatives on the U.S. Supreme Court ruled claims of partisan gerrymandering are inherently political questions the federal judiciary cannot address.
"We conclude that partisan gerrymandering claims present political questions beyond the reach of the federal courts," wrote Chief Justice John Roberts for the majority. "Federal judges have no license to reallocate political power between the two major political parties, with no plausible grant of authority in the Constitution, and no legal standards to limit and direct their decisions."
Justices Clarence Thomas, Samuel Alito, Neil Gorsuch and Brett Kavanaugh voted with Roberts. Justices Ruth Bader Ginsburg, Stephen Breyer, Sonia Sotomayor and Elena Kagan dissented.
In its ruling, the court dismissed two cases challenging partisan gerrymandering in Maryland and North Carolina. A dismissal of Wisconsin's gerrymandering case, Gill v. Whitford, is almost certain to follow, a likely win for Republicans and the political maps they drew to maximize their legislative power.
"In federal court, I think this is the end of the road," said UW-Madison political scientist Barry Burden, who studies gerrymandering.
Doug Poland, the attorney representing plaintiffs in the Whitford case, said the Legislature's attorneys have asked them to agree to dismissal. Poland said he's reaching out to the dozens of plaintiffs in the case. With the court's ruling, he said he expects the case to eventually be dismissed.
Wisconsin's case challenged the political maps adopted by the Republican-controlled Legislature in 2011 for representing an unconstitutional partisan gerrymander. With Thursday's U.S. Supreme Court ruling, those maps, which Democrats have argued are unfair, will be used in the 2020 elections.
A U.S. District Court in 2016 struck down the maps, arguing they unfairly maximized Republican advantages in Assembly seats. Critics point to the fact former Republican Gov. Scott Walker lost his election in 2018 with about 49% of the vote while Republicans in the same election won 63 of 99 Assembly seats.
Republicans argue they have a natural geographic advantage, and that the Whitford case was a waste of taxpayer resources.
"We hope the high court's ruling puts an end to the litigation in Wisconsin associated with redistricting," Assembly Speaker Robin Vos, R-Rochester, and Senate Majority Leader Scott Fitzgerald, R-Juneau, said in a joint statement.
"The Supreme Court has now confirmed what we have said all along — that it was not a matter for the federal courts to second-guess the Legislature on these issues."
The U.S. Supreme Court took up the case, but remanded it to district court in 2018 for lack of standing. A trial was set for July but Thursday's ruling will likely halt the proceedings. Vos was set to be questioned in May by attorneys for the Democratic plaintiffs, but a federal Appeals Court temporarily blocked the deposition.
Wisconsin Democrats on Thursday berated the ruling, saying it benefits Republicans in their quest to amass unaccountable political power.
'Devastating for our democracy'
Democratic Gov. Tony Evers in a statement railed against the ruling, arguing partisan gerrymandering is to blame for the fact that Medicaid expansion — a proposal 70% of Wisconsinities support, according to a Marquette Law School Poll — is unlikely to become law in the state due to Republican opposition.
"Today's Supreme Court ruling on partisan gerrymandering is devastating for our democracy, our system of government, the right to participate in the democratic process, and the notion that people should come before politics," Evers said.
"We will do everything we can to ensure elections in our state are fair, accessible, and free. That includes fighting for nonpartisan redistricting and vetoing gerrymandered maps that arrive on my desk."
Senate Minority Leader Jennifer Shilling criticized the court ruling in a statement and said Democrats will continue to champion nonpartisan redistricting.
Rick Esenberg, president of the conservative Wisconsin Institute for Law and Liberty, said the court's decision acknowledges partisan gerrymandering is a question best left to the people and their representatives, and that Wisconsin's gerrymandering case should be dismissed.
Who can decide
For UW-Madison Law School professor Ryan Owens, the most significant aspect of Thursday's ruling is the court's determination of who decides questions of partisan gerrymandering. The high court, Owens said, made abundantly clear the question is left up to the people and elected representatives, not appointed judges.
The ruling will mean those opposed to gerrymandering will need to pursue their claims in the political rather than legal sphere: through ballot initiatives, U.S. Congress or state legislatures.
Critics point out that politicians are unlikely to vote for legislation that would curb their own ability to gerrymander. And in Wisconsin, voters cannot bring ballot initiatives on their own, although cases could still be tried in the state Supreme Court.
"For now, the maps are in place," Burden said, referring to the 2011 political maps that opponents say favor Republicans. "They're not going anywhere."
After the census
Things could change after the 2020 U.S. Census when legislative boundaries must be redrawn.
Unlike in 2011, Republicans in the state Legislature will need to work with a Democratic governor to produce new maps in 2021. If they can't agree, state or federal courts would likely get involved. At that point, redistricting attorneys caution, it's difficult to determine the myriad actions the courts could take.
In his 2019-21 budget proposal, Evers called for a system similar to Iowa's nonpartisan redistricting commission, but the Republican-controlled Legislature removed it.