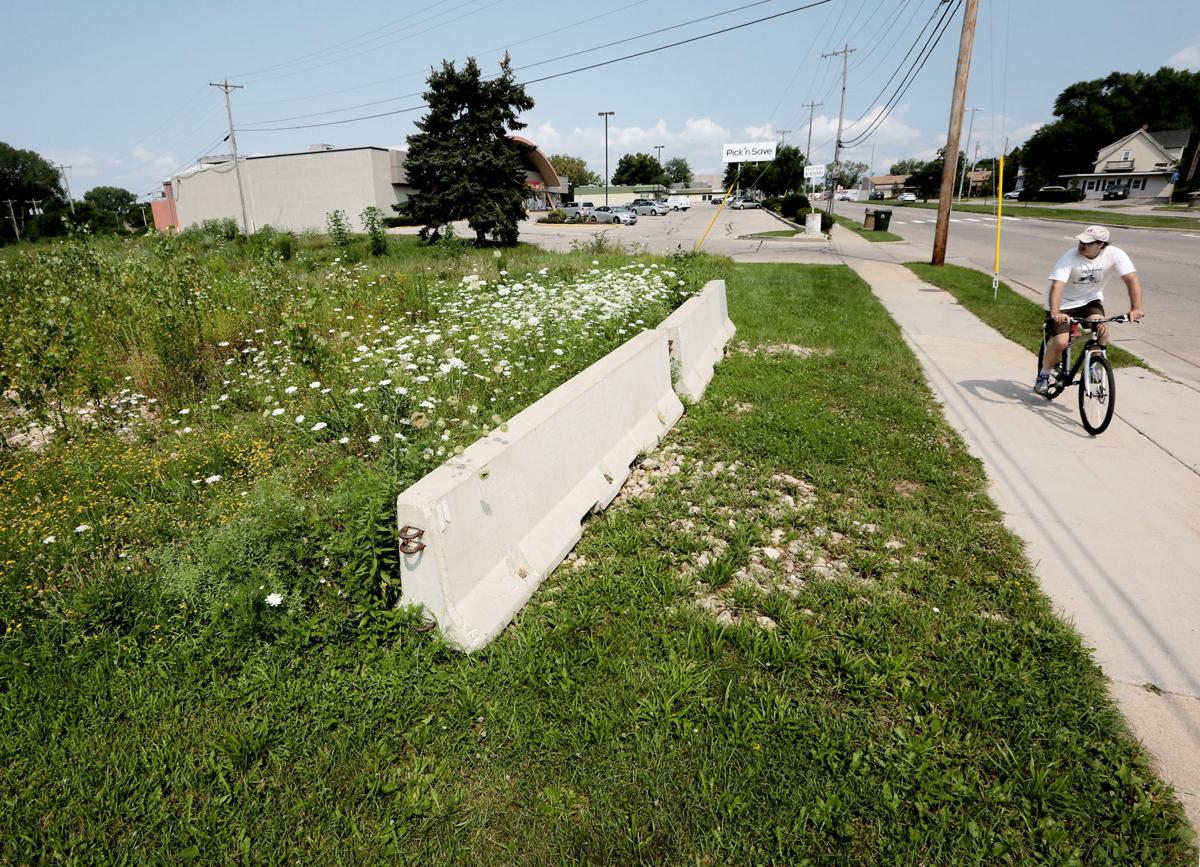 An area health care provider hopes to redevelop a long-empty, city-owned plot of land just south of Downtown Madison into what could become the area's most expensive development.
Two developers submitted proposals for the vacant 3.5-acre lot at 1402 S. Park St., which formerly held the Truman Olson Army Reserve Center. Both included some of the targets mentioned in the city's request for proposals — such as a grocery store, housing and parking — but differed in scope, according to the proposals released Friday.
"They both bring a significant presence on Park Street and try to maximize the use of a deep and narrow site," city real estate manager Matt Wachter said.
Hovde Properties and SSM Health proposed a $45 million mixed-use development including a grocery store, health clinic, retail space including a pharmacy, and apartment units.
Welton Enterprises included two options in its proposal. The first is more expansive, but would require more city funding to be completed. The second leaves out some elements for the site, but doesn't require as much city funding.
Both Welton options include a 25,000-square-foot grocery store and an apartment building offering 72 low-income housing units. The first option also adds a parking structure with more than 200 parking spaces, 7,650 square feet of office or clinic space and an additional 100 market-rate apartments.
Welton also owns the adjacent property to the north that holds the 26,000-square-foot Pick 'n Save, which has a short-term lease. In its proposal, Welton offers to work with the city in a second phase to redevelop that land as well.
The Welton proposal did not include the cost to complete either option but estimated that the assessment value would be about $20.4 million for the more expansive project and $7.6 million for the other.
The Hovde development would include a 40,000-square-foot grocery store on the ground floor and 40,000 square feet for an SSM Health clinic on the second and third floors facing South Park Street.
New pharmacy,
housing and more
On the western side of the property, which would face a to-be-constructed extension of Cedar Street, the proposal would provide 20,000 square feet of retail space. About a quarter of that space would be used by a new pharmacy for SSM Health and the rest would complement the clinic or the grocery.
Hovde did not specify who the 48 one- and two-bedroom apartment units would be available to, but said a market study and neighborhood input would influence the decision. Market-rate housing or senior independent living are possibilities, according to the proposal.
About 344 parking spaces would be included between the two structures, which would offer parking for clinic, grocery and retail visitors as well as for apartment residents.
Proposals from both companies provide for the construction of a municipal street along the northern edge of the property, which would extend Cedar Street and connect to Appleton Road.
"We have a pretty high priority getting Cedar Street to push through the block to support more investment (in the area)," said Matt Mikolajewski, the city's economic development director.
The Truman Olson project would be one of several SSM Health plans to undertake. In the proposal, SSM Health said it plans to construct a new building to replace its outdated facility on Fish Hatchery Road, as well as a parking garage on a nearby parking lot it owns and another clinic or administration building in the area as well.
Presentations planned for April 26
A city staff committee will analyze the proposals and the interested developers are scheduled to make presentations at a public meeting at 6:30 p.m. April 26 at the Goodman Park Maintenance Facility, 1402 Wingra Creek Parkway.
The Truman Olson development is one of many projects sweeping over a 64-acre area just south of Downtown. The triangle-shaped section of the city is enclosed by Fish Hatchery Road, South Park Street and West Wingra Drive.
"I am excited to see the interest and engagement in South Madison and Park Street," Ald. Sara Eskrich, whose District 13 includes the site, said in a statement. "The wider area has the opportunity to provide needed employment, amenities, and a range of housing choices for current and future residents."
T. Wall Enterprises plans to build on the long-vacant plot at the intersection of Fish Hatchery Road and South Park Street. The city's Plan Commission in August approved the project of three buildings holding 162 apartment units and about 12,000 square feet of retail space on the 1.64-acre plot of land.
A few blocks north of the Truman Olson site at 1202 S. Park St, an estimated $11 million project called Park Street Apartments is planned that would provide 58 units of permanent housing with support services for homeless individual adults and some couples.
In the greater South Side area, Madison Area Technical College is also investing funds for a satellite campus. The college plans to demolish the Wisconsin Department of Employee Trust Funds building at the corner of South Park Street and Badger Road and build a 75,000-square-foot facility in its place.
State Journal reporter Dean Mosiman contributed to this report.