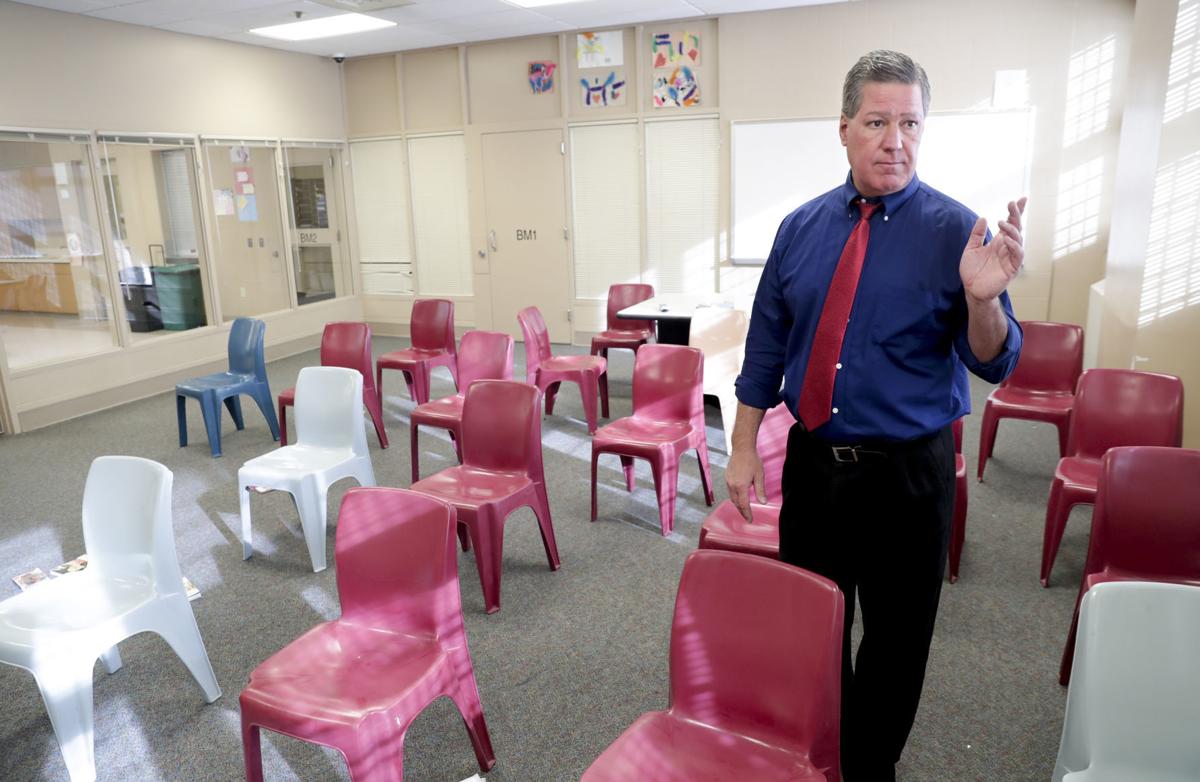 Two counties have backed out of plans to build and operate regional youth prisons, intended to replace Wisconsin's only youth prison in Irma, citing uncertainties about the cost of operating the facilities without more state support.
La Crosse and Fond du Lac counties had expressed interest in building what the state is calling secure regional care centers to house juveniles who are committed to long-term care after being adjudicated delinquent.
But La Crosse County Executive Steve O'Malley and Fond du Lac County Executive Allen Buechel said last week the counties would be shouldering too much risk by relying on existing state aids for children in long-term care. Without more state revenue to support the regional operations, they said, the plans would be asking too much of county taxpayers.
Rep. Michael Schraa, R-Oshkosh, said the counties are passing up a "golden chance" to run youth corrections by their own standards by backing out of the process.
"The state is stepping up here" by providing the capital funding, Schraa said. "I don't think they (La Crosse and Fond du Lac counties) put a lot of effort into it."
Schraa was instrumental in authoring the bill that will close Lincoln Hills School for Boys and Copper Lake School for Girls in Irma, which have been embroiled in allegations of misconduct and abuse. The bill, which was signed by then-Gov. Scott Walker in March 2018, would close the prison by 2021 and replace it with smaller, regional facilities, an expanded youth treatment center at Mendota Mental Health Institute in Madison and a few state-run facilities for youth who committed more serious crimes.
A bill to extend that deadline six months to July 2021 has been introduced in the Assembly and Senate, and Schraa said he hopes the Assembly will vote on it next month.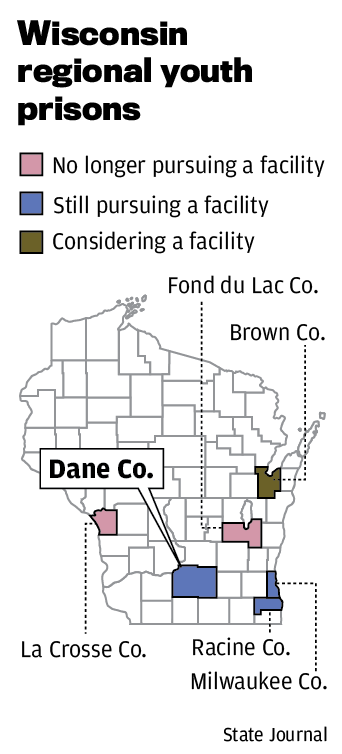 Sawyer County Board Chairman and Lac Courte Oreilles Tribal Council member Tweed Shuman said neither the county nor the tribe feel they have the ability to create and support one of these facilities, but Lac Courte Oreilles Tribe asked the state to ensure that there is a facility in the northern part of the state that is also culturally sensitive to Native American children.
Shuman said he is concerned that the state would only have facilities in the southeastern corner of the state, such as in Milwaukee, which is about a five-hour drive from Sawyer County.
"There's no way that families could ever visit these kids, and these kids would be isolated," Shuman said.
According to meeting records of the state committee that will be awarding construction funding, the Lac du Flambeau Tribe was considering building a facility with input from spiritual leaders and other tribes. Representatives of the tribe could not be reached for comment.
Sea of uncertainty
The state will likely have to allocate another $150 million or more in capital funding, Schraa said, to achieve its goal of keeping children closer to home in smaller facilities. But Schraa admitted that amount isn't likely to materialize, at least in the state budget currently being debated.
He said he's confident lawmakers in the capital budget process this summer will approve an increase of a lesser amount. If that doesn't happen, he said, the counties currently planning to build a facility will have to scale back plans.
Brown County is still evaluating whether it will open a regional youth facility, and funding to build and operate the facility is a primary concern there as well.
Because it could be the only facility serving children in the northern half of the state, "We know if we build it there will probably be enough capacity," said Dannel Skalecki, youth justice supervisor for the county's Health and Human Services department.
But key to the county's decision is whether the state will allow any regional authority that would oversee the facility to issue bonds to help cover construction costs, and whether it could request additional money if operating costs exceed budgeted amounts, as the Department of Corrections can do now with Lincoln Hills.
"There needs to be a vehicle by which counties can access funds if there's an operations deficit," Skalecki said.
Buechel said Fond du Lac County's decision to pull out of plans for a regional facility was "purely fiscal." He said the county is dedicated to providing effective correctional treatment for youth who commit crimes and would like to house them closer to home, but projected operating costs for the facility are too unwieldy.
Because the facilities would be funded on a per-child, per-day basis, the counties would need to keep a certain number of inmates over the course of a year to cover operating costs.
"The whole thing of it, if it goes into (an operating) deficit, could cost taxpayers a lot of money," Buechel said.
Under the juvenile corrections bill lawmakers passed last year, counties that operate a joint secure regional care center would get a 15% bump in youth aids — state and federal funds provided to counties — or $750,000, whichever is less, which would be used for the facilities' operational costs. Schraa said the state won't increase that funding any more than it already has.
"That is is not something the state's going to pick up," Schraa said. "We're giving them Youth Aids bumps, which should in itself be enough money for them to operate."
Schraa said the counties should have been working on solutions for operations funding problems, such as creating agreements with other counties in each region for operational funds to ensure steady funding. He said counties should have started that work as soon as the bill was signed, but instead they were "dragging their feet."
Many counties, including La Crosse and Fond du Lac, have stepped up prison diversion programs for children to avoid sending offenders to Lincoln Hills-Copper Lake, in part because of its troubled history. While those programs will continue, they could also keep numbers of youth committed to care low in the more rural counties, some county officials said.
Rep. Evan Goyke, D-Milwaukee, who helped craft last year's legislation overhauling the state's juvenile justice system, said the reticence of some counties shows they recognize the number of juveniles in lockups can be reduced.
"I like that the counties are doing this thorough analysis and having the dialogue about how to right-size the juvenile justice system," Goyke said. "I don't want to overbuild."
Three counties key
Schraa said he is confident the state will be able to close Lincoln Hills-Copper Lake with just the proposed facilities in Dane, Milwaukee and Racine counties — which account for the majority of children held in Irma — as well as the state-run facilities for youth who committed more serious crimes. Grant applications for those counties have not been submitted yet, so those projects aren't guaranteed.
Dane County Juvenile Court administrator John Bauman said Dane County could likely get a facility operating within the current mandated timeline because it would only involve renovations and expansion of the county's Juvenile Detention Center at the City-County Building. But Milwaukee and Racine counties would be building new facilities on county-owned or to-be-purchased land.
In Dane County, Venture Architects, the firm contracted for conceptual design work, estimated the project would cost $3.5 million to $4.5 million, Bauman said. A large portion would go toward an outdoor recreation area, which would be built on a flat roof on the Wilson Street side of the building.
Milwaukee and Racine counties are proposing entirely new detention centers for both juveniles held before trial and those committed to long-term care. Racine County's would cost an estimated $35 million, and Milwaukee County's would cost about $41 million.
Without adequate construction funding, Racine County won't be able to pursue the project, said M.T. Boyle, chief of staff for County Executive Jonathan Delagrave.
"If the state funding wasn't coming in, we'd be having a different conversation," Boyle said.
'Skin in the game'
Schraa said he and other legislators have been working with the Wisconsin Counties Association for months to accommodate requests by the counties and address "deal breakers." He said operating costs had been brought up in those meetings but not to the point of jeopardizing the proposals.
Schraa said the counties will need to accept the risk that comes with funding operational costs to remain efficient. If losses were fully covered by the state, he said, they would feel no need to rein in costs.
"To have the state build and then guarantee operating losses — where's the skin in the game for the counties?" Schraa said.
Sarah Diedrick-Kasdorf, a lobbyist for the Wisconsin Counties Association, said she hopes the state will continue discussing grant funding and construction timelines for the new facilities.
"There are so many things that are so fluid right now," Diedrick-Kasdorf said. "I mean, we're creating a new system."
Schraa said the state may need to award more grants in another round to cover construction.
State Journal reporter Riley Vetterkind contributed to this report.
Get Government & Politics updates in your inbox!
Stay up-to-date on the latest in local and national government and political topics with our newsletter.