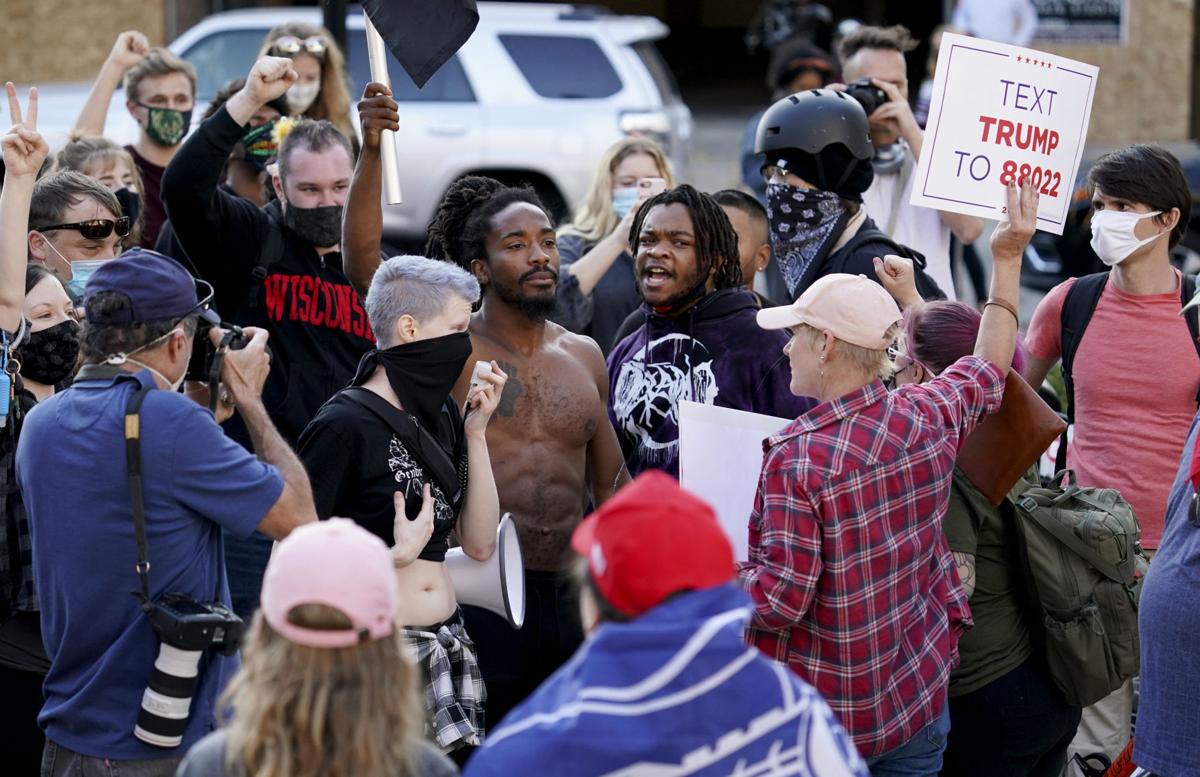 With Donald Trump's reelection looking increasingly unlikely by the moment, about 100 of his supporters rallied at the state Capitol Friday, seeking to raise questions about the voting process and clashing with counter protesters — while residents in the Democratic stronghold expressed cautious optimism at the prospect of a Joe Biden victory.
No violence was reported at the rally, but there were some tense moments as the two groups traded chants of "USA" and "no justice, no peace," and individual Trump supporters and Black Lives Matter activists engaged in heated, profanity-laced arguments.
Jenna Ellis, a senior legal adviser with the Trump campaign, urged the president's supporters not to engage in the back and forth.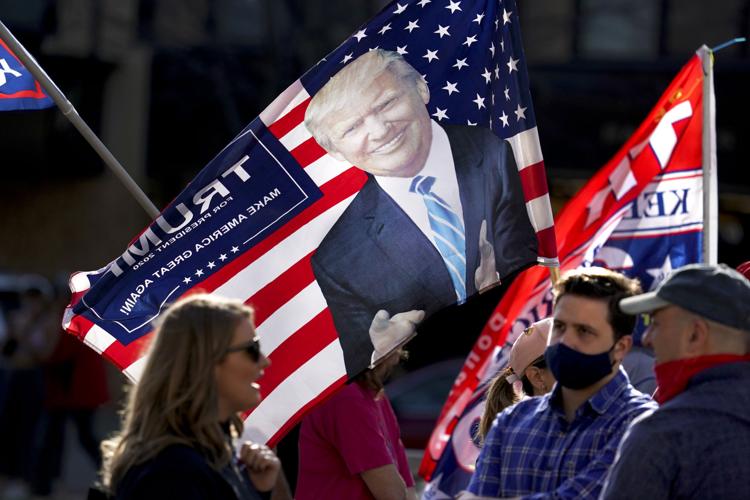 "Be better than the other side because we have truth," Ellis said through a bullhorn to those gathered around her amid the din. "Don't just yell at them."
Ellis, who was accompanied by two armed private security guards, said Trump campaign volunteers were on the ground in battleground states watching as the final votes were tabulated.
"We are fighting this but we are fighting this through a constitutional process," she said. "We're keeping every legal option open."
Trump supporters at the rally were quick to suggest that Biden's lead was proof of something untoward but offered no solid examples of fraud.
Dan Smelter, 31, wasn't alone in contrasting Biden's small rallies before the election with his record-setting vote total after.
"In lots of swing states, the voter turnout in the inner cities, such as in Milwaukee and Detroit, Michigan, and Pennsylvania, there were very, very high voter turnout rates," he said. "It's interesting because there was very little support for Joe Biden. He could barely get very many people at a rally."
Polls prior to the election consistently suggested Biden would win by a far larger margin than the narrow lead he had Friday, and while Trump continued with large, outdoor rallies in the waning days of the campaign, Biden largely stuck to smaller affairs out of fears about spreading the coronavirus.
Madisonians wait
Elsewhere in Madison on Friday, Lee Graham lounged in James Madison Park under the afternoon sun with his 8-year-old pug, Daisy, soaking in unseasonably warm weather as the vote count in key battleground states slowly edged in favor of the former vice president.
The 54-year-old, self-employed Madison resident said he's been feeling more confident his pick for president would beat Trump, but he acknowledged he felt "very low" on election night.
Since then, he said his emotions started "to get higher on Wednesday morning and then just higher still as we reach Friday" when counting of mail-in ballots in Pennsylvania and Georgia nudged Biden ahead of Trump in those states.
As Madison — like the rest of the country — waited Friday for whether the next president would be known or if more time is required to count the unprecedented number of mail-in ballots before a winner can be projected, residents of liberal Madison felt confidence and anxiety.
"I wasn't feeling great last night going to bed," said Drew Kuborn, a 22-year-old UW-Madison student. "But when I woke up this morning and saw that Pennsylvania and Georgia had flipped for what they're currently at right now, I'm pretty confident in that."
Kuborn, who grew up in the Milwaukee suburb of Cedarburg, said he's been "obsessively" watching new vote counts come in and stayed up until almost sunrise on Wednesday watching results for Wisconsin and Michigan come in — both states were called for Biden later Wednesday.
To Rebecca Zamora, whoever would better handle the COVID-19 pandemic was a deciding factor in her vote for Biden because she said she's at higher risk of complications from the virus.
The 23-year-old said she had mentally prepared herself for a longer-than-usual process to tally the votes.
"It's unsettling to me Trump got so many votes after the past four years, but I genuinely hope that every vote does get counted," the Madison resident said. "It takes time with mail-in votes. I'll sit and wait for it, that's fine."
Cameron Willis said his vote for Biden was cast more so as a vote against Trump.
"To be honest for the past two elections, all the candidates have been bad picks," the UW-Madison senior said. "I didn't vote Hillary (Clinton) because I liked her, just the lesser of two evils. I don't necessarily like Joe Biden either. I don't like Trump more."
The Georgia native said it was unexpected Biden took a razor-thin lead Friday in his home state that hasn't sided with a Democratic presidential nominee since 1992.
"I want to say it feels good, but at the same time it doesn't," he said. "There's still so many people voting for Trump and still so many racists."
Rally scene
Back at the rally, Eric Butler said he had been heading from his home in Sioux Falls, South Dakota, to Kenosha for Trump's rally there on Monday, but his car broke down. While he was waiting to get it fixed, he decided to stop by the Madison rally.
As a Trump voter, Butler, 35, is in the small slice of the Black population Trump attracted, although the president did better with Black voters Tuesday than four years ago.
"We can beat the racism horse into the ground," he said. "You're really getting nowhere. … I think people don't like the way Donald Trump talks because they're too sensitive."
Joshua Mitchell, 21, who is also Black and in his senior year at UW-Madison, was among the group of counter protesters and voted for Biden.
He said election night had him nervous as the vote totals appeared to be going Trump's way, "but now I'm pretty confident that Biden is going to win."
Trump was leading in several battleground states early in the night because many of them were counting ballots cast on Election Day first and didn't get to mail-in ballots until later. Some states also allowed mail-in ballots postmarked by Election Day to be counted even if they arrived after the election.
"I am kind of disheartened a little bit that the election was even this close," Mitchell said. "After four years of racism, of lies, of 200,000 deaths on his hands. So many other things. It's kind of disheartening to see the country still have faith in the man."
Elaine Wandler, 48, of Necedah, said she came to the rally Friday "because I want to make sure that Trump gets the message that we stand behind him."
She also pointed out how Trump was leading in Wisconsin early on Election Night, only to see him fall behind and ultimately lose the state's 10 electoral votes by about 20,000.
"I think there's a lot of fraud going on and I just want Trump to know we're aware of what's going on and knowing him he's going to get to the bottom of it," she said.
Matt Batzel, the national executive director for the conservative group American Majority Action, said there were reports of "anti-Trump operatives" involved in ballot counting in Green Bay, and raised other questions about the city's vote-counting process.
But he stopped well short of Trump's assertion that the only way he could lose is if the election was rigged.
"Taking a closer look at some of the things that have been reported I think is a prudent thing to do," Batzel said. "We want to make sure that everything is on the up and up throughout the state."
---
Follow the Wisconsin State Journal's 2020 presidential election coverage
Follow the Wisconsin State Journal's 2020 presidential election coverage
The candidates for the Nov. 3 election have accepted their party nominations. Who will win the key battleground state of Wisconsin?