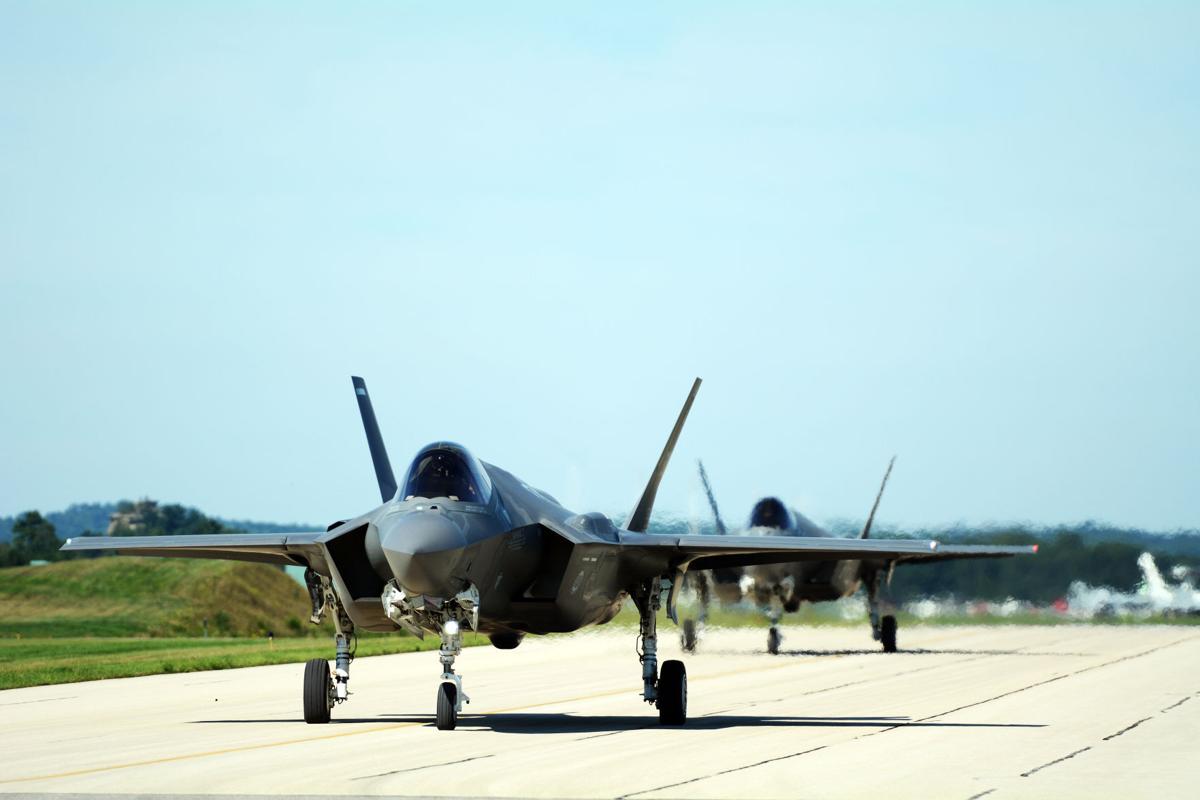 Hidden among its farm fields and wooded glades, Wisconsin is home to a battery of high-tech military amenities that state leaders hope will persuade the Air Force to choose Truax Field in Madison to be the home base for 18 F-35 fighter jets.
Amid four military bases and more than 12,000 square nautical miles of airspace that is cleared for military operations, Wisconsin offers millions of dollars of high-tech equipment to simulate 21st-century combat conditions for pilots training with the F-35's array of new-generation sensors and software.
That was the argument made by members of the state's congressional delegation in letters released last week after Truax's Air National Guard Base was named a finalist for the latest expansion of the F-35 fleet.
Elected officials and business leaders want the new jets as a means of securing the economic benefits the base generates.
"It would make great sense that the next generation of fighter jet be based at a base that has the support of the next generation of technology," said Zach Brandon, president of the Greater Madison Chamber of Commerce.
The Air Force plans to deploy 18 jets apiece to two of the five bases it announced as finalists Wednesday. The decision is to be made next year after the next phase of a competitive process that examines how each site stacks up against Air Force criteria aimed at getting the most out of each roughly $100 million aircraft while minimizing costs.
The criteria cover everything from prevailing weather conditions to the local cost of living to available storage for fuel, bombs and missiles, said Ann Stefanek, an Air Force spokeswoman in Washington, D.C.
While it might seem that icy Wisconsin weather could put Truax at a disadvantage over rivals farther south, the F-35s are designed to operate in extremes of heat and cold.
The same checklist of factors that was used to pick the five finalists will be used for the final decision, but analysts will examine everything in greater depth and rely on the judgment of senior commanders to weigh alternatives instead of a numeric scoring system, Stefanek said.
If one base meets most but not all of the criteria at a high level, the Air Force can still pick it and choose to make improvements, such as building another hangar, Stefanek said.
Detailed environmental impact assessments will be completed and public hearings will be conducted to gauge community support and opposition before a final decision is made, she said.
The environmental studies cover many areas, including existing problems with air pollution that jets could exacerbate, or the extent to which noise from jet engines will affect people and wildlife, Stefanek said.
Truax, which is next to the Dane County Regional Airport on Madison's North Side, currently meets federal noise and safety standards for its F-16 fighter jets and other aircraft in use there.
Community response noted
The F-35 air frame is manufactured by Lockheed Martin and the engine by Pratt & Whitney. The aircraft has been criticized for a series of cost overruns and delays in development of the highly complex software for its navigation and weapons systems.
Roughly 200 of the 2,443 the Pentagon wants to buy in the next 20 years have already been deployed or are in the pipeline.
Communities often mount efforts to attract military hardware like the new jets. After the Air Force announced in April it would seek more bases, the Madison chamber sent a team to Luke Air Force Base near Phoenix to learn about how it landed its F-35s, Brandon said.
He said the chamber has also taken note of vocal opposition and a pending lawsuit filed in an attempt to reverse the Air Force's 2013 decision to deploy the jets with the Vermont Air National Guard's 158th Fighter Wing at Burlington International Airport.
"We looked at places with successful efforts and places with struggles," Brandon said, adding that people spreading misinformation has been a problem elsewhere. "We are going to be very aggressive in tamping down on false news."
Madison residents already unhappy about F-16 noise are now discussing the prospect of the F-35, said Marsha Rummel, a Madison City Council member who represents a district on the Isthmus that is flown over regularly.
Some residents will likely speak out against the F-35, said Paul Rusk, a county board member who represents a North Side district and serves on the Airport Commission committee that responds to hundreds of complaints annually about noise from commercial and military jets.
The chamber has cited a study indicating the F-35 created noise levels comparable to the F-16.
Training capabilities are key
Wisconsin is competing against Dannelly Field, Montgomery, Alabama; Gowen Field, Boise, Idaho; Jacksonville Air National Guard Base in Florida; and Selfridge Air National Guard Base, Detroit, Michigan.
In a recently released letter sent to the secretary of the Air Force in June, five members of Wisconsin's Congressional delegation said Truax was the only site with all the elements needed to fully meet the F-35 program's goals for the full range of "scenario based" training.
"This brings significant cost and operational effectiveness benefits," they said.
The Air National Guard mission includes both training and combat-related operations. Stefanek said she couldn't comment on how Wisconsin's training capabilities compared to those in the other states.
But the letter signed by U.S. Sens. Tammy Baldwin, D-Madison, and Ron Johnson, R-Oshkosh, and Reps. Mark Pocan, D-Black Earth; Ron Kind, D-La Crosse; and Sean Duffy, R-Wausau, lists features at Volk Field and Fort McCoy, about 60 miles by air northwest of Truax, and Mitchell Field in Milwaukee:
Truax's aging F-16s and aircraft from other areas — including F-35s — have taken part in drills with military air traffic controllers, field artillery units and medical teams at the other Wisconsin sites.
Fort McCoy operates a bombing range where aircraft can drop live bombs and artillery personnel can fire live shells while practicing joint operations.
Volk Field has a bombing range that electronically simulates combat conditions, including targets and enemy attacks, for F-35 pilots training to use the aircraft's system of cameras and sensors, and its bombs, missiles and gun.
At Volk there have been recent upgrades of battle training technology including simulated surface-to-air missiles, laser- and GPS-guided weapons, enemy electronic jamming of aircraft instruments and "mobile targets on a scoreable range, providing a realistic 5th Generation Fighter combat training environment."
Eight KC-135R aircraft with the 128th Refueling Wing in Milwaukee can provide cost savings by replenishing the tanks of F-35s at Volk.
Considering Volk an auxilliary to Truax mirrors arrangements where the military has already deployed F-35s, the letter states.
Truax covers nearly 130 acres with 44 buildings totaling about 400,000 square feet, according to an Air National Guard release.