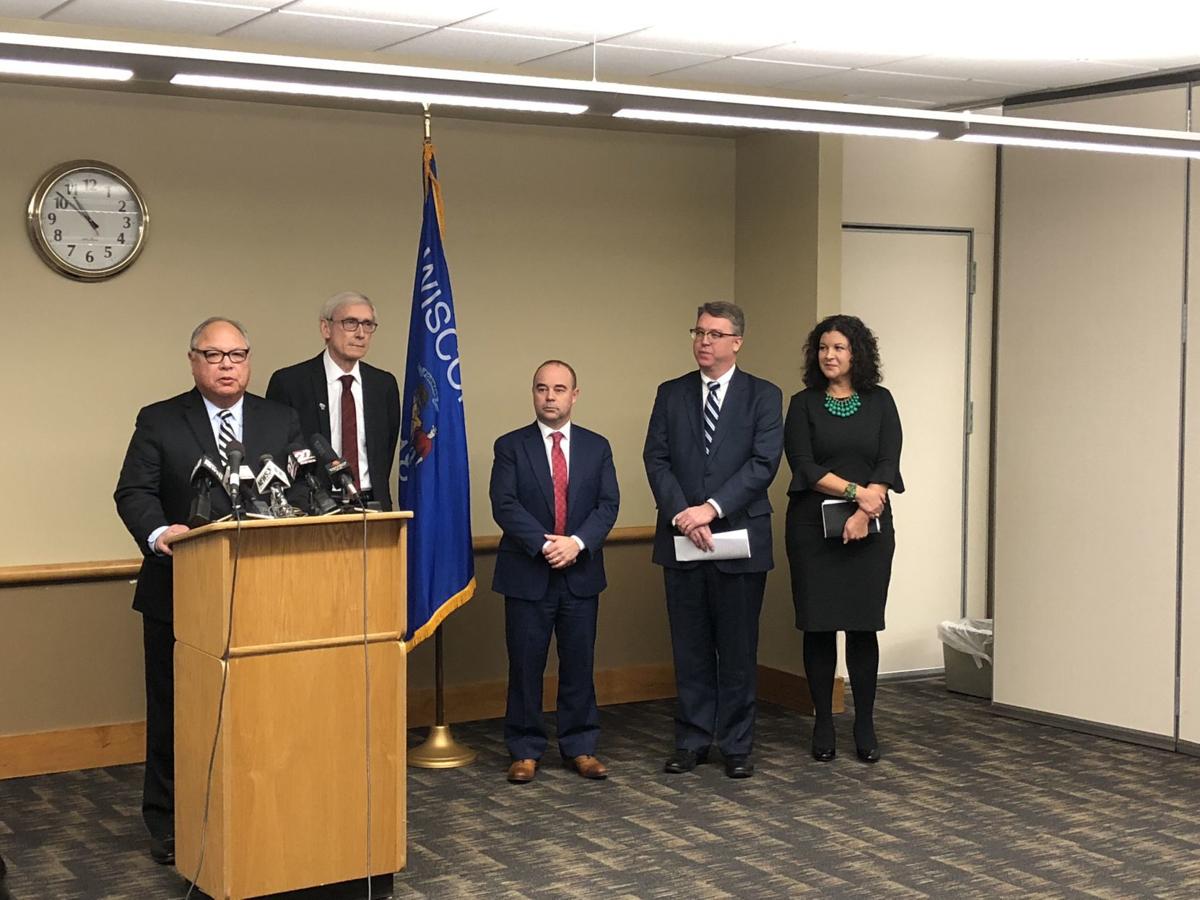 A state Senate committee recommended Transportation Secretary Craig Thompson's nomination be confirmed Thursday despite concerns from a conservative senator over his leadership.
The 4-0 vote supporting Thompson — one of the most controversial of Democratic Gov. Tony Evers' administration — means the former transportation lobbyist has cleared a major hurdle in the confirmation process. But he still must receive confirmation from the full Republican-controlled Senate, which is far from guaranteed.
Senate Majority Leader Scott Fitzgerald, R-Juneau, said Senate Republicans will meet in the coming weeks to deliberate whether to confirm nominees. The soonest the full Senate could convene to do so would be in September or October.
Thompson said he believes the full Senate will eventually confirm him.
While confirmation is largely seen as symbolic — cabinet secretaries can still serve without confirmation — it can serve as a political weapon if lawmakers threaten to oust cabinet members or hold up confirmation over grievances with the administration.
Along with Thompson, the Senate Committee on Transportation, Veterans and Military Affairs approved 4-0 the nomination of Veterans Affairs Secretary Mary Kolar, sending it to the full Senate.
Thompson's and Kolar's committee approvals represent the first movement from lawmakers in months on confirmation of Evers' cabinet secretaries. So far, none of the governor's secretaries has received a nod from the full Senate.
Thompson received bipartisan praise from committee members on Thursday. Sen. Dave Hansen, D-Green Bay, called Thompson a "hard worker," while committee chairman, Sen. Jerry Petrowski, R-Marathon, praised him while lamenting the political "sniping" occurring around some of Evers' cabinet secretaries.
"I believe that Craig is a class act," Petrowski said.
Thompson has been criticized by Republican senators for his previous role as a lobbyist for the Transportation Development Association, but Petrowski said Thompson's role there helps inform his view.
Thompson's confirmation comes a day after Sen. Steve Nass, R-Whitewater, one of the Senate's fiscal hawks, called on the committee to delay or vote down Thompson's nomination due to concerns over his fiscal management. Sen. Duey Stroebel, R-Saukville, joined in those concerns, and underscored his objection to a former lobbyist filling the role of transportation secretary.
"There is a fundamental conflict of interest inherent in appointing the lobbyist of a group of vendors to head an agency that hands out contracts to those same vendors," Stroebel said in a statement.
If Fitzgerald allows a floor vote, the 14 Senate Democrats would need three Republicans to support Thompson to approve his nomination.
Nass based his concerns off a report from the conservative MacIver News Service showing Thompson has so far approved $320 million worth of contracts for which there was only one bidder.
The Legislative Audit Bureau previously found the DOT could have saved nearly $45 million over a 10-year period if it had stopped awarding single-bid contracts.
Between 2006 and 2015, the DOT awarded 363 single-bid projects totaling $1.1 billion. The Audit Bureau estimates that, on average, the winning bid for a single-bid construction project is about 7% more than the estimated amount design engineers had determined.
About 17% of the 823 projects let between January 2017 and July 2019 were single-bid, valued at about $599 million, according to DOT.
Petrowski downplayed the concerns, prompting a harsh response from Nass.
"Today's vote is further proof that too many Republican legislators are willing to aid-and-abet the extreme tax-and-spend policies of Governor Evers," Nass said.
In an interview, Thompson said reducing the number of single-bid contracts is a top priority even though the department has limited control over who bids on a project. He said the department will soon be hiring an inspector general to explore the issue.
"You can't just come in and wave a magic wand," Thompson said. "But we are going to try to aggressively see what strategies we can implement to reduce the number."
He compared his record to leadership under the previous administration as proof he's taking the issue seriously.
During the first seven months of his administration, he said he has rejected nine single-bid projects, compared with seven during the last full year of Republican Gov. Scott Walker's administration.
And $127 million of the $320 million worth of single-bid projects he approved went toward one project: expansion of a segment of Interstate 39-90 between Janesville and Beloit. He said the project was waiting for his approval when he took office, and rejecting the bid would have cost taxpayers more money in the long term.
Get Government & Politics updates in your inbox!
Stay up-to-date on the latest in local and national government and political topics with our newsletter.