The long-deferred dream of passenger rail service through Madison — most recently derailed a decade ago — could become more feasible with a proposed Amtrak funding model that would see the federal government take on more upfront operating costs for new passenger rail routes.
The proposal, which is included in President Joe Biden's bipartisan infrastructure deal currently stalled in Congress, includes $66 billion in new funding for passenger and freight rail projects. While that's a reduction from the $80 billion originally proposed by Biden, Amtrak officials say the organization's corridor development program — also included in the plan — would see Amtrak covering up to 100% of the initial capital and most of the operating costs for a new route over a five-year period.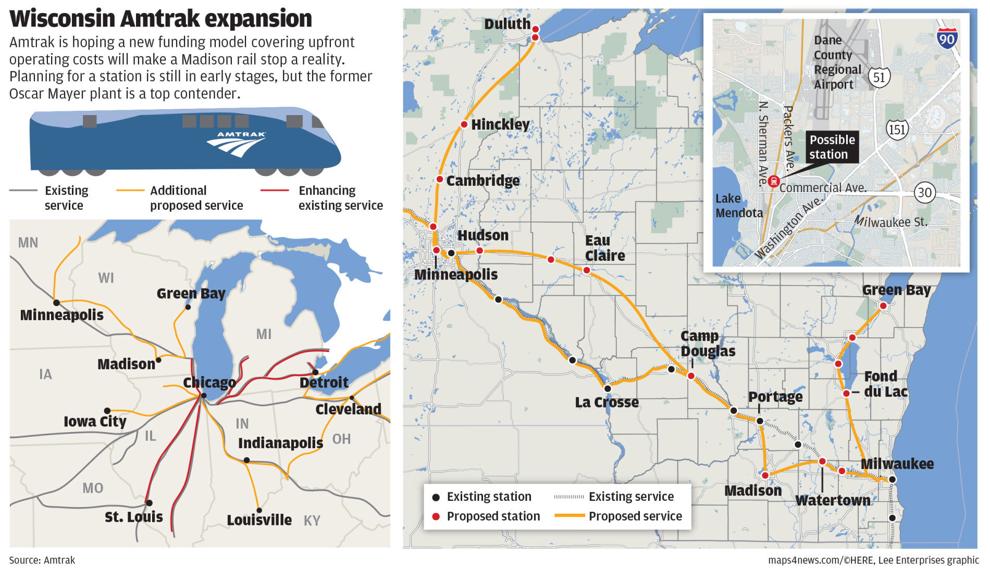 "These startup routes, like what we would be talking about to Madison or (Twin Cities-Milwaukee-Chicago), should be done with a stronger federal partnership for the operating costs for the early years," said Marc Magliari, a spokesperson for Amtrak Government Affairs and Corporate Communications. "It's not fair to take a route like Hiawatha's, which has been running for something like 20 years, and have the federal partnership on a mature route be the same as it would be on an immature, startup route."
Under the proposed funding model, Amtrak would cover up to 100% of the initial capital expenses for new rail routes and up to the full cost of operating expenses in the first two years of the route's operations. After that, the state's share of operating costs would begin to increase as Amtrak slowly phases down the level of federal funding.
Magliari said the proposal would mark a considerable shift from the current method of funding new routes, which involves states covering as much as 85% of early operating costs, with a portion of that offset by ticket revenue.
"We're going to propose that the federal government treat it like they treat other things in the transit industry and say there will be a stronger federal partnership for the first few years to give it a chance to prove itself or not," Magliari said. "That reduces the barriers these services have, gives them a chance to actually be born and prove themselves and tell the skeptics, 'Let's give it a chance.'"
Amtrak earlier this year released its 2035 vision, which laid out an "aspirational" map detailing the potential growth of rail services across the country over the next 15 years. While hardly set in stone, the map included proposals for a new route branching from Milwaukee to Madison and fellow Wisconsin cities Eau Claire and Green Bay — reigniting the prospect of expanded passenger rail service in the state.
In April, Madison Mayor Satya Rhodes-Conway, along with Milwaukee Mayor Tom Barrett and the mayors of Chicago, St. Paul and Minneapolis, sent a letter to U.S. Department of Transportation Secretary Pete Buttigieg and acting Federal Railroad Administrator Amit Bose in support of the proposed extension of Wisconsin's Hiawatha line — which connects Milwaukee to Chicago — to bring services through Madison to the Twin Cities.
Mark Weitenbeck, treasurer with the Wisconsin Association of Railroad Passengers, said a new funding model that provides more federal dollars to ease the upfront burden on states could help bring a new passenger rail route through Madison, a prospect Democrats hoped would come to fruition about a decade ago, before Republicans won control of state government and ended the project.
"It's always helpful to know that Amtrak is going to be a full partner in this," Weitenbeck said. "It is kind of a game changer, and it certainly makes it easier to sell it."
But before an expansion of the Hiawatha service comes anywhere near reality, Amtrak first would need to complete plans for a second passenger train between St. Paul and Chicago, with six stops in Wisconsin, including at Wisconsin Dells and Milwaukee. Currently, the new offering is expected to begin daily service in 2024.
"Until we get the (Twin Cities-Milwaukee-Chicago route) going, none of the rest of this is going to happen," Weitenbeck said. "If we can't make that happen, the rest of this is just whistling in the wind."
Years of handwringing
The prospect of passenger rail expansion has been an on-again, off-again conversation in Wisconsin, with the state previously being in line to receive $810 million in federal funding to build a Madison-to-Milwaukee high-speed rail system — a proposal supported in 2010 by then-Gov. Jim Doyle, a Democrat.
"We were going to be the model of what modern rail would look like in the United States," Doyle said in an interview.
However, Doyle's successor, former Gov. Scott Walker, a Republican who campaigned heavily on his opposition to the high-speed rail deal, rejected those funds in 2011. Walker later requested $150 million to upgrade the Hiawatha line, but the funding was ultimately denied.
Doyle's deal also included an agreement with Spanish train maker Talgo Inc. for at least two train sets, which the company planned to build in Milwaukee. The state also entered into a separate 20-year maintenance agreement to service the trains, a deal to provide a maintenance facility, and an option to buy two additional train sets.
Despite Walker's rejection of the passenger rail project, Talgo continued building the train sets and notified the state in early 2012 they were completed. However, the Wisconsin Department of Transportation refused to accept them, leading to a lengthy court battle over the two trains that ultimately ended with a settlement that saw Talgo keeping the trains and the state paying the company $9.75 million to close out the contract.
The Federal Railroad Administration reported in 2010 that building out passenger rail would create thousands of jobs in manufacturing, more than one million construction jobs and other careers in operations and maintenance.
Factors against
Magliari attributed at least some of the pushback against passenger rail expansion in Wisconsin to the state's financial commitment, which would have required the state to cover 85 cents per dollar, divided between ticket revenue and state funds, for operating costs.
"That's a pretty huge lift and it painted a bullseye on the service," Magliari said.
Doyle said another factor was the growing Tea Party movement among fiscal conservatives opposed to government spending, which clashed with then-President Barack Obama's stimulus package aimed at helping the nation recover from the Great Recession.
"It was just an incredible lost opportunity," Doyle said. "It was basically the political anger against the stimulus that this got caught up in."
With the COVID-19 pandemic upending most aspects of life and business activity, the federal government again doled out billions in stimulus funds, under both Republican President Donald Trump and Biden. But while the circumstances surrounding the federal spending due to the pandemic has been considerably different, some fiscal conservatives in Congress remain committed to reduced government spending.
Wisconsin's senators
Sen. Ron Johnson, R-Oshkosh, who first won election in 2010 as part of the Tea Party wave, pushed back against the infrastructure plan in an email, noting that infrastructure needs can be covered without incurring additional federal debt. Johnson added that "there is a day of reckoning if we don't get our fiscal house in order."
"We urge our colleagues to support an alternative approach and recognize that supporting an infrastructure bill that authorizes new spending also enables the Democrats' $3.5 trillion tax-and-spend budget," Johnson wrote. "We must stop mortgaging our children's and grandchildren's futures."
Sen. Tammy Baldwin, D-Madison, described the infrastructure plan as a "bold investment" to create jobs, lower unemployment and rebuild the nation's roads, bridges and transit systems.
"I have long supported investments to improve our nation's railroad infrastructure so we can expand access to safe, reliable and efficient transportation for more Wisconsinites, and I'm excited to support Amtrak's proposal to expand passenger rail service to new communities in Wisconsin," Baldwin said in an email.
Republicans in the U.S. Senate on Wednesday rejected an effort to vote on a pared-down version of Biden's bipartisan infrastructure plan. A formal vote could take place as soon as this week.
Year in review: The top Madison-area stories of 2020
It started out well enough. The Badgers were making a late-in-coming run at the Final Four. Hometown insurance behemoth American Family announced it was boosting its starting minimum wage to $20 an hour. Madison East Siders welcomed a new Pinney branch library.
The first two and a half months of the year feel like a different era, when news of a strange new virus infecting people in China was safely tucked away in the back pages of the newspaper and the heart-breaking images of a white Minneapolis police officer kneeling on the neck of a 46-year-old Black man had yet to go viral.
Then came March and successive waves of closures, cancellations, lockdowns, furloughs, layoffs, infections and deaths. If the subsequent uprisings over the killing of George Floyd weren't enough to remind America that it has plenty of work to do to overcome racism, the shooting of Jacob Blake in Kenosha tragically emphasized the point. And a divisive presidential election carried the tone of the year at the end.
While it may not be a year to look back on with particular fondness, 2020 no doubt is one to remember. Here's a look back at some of the top stories in the Madison area as they occurred.