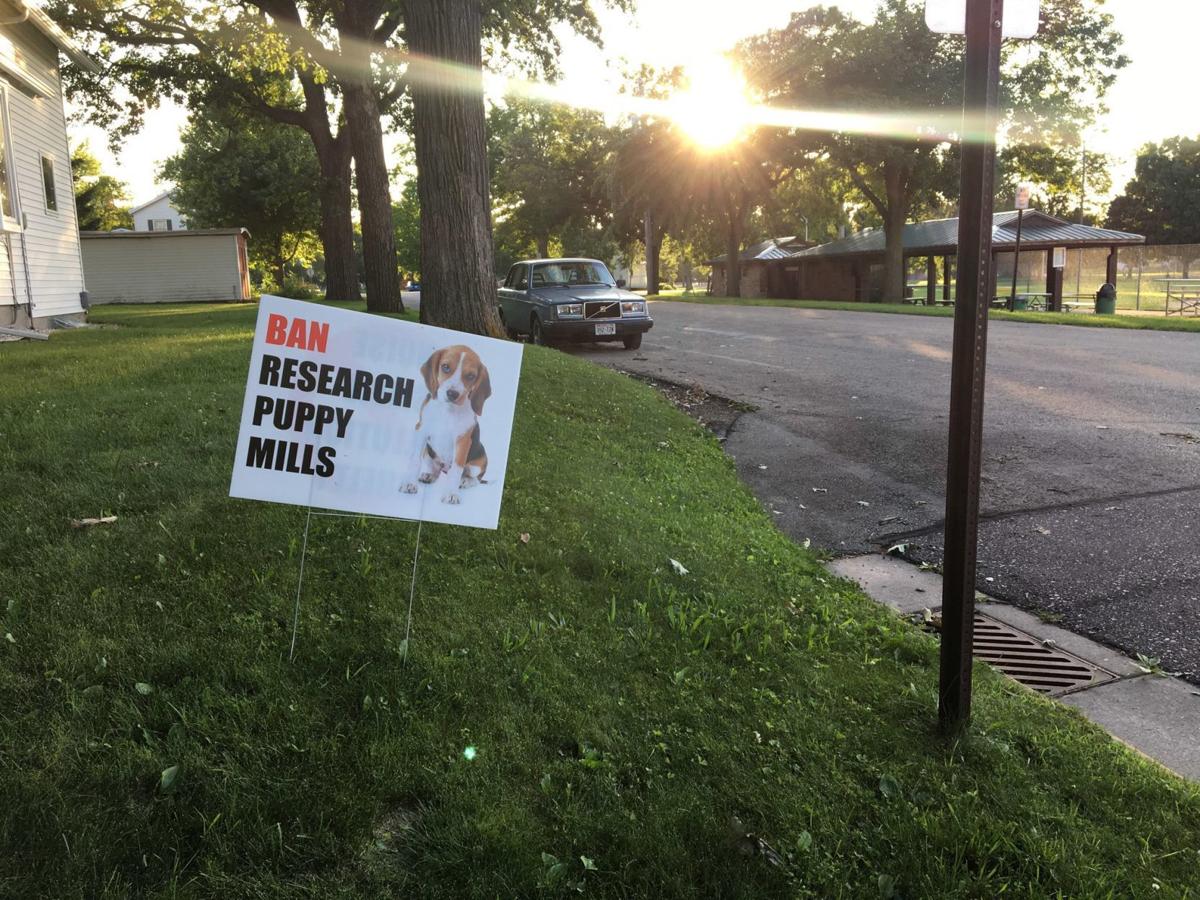 TOWN OF SPRING GREEN — In a packed hall, members of the Spring Green Town Board voted Thursday night to reverse their approval for a controversial facility to breed dogs for use in medical research.
Board members voted 2-1 to recommend that Sauk County not approve a business permit for Jill and Clinton Kane to operate a dog breeding facility with the intention to sell the animals for medical research.
Residents and board members voiced concerns about the environment and ordinance violations.
Town Sup. David Radel, who moved to reverse the May recommendation for approval of the facility, said he was concerned about environmental factors and previous and potential ordinance violations.
Radel and other community members presented a county violation the Kanes received earlier Thursday for operating the breeding facility and kennel without approval. The county said over 60 dogs were at the facility.
The Town Board voted May 14 to recommend approval of a permit for the business. After fielding complaints from citizens and activists, board members decided to reconsider.
Dozens of people filled the meeting room Thursday, with many speaking against the business. Controversy erupted last month after it was revealed the breeding facility would sell the "purpose-bred coonhounds" to medical researchers. The Kanes were not required to include that information on their permit application.
"When things start happening down here, people are going to come to you guys," said Nate Robson, a member of the town's Plan Commission. "I think it's time that our board stands up for us."
Opponents cited potential environmental impacts such as possible runoff of dog waste into the groundwater, disposal of dog waste and possible animal carcasses, as well as humanitarian concerns.
"There is no greater issue throughout the entire state of Wisconsin than drinking water," said Dawn Kabot. "It just seems everybody is reactive as opposed to being proactive."
You have free articles remaining.
Radel also voiced concerns about water contamination.
"I do have concerns about potential groundwater issues," said Radel, discussing the potential of dog waste runoff in Spring Green, which sits at the banks of the Wisconsin River a community and often experiences flooding. "It would be generations probably before this would ever be cleaned up."
Radel and Sup. Carla Carmody voted to reverse the board's recommendation for approval. Town Chair Kevin Lins voted against the reversal.
Clinton Kane provided the board with an updated plan to rid of the waste using compost drums. According to Kane, the compost would then be stored and eventually used on fields that grow livestock feed.
A few community members spoke in favor of the business, stating their support of using animals for medical research.
"With the research that they do on these animals, my dad's still alive," said Adam Kreul, sharing that his dad received a quadruple bypass nine years ago and attributing the medical accomplishment to such research.
The Kanes plan to hold an information session on the benefits of animal research at 6:30 p.m. Monday at Christ Lutheran Church in Spring Green.
The board's decision to reverse its recommendation for approval was met with applause and cheers from the crowd.
"With the concerns that this community has," said Patty Lomasney, who owns a farm in Plain, a village about 8 miles north of Spring Green, "there's too many what-ifs for it to go through."
Approval for the Kane's Big Hollow facility is up to the Sauk County Land Resources and Environment Department, which will take the town's recommendation against approval into consideration July 23.
The Kanes also are seeking to operate a breeding facility at their residence in the village of Spring Green. The village's zoning committee will consider approval at 7:30 p.m. Wednesday at the Spring Green Community Library.