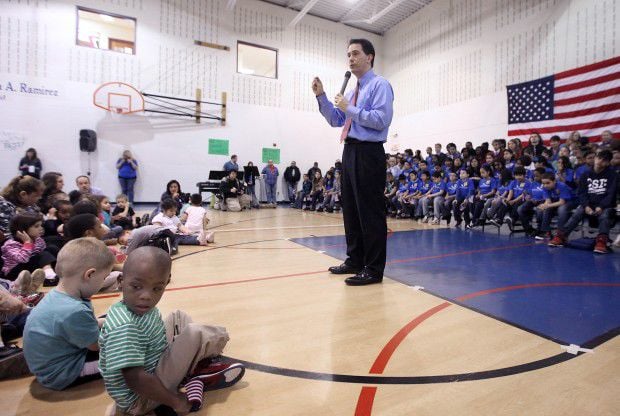 Tax filers making more than $100,000 a year are claiming two-thirds of a private school tuition tax cut enacted four years ago, according to data from the Department of Revenue.
The tax cut is costing the state about $12 million a year, far less than the $30 million projected when it was slipped into the 2013-15 state budget. The $18 million adjustment to the estimate was already factored into the state's financial bottom line in 2016, DOR spokesman Casey Langan said, so it's not an amount that can be tapped for new spending in the 2017-19 budget.
Families sending students to private school can reduce their adjusted gross income by up to $10,000 for high school tuition and up to $4,000 for elementary school tuition. The private school tuition exclusion, similar to an exclusion for a retirement account contribution, reduces a tax filer's income before deductions and credits are applied, so the actual amount in tax savings is a few hundred dollars per tax filer. Unlike a tax deduction, filers don't have to itemize to benefit from it.
Almost $8 million of the total cut went to families in the top 13 percent of income earners in the state in 2015. A total of 20,560 tax filers making more than $100,000 claimed the exclusion, receiving a tax cut of about $388 per filer, according to DOR.
Another 16,750 filers earning less than $100,000 claimed the exclusion. Their average tax savings was $235.
The 37,310 tax filers who claimed the exclusion represent 1.2 percent of all tax filers. A similar 36,007 tax filers claimed the exclusion in 2014, reducing their taxes by $11.5 million. About 65 percent of that amount went to those making $100,000 or more.
That wealthier tax filers receive a greater benefit is not surprising because they are more likely to send their children to private school, said Todd Berry, president of the Wisconsin Taxpayers Alliance.
"(Tax breaks) like this are more for political rhetoric and positioning than actually giving much in the way of benefits," Berry said. "For most of us, all they do is add lines and instructions to tax booklets, complicating filing for the rest of us."
Pattern of tax cuts
Senate Minority Leader Jennifer Shilling, D-La Crosse, said the private school tuition tax break is part of a pattern for Republicans of supporting tax cuts that benefit the wealthy.
Democrats have also criticized the Manufacturing & Agriculture tax credit for wiping out tax liability for wealthy individuals and corporations without any requirement they create jobs.
"All of this is tax money that could be going to our public schools," Shilling said.
Jon Peacock, executive director of the left-leaning Wisconsin Budget Project, said the tuition tax cut hurts low- and moderate-income families in two ways: "by tilting the tax code in favor of wealthy Wisconsinites, and also by eroding support for the public schools that less affluent families typically use."
Senate Majority Leader Scott Fitzgerald, R-Juneau, said in 2013 the tax cut would boost private school enrollment, reducing the "huge tax burden" of educating students in public schools. His office declined to comment Wednesday without further information.
Assembly Speaker Robin Vos, R-Rochester, and Gov. Scott Walker didn't respond to a request for comment.
Sharon Schmeling, executive director of the Wisconsin Council of Religious and Independent Schools, said it's not clear the tax cut has increased enrollment among low-income families because it represents a small amount of tuition costs. She characterized it as "seed money" to support private schools, which educate students who would otherwise cost taxpayers $1 billion to educate in public schools.
"We're all better off with more choices because there are children with lots of different enrollment needs," Schmeling said.
She added that only parents can claim the tax break, so the Legislature could make changes so that grandparents and other relatives who pay tuition could benefit.
It's unknown how many of the families claiming the exclusion were already enrolled in private school.
In the 2014-15 school year, private school enrollment increased for the first time after six straight years of decline, from 119,801 to 123,104, or about 3,300 students. Enrollment stayed about the same in the 2015-16 school year. The state's private school voucher program expanded statewide during the same period, adding 1,008 students in 2014-15 and another 1,506 in 2015-16.
Slipped into budget
The tax break was added to the 2013-15 budget by the Legislature's Joint Finance Committee as part of what is known as a "999 motion." The catch-all motion doesn't identify the lawmaker who authored each proposal, though U.S. Rep. Glenn Grothman, R-Glenbeulah, then a state senator and member of the budget committee, advocated for it.
The 999 motion has come under bipartisan criticism in recent years, especially after the last budget when Gov. Scott Walker and Republicans tried, unsuccessfully, to gut the state's Public Records Law.
State Superintendent of Public Instruction Tony Evers said his biggest concern with the tax credit was that it was passed without a public hearing. He also noted the number of referendums school districts have passed in recent years to raise money for public schools.
"If indeed a whole bunch of people in Wisconsin think they need to go to referendum in order to offer the education kids need, that tells me the state isn't meeting its obligation," Evers said. "If the state is not meeting its obligation to schools, then how can we afford to subsidize private education for above-average income people?"
John Humphries, who is challenging Evers in the upcoming spring election, said about the tax cut "the governor and Legislature are clearly committed to helping parents make the right choice for their children, regardless of what school they select."
"Low-income parents who qualify for free vouchers for schools are unlikely to qualify for significant tax deductions," Humphries said. "It's not surprising that parents with higher incomes, who pay higher taxes, are more likely to qualify."
Rick Melcher, another candidate for state superintendent, called the tuition tax cut a "benefit package for wealthy individuals who would send their children to private school anyway." He recommended capping eligibility for the tax cut at those making less than $100,000.
Lowell Holtz, another candidate who is a former district superintendent, didn't respond to a request for comment.
Get Government & Politics updates in your inbox!
Stay up-to-date on the latest in local and national government and political topics with our newsletter.