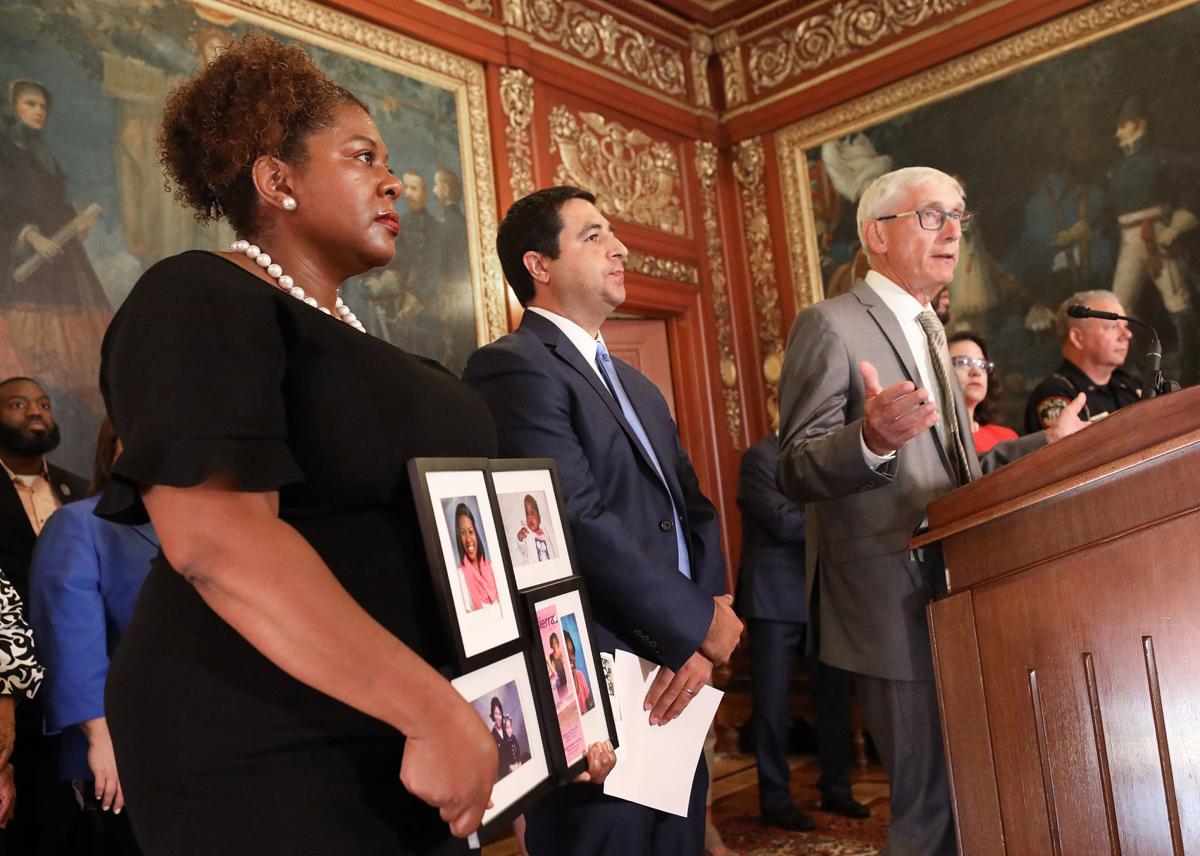 In response to twin massacres in Ohio and Texas earlier this month, Gov. Tony Evers and other Democrats Thursday introduced a bill that would expand background checks to most private gun sales in the state.
The universal background check bill, introduced by Rep. Melissa Sargent, D-Madison, and Sen. LaTonya Johnson, D-Milwaukee, comes as Republicans have so far dismissed Evers' calls for any changes to the state's firearm laws, which gun-control advocates say could be strengthened to reduce gun violence.
Assembly Speaker Robin Vos, R-Rochester, said Thursday morning GOP lawmakers would be unlikely to consider an expansion of background checks or the red-flag laws previously called for by Evers.
"My hope is that we focus on what could actually get done, and that is dealing with mental health issues, trying to make sure that people make better decisions as opposed to taking away people's constitutional rights with very dubious reasons and very limited, if any, real effective results," Vos told WISN-AM radio.
The proposed bill would require nearly all gun sales to be conducted through a federally licensed dealer, with few exceptions. Democrats say the bill would virtually eliminate the so-called "gun show loophole," which under current law allows a person to circumvent the background check process by purchasing the gun from a private seller.
Wisconsin does not require private sellers to conduct a background check when transferring a firearm. Under the bill, most gun sales would go through a licensed gun dealer, which currently must contact the Wisconsin Department of Justice to conduct a background check to sell a handgun, and the FBI to sell a long gun.
"Gun violence has seemingly become a foregone conclusion," Evers said. "It's way past the time to get something done."
The bill carves out a few exceptions for sales or transfers of guns to firearms dealers, law enforcement and members of armed services. Additionally, sales of antique guns and transfers by gift or inheritance would be exempt from background checks.
Republicans, including Vos, have expressed opposition to any measure that would inhibit gun transfer by inheritance.
Absent from the bill is any provision that would implement so-called red-flag laws, which Evers has pushed for in recent weeks. Otherwise known as extreme risk protection orders, such laws give courts the authority to require people perceived as threats to surrender their firearms. Evers told reporters lawmakers will introduce one "at some point in time."
The governor also stopped short of calling a special session of the Legislature to take up the issue of gun violence, which he said remains an option. In 2018, former Republican Gov. Scott Walker used a special session to prompt the Legislature to pass a $100 million school safety plan in the wake of a mass shooting at a school in Parkland, Florida, that left 17 people dead.
Republicans so far have shown no interest in taking up universal background check or red-flag legislation, citing concerns with due process and a vow to protect the Second Amendment. GOP lawmakers say universal background checks would be ineffective in preventing gun violence, and have bemoaned red-flag laws because they strip a person's constitutional rights before he or she commits a crime.
"That is a fundamental principle for many of us that just is very difficult to get around," Vos said.
Instead, they've pointed to mental health as the issue in need of attention, especially to stem suicide using a gun. Assembly Majority Leader Jim Steineke, R-Kaukauna, said in a statement that Republicans would review Evers' proposal despite their concerns with it.
The introduction of the legislation comes after Senate Majority Leader Scott Fitzgerald, R-Juneau, said he does not support expanding background checks to private sales, but would consider expanding a law currently on the books that prohibits the possession of a firearm for those enjoined under a restraining order or injunction for domestic abuse, child abuse, harassment or elder abuse. In 2014, the state created a process for the surrender of firearms under that law.
A Vos spokeswoman didn't respond to a request for comment. A Fitzgerald spokesman referred back to Fitzgerald's comments earlier this week.
Get Government & Politics updates in your inbox!
Stay up-to-date on the latest in local and national government and political topics with our newsletter.