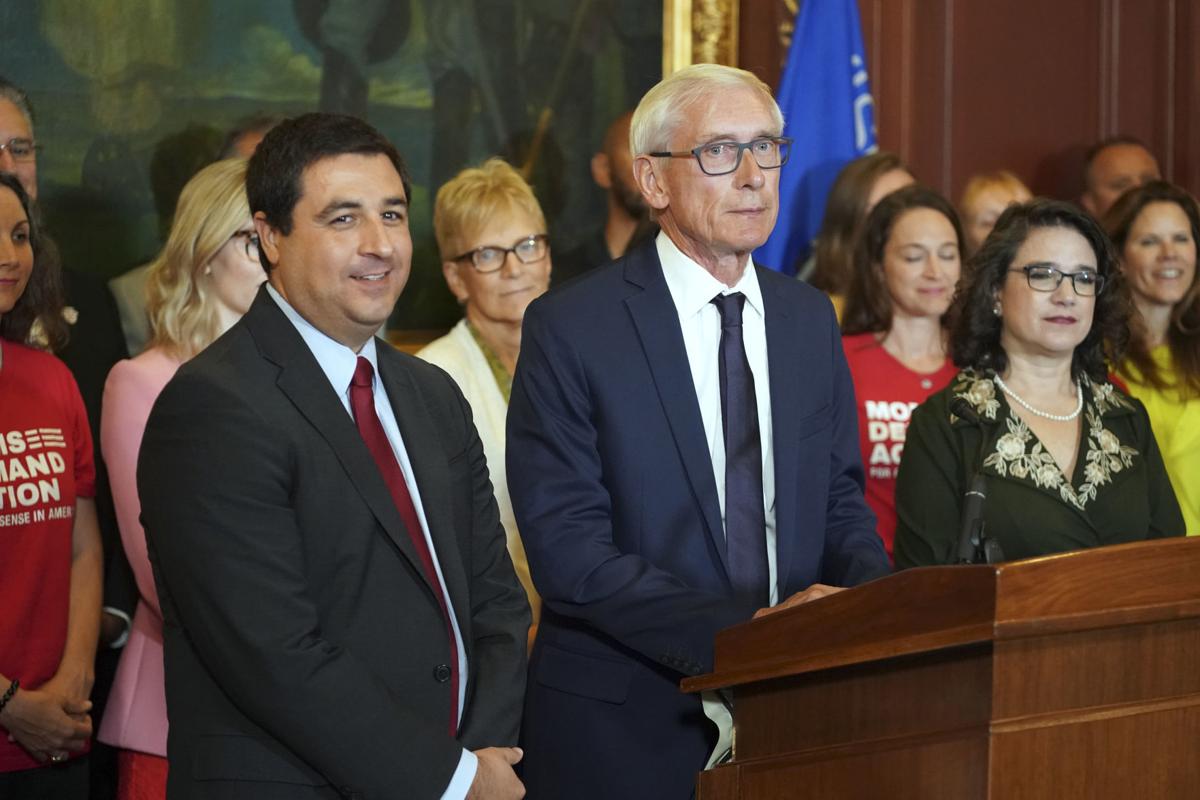 Gov. Tony Evers and other Democrats on Thursday introduced a so-called "red flag" bill that would require people perceived as threats to surrender their firearms.
But in a move that diverted attention from more widely supported gun control measures he is trying to get passed, Evers told reporters he would "consider" a mandatory gun buyback program to reduce the number of firearms in the state.
His openness to the idea, floated by Democratic presidential candidate Beto O'Rourke last week, drew immediate criticism from Republican leaders, who claimed Evers' call for a red-flag law exposed a more "radical" agenda.
"Today, in a partial answer to a reporter's question, Gov. Evers revealed Democrats' real agenda: taking away firearms that are lawfully owned, which is unacceptable," Assembly Speaker Robin Vos, R-Rochester, and Senate Majority Leader Scott Fitzgerald, R-Juneau, said in a statement. They also said red-flag legislation undermines due process and Second Amendment rights.
During the governor's news conference, a reporter asked Evers if he would support a mandatory buyback program.
Evers first said he's focused on red-flag and universal background check legislation, but when pressed, said he's open to the idea of mandatory buybacks.
"I'd consider it, but my focus is on these two bills," Evers said.
O'Rourke, a former Texas congressman, turned heads during the presidential debate last week when he proclaimed, "Hell, yes, we're going to take your AR-15, your AK-47," in arguing that guns meant for warfare should be banned. He called for a mandatory buyback of assault-style rifles to prevent gun violence after a mass shooting at a Walmart in El Paso in early August.
A recent NPR/PBS NewsHour/Marist poll found 46% of Americans oppose mandatory assault weapon buyback programs, while 45% support them. But it also showed 83% of Americans support universal background checks and 72% would back a national red-flag law.
Evers, Democratic Attorney General Josh Kaul and legislative Democrats called on the Republican-controlled Legislature to take up gun control bills after dual mass shootings more than a month ago in Ohio and Texas that left 31 people dead. Republican lawmakers, however, are unlikely to pass any of the legislation proposed and have so far ignored Democrats' calls for increased gun control.
"I have consistently run for office and been elected on protecting and expanding Second Amendment rights," Sen. Van Wanggaard, R-Racine, said in a statement. "I don't intend to change that promise now."
Democrats argued officials can no longer wait to take meaningful action to stem gun violence. While not currently a priority of his, Evers said he would consider a gun buyback program in which civilians must sell their privately owned guns to the government to reduce the number of firearms in circulation.
"Each and every day, elected officials choose to not take gun violence seriously," Evers said. "That's a choice that has consequences. It's way past time to get something done."
While lawmakers under this scenario may have to meet, they do not have to pass any legislation, so the impact of such a move is limited.
Bill introduced
The red-flag bill, introduced by Rep. Melissa Sargent, D-Madison, and Sen. Lena Taylor, D-Milwaukee, comes a month after Democrats introduced a bill that would expand background checks to apply to private gun sales in the state.
Red-flag laws are also known as extreme risk protection orders. The bill by Sargent and Taylor would create a process for a law enforcement officer, family member or household member to petition a court to temporarily prevent a person perceived to be a threat to themselves or others from possessing a firearm.
The bill mirrors a Wisconsin law already on the books that prohibits the possession of a firearm by those under restraining orders or injunctions for domestic abuse, child abuse, harassment or elder abuse. In 2014, the Republican-controlled Legislature passed and former Republican Gov. Scott Walker signed a bill that established a procedure to take guns from domestic abusers.
Fitzgerald previously said the combination of those laws "already qualifies" as a red-flag law, adding that he'd be open to considering ways to expand them.
Focus in court
Gun control advocates say red-flag laws have one clear advantage over laws that restrict gun possession by those subject to restraining orders: The entire focus of a red-flag court hearing is gun possession, while that factor is secondary in hearings for restraining orders.
They say there's often less reluctance by courts to follow through with actually seizing firearms under red-flag laws.
Sargent said those found to have made a false claim against someone under a red-flag law could be subject to a felony charge.
"Red-flag laws — they won't do everything, but they will save lives," Taylor said.
"I have consistently run for office and been elected on protecting and expanding Second Amendment rights. I don't intend to change that promise now."

State Sen. Van Wanggaard, R-Racine
Get Government & Politics updates in your inbox!
Stay up-to-date on the latest in local and national government and political topics with our newsletter.