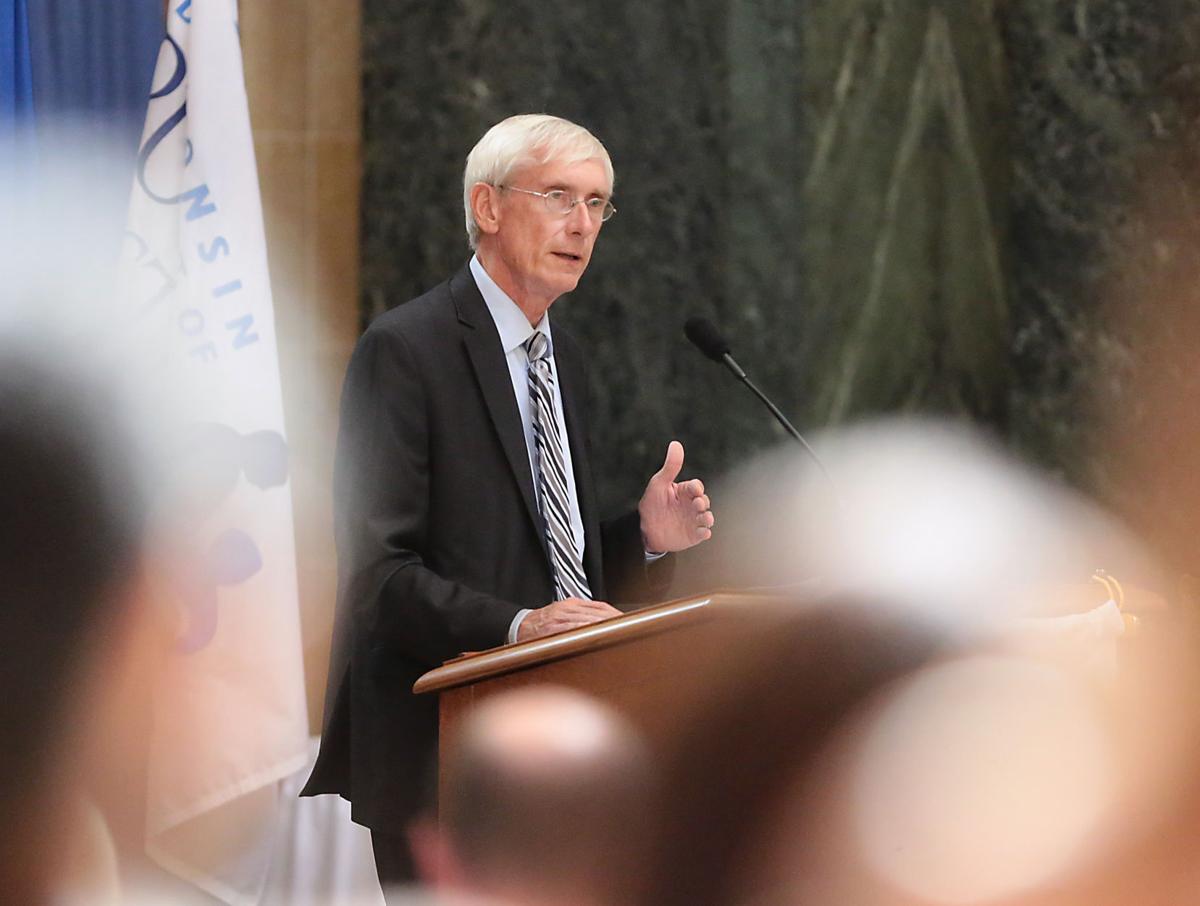 Takes on Walker, GOP in education address
State Superintendent Tony Evers on Thursday blasted the Republican-controlled Legislature and Gov. Scott Walker for not significantly increasing school funding in recent years, refusing to take federal money to expand Medicaid and for the condition of the state's roads.
Evers, who announced last month he is challenging Walker in 2018, took aim at his future opponent and the Republican Party on several issues during his annual "state of education" address at the state Capitol — remarks typically focused on K-12 education, which he oversees as the head of the Department of Public Instruction.
Quoting President Teddy Roosevelt throughout what verged on a political stump speech, Evers told the Capitol rotunda full of school superintendents, lawmakers and other state officials that Roosevelt "is calling us to stand tall in the face of adversity."
"To demonstrate leadership and confront problems, seek solutions, rather than simply critique," he said.
"Rejecting our fair share of support from Washington means Wisconsin taxpayers are forced to pick up the cost. It is that simple, and it is hurting our schools when scarce state resources are increasingly directed to health care," he said about Medicaid, and called for accepting the money.
And on roads, Evers said, "every dollar we shift from the state coffers to pay for roads, and increasingly, to simply pay for debt, is a dollar we move out of the classroom of a child."
The vast majority of state dollars used for transportation comes from a separate pot of money than for education.
You have free articles remaining.
Evers' remarks came as Walker signed the 2017-19 state budget in an elementary school in Neenah. The budget includes $639 million in new spending for school districts, more money for transportation for rural schools and for mental health programs in schools — funding he touted at dozens of school districts in the spring after proposing it.
Evers in February, before he entered the gubernatorial race, called the plan a "pro-kid budget." But on Thursday he said the state still isn't sending enough to schools after cuts in previous state budgets.
"On school funding, we must face the reality that for too many budget cycles public school funding has not been the priority for those in control," Evers said. "A decade ago, Wisconsin spent nearly 40 percent of its general tax dollars on public schools. Today, it has fallen to 32 percent. This is a question of priorities."
A spokesman for Walker's campaign deferred comment to the state Republican Party. A spokesman for Walker's office said, "While Dr. Evers was busy criticizing in the Capitol, Governor Walker was at Tullar Elementary School signing a budget that provides the most money ever for K-12 education and lowers property taxes at the same time."
Elected superintendent in 2009, Evers cited Roosevelt throughout the speech and told the crowd in the Capitol rotunda to "persevere in the face of adversity."
"Here, Teddy is calling on us to be the adult in the room. That ideal has become a north star for me, but I wasn't always wired this way," Evers said, adding he has survived an especially deadly form of cancer. "I got through it with the support of my family and friends, but it altered the way I approach life. I lost some of the fear that held me back. It sharpened my leadership skills and gave a new urgency to living. It helped me learn to dare greatly."
Before Evers spoke Thursday, the state Republican Party said he was a weak leader.
"Madison bureaucrat Tony Evers' entire career has been defined by his failure to lead when it mattered, and today is no different," Republican Party of Wisconsin spokesman Alec Zimmerman said in a statement. "Just months ago, Tony Evers praised Governor Walker's budget as 'pro-kid' and 'an important step forward' — but now he's hypocritically inserting politics into the situation to score political points."
Republicans also criticized Evers for the state's longstanding gap in academic achievement between black and white students, for his department's plan to comply with a new federal education accountability law and for a DPI software error that resulted in DPI unable to verify four-year graduation rates for 2016.