The new deal with Foxconn Technology Group has opened the door to a major windfall in state dollars that could spur other economic development opportunities across Wisconsin, Gov. Tony Evers said Friday.
In the short-term, the state now expects to be on the hook for an estimated $37.4 million that the Evers administration had not anticipated when crafting its 2021-23 budget proposal.
That's because Foxconn wasn't expected to qualify for any tax credits over the next two years, but now they likely will under the new deal.
But in the long-term, the state's overall commitment to Foxconn under the new agreement has fallen from $2.85 billion in state tax subsidies down to $80 million. Due to a separate manufacturing tax credit that allows manufacturers to pay almost no corporate tax, the tax credit is paid almost entirely by state taxpayers.
"This kind of frees up resources, but also it frees up the knowledge on the part of entrepreneurs and others in the state that this is not just a one-shot deal with a big company," Evers said in an interview Friday with the Wisconsin State Journal. "We want to make sure we're working with all parts of the state of Wisconsin."
Foxconn's original 15-year contract, signed in 2017 by then-Gov. Scott Walker, included $2.85 billion in refundable state tax credits to the company if it hired 13,000 full-time employees and made a $10 billion capital investment. Other state and local incentives, including $150 million in sales tax breaks that the company still could receive, brought the total to about $4 billion.
The company's original agreement with the Wisconsin Economic Development Corp. roughly translated into $190 million in annual tax credits to Foxconn, as long as it met the contract's target goals, which the company has so far failed to do.
"That was a 15-year window of burden that the Wisconsin taxpayers were facing — by right-sizing the contract, we've been able to free up the burden," WEDC Secretary and CEO Melissa Hughes said Thursday. "So it's not necessarily that all of a sudden we have cash in our account, but that burden will not carry forward with the next generation of Wisconsin's economy."
Under the new agreement, Foxconn can receive up to $80 million in state tax subsidies over a six-year period for meeting new targets of 1,454 jobs and $672 million in capital investment by 2026. Rather than providing the company roughly $230,000 in subsidies per job in the previous contract, the new agreement would reduce the state's commitment to about $55,000 per job.
In a letter to the state's budget committee Friday, Administration Secretary Joel Brennan said he expects the company to receive $37.4 million — the maximum allowed in the new contract — through 2023. Brennan asked the committee's co-chairs to assume that level of funding when crafting the 2021-23 biennial budget.
No 'piggy bank'
Hughes said the new contract lays out more reasonable goals for Foxconn, which has said it has invested $900 million in the state, while also providing future opportunities for the state's economy, which is looking to recover from the ongoing COVID-19 pandemic.
"It's not like there's a piggy bank of money that WEDC now gets to spend someplace else, but what this is is a chance to talk about — if we are going to invest taxpayer dollars in economic development, if we are going to say there's some small portion of taxpayer dollars that we can leverage and try to spark activity — where would we do that?" Hughes said.
Hughes pointed to a WEDC report, titled "Wisconsin Tomorrow: Building an Economy for All," that was released earlier this month as a potential guide for state spending on areas that pertain to residents' economic well-being, including education, health care, community infrastructure, affordable housing and child care and environmental initiatives.
The state still may provide large tax credits to businesses in the future, but Hughes said the Foxconn saga has shown the risks of providing an outsized incentive package to a single company.
"I think the lesson is that diversification is maybe a better path," she said. "I think going forward we can still have large incentive packages like $80 million — this is not a small deal — and we can still really support our larger companies, but we should be doing it in a more diverse way and we should also be thinking about Main Street and entrepreneurs in the same level of investment that we think about with these big companies."
Chilling effect?
Assembly Speaker Robin Vos, R-Rochester, a member of the WEDC board who voted in favor of the new agreement, in an interview cautioned against interpreting the revised contract as new dollars for the state.
"I don't think there is some huge amount of money because we never spent any of it," he said. "It wasn't like locked away in a savings account, it's just in the state's general fund."
Vos added he's concerned negotiations leading up to the new deal could have a chilling effect on economic development.
"If you're a business that wants to move a company from Texas or Illinois or California, you now have to doubt the sincerity of Wisconsin officials, and that's something we've never had to worry about before," Vos said.
So far, Foxconn has not received any state dollars, but state officials last year estimated the project in Mount Pleasant in Racine County had already cost Wisconsin more than $200 million in state and local road improvements, sales and use tax exemptions, grants to local governments and for worker training and employment.
Under the new agreement, Foxconn can receive up to $60.3 million in jobs and capital investment credits and another $19.7 million in performance credits. The company's 2020 jobs report is due to the state by July 1, and WEDC expects to verify if targets are met by the end of the year.
Still, sizable
The new agreement between Foxconn and the state is a considerable shift away from the scope of the project originally promised by the Taiwan-based company, which was touted by President Donald Trump as the "eighth wonder of the world" during a 2018 groundbreaking ceremony.
At the same time, it still represents the state's largest enterprise zone contract, which is often provided to assist existing companies expand, but also mirrors other state incentive packages in that Foxconn must meet certain job creation and capital investment targets in order to receive subsidies.
Foxconn's original contract was unique in that it specified exactly what the company needed to produce — a Generation 10.5 facility that would build larger panels for TV screens. The company later downsized the project to Generation 6, which would manufacture small screens for mobile phones, tablets, notebooks and wearable devices, and questions still remain on what the company plans to manufacture in the state.
Foxconn's change of course led the state to ultimately deny the company any tax subsidies because the plan for the facility no longer matched what was promised in that original contract. Records show that Foxconn officials first expressed an interest in a revised contract as early as March 2019, with former WEDC CEO Mark Hogan agreeing that such an amendment was possible.
The new contract was finalized and approved more than two years later.
Vos contends Foxconn should have received some tax credits under the original agreement and it mattered more that the company was hiring employees, paying good wages and making capital investments.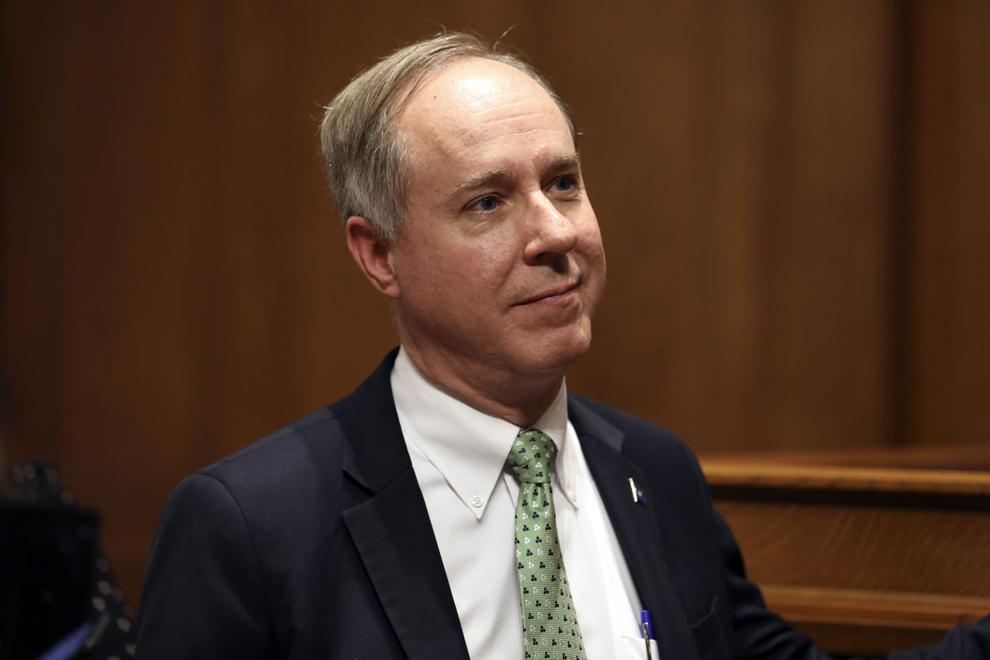 "No one in the Legislature cared what products they were going to make in the facility," Vos said about legislation passed in 2017 that was tied to the company's original proposal. "I think the Evers administration used that as a loophole to try to force them to renegotiate the contract."
Evers, who was critical of the Foxconn deal during his run for office, said it was important to resize the contract to fit the project and the new agreement in a way that doesn't dissuade future companies from looking to invest in the state.
"It worked out well for everybody, that's the bottom line," Evers said. "So Republicans can complain about it and huff and puff, but that's their job, so I just kind of ignore them."
State officials say the new agreement offers Foxconn more flexibility regarding what they produce at the Racine County facility. The new contract also adds in a subsidiary company, Foxconn Industrial Internet, which will be counted toward Foxconn's contractual targets and allows the state to recover 100% of incentives paid to the company in the event of default.
Local pacts
In addition to the new contract, Hughes said Foxconn's original agreement between Racine County and the village of Mount Pleasant and the state Department of Administration remains in place.
In those agreements, the state would back up to 40% of the bonds taken out by local governments if Foxconn were to default. The new contract with WEDC also includes a provision that the company must be in "good standing" with local entities in order to receive tax credits.
Ultimately, Hughes said, her hope is to focus efforts on other economic development matters in the state, including recovering from the pandemic, which has had an outsized impact on small businesses, low-wage workers, people of color and women.
"Wisconsin is ready to move on and to really think about the work that we have to do," Hughes said. "I think Foxconn becoming one of our regular companies will be a success."
Keep up with the latest news on Foxconn in Wisconsin
Read more news coverage of Taiwanese electronics manufacturer Foxconn's decision to build a massive plant in Wisconsin.