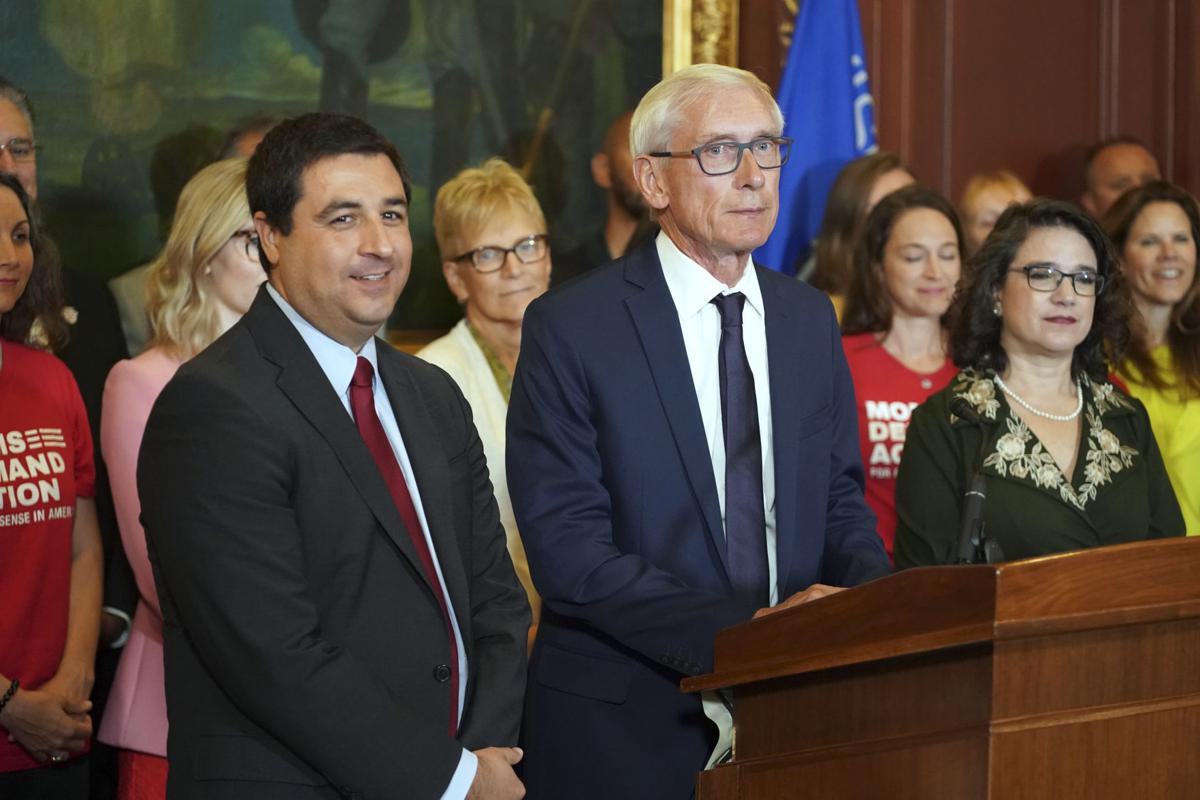 Gov. Tony Evers said he isn't holding his breath that the Republican-controlled Legislature will willingly take up discussion on gun control measures he supports, making it likely he will call a special session of the Legislature to address the issue.
During a Tuesday WisPolitics.com luncheon at the Madison Club, Evers also said he sees potential in a recently announced bipartisan medical marijuana bill, has big expectations for newly appointed Wisconsin Economic Development Corp. Secretary Melissa Hughes and questioned Senate Majority Leader Scott Fitzgerald's idea of a new tax cut.
As for Evers' proposal for red-flag and universal background check legislation, the Democratic governor said Tuesday he anticipates he will have to call for a special session. Evers said he hopes to force Republicans to go on the record on the gun control measures.
"When you say to 80 percent of the people in Wisconsin, 'We don't care what you think. We don't care about your safety' … I think that's political suicide so we're going to press the issue," Evers said, referencing the last two years of Marquette University polls that found 80% of respondents supported background check legislation.
Evers also clarified a statement he made last week while unveiling his red-flag legislation when he answered a reporter's question by saying that he would consider a mandatory buyback of firearms.
"I consider any piece of legislation that comes across my desk. Do I sign them all? Absolutely not," Evers said. "I would consider it, but quite frankly, it's not going to happen."
Fitzgerald, R-Juneau, and Assembly Speaker Robin Vos, R-Rochester, said in a joint statement Evers' legislation would undermine due process and Second Amendment rights.
Medical marijuana
Evers also said he would be pushing for support of a recently proposed bill aimed at legalizing medical marijuana.
A group of Republican and Democratic lawmakers last week introduced the state's first bipartisan effort to legalize cannabis for medical use since 2001.
Vos has said he's open to legalizing medical marijuana and is reviewing the bill, but Fitzgerald has long opposed medical marijuana. Fitzgerald has argued legalizing medical marijuana opens the door to increased illegal use.
You have free articles remaining.
"I don't support this plan and I think that it's going to be a tough sell to a majority of my caucus," Fitzgerald said in a statement.
Evers said efforts will focus on convincing the remaining 18 Senate Republicans to support the bill.
Tax cut
Evers also fielded a question on a recent comment by Fitzgerald, who recently announced he is running for the largely Republican 5th Congressional District, that he believes the Legislature would be able to cut taxes next year thanks to added tax revenue the state is projected to receive.
Evers, who in May said added revenue should remain in reserves in the event of an economic downturn, said Tuesday he would consider a tax cut, but added Fitzgerald's comment "gives me pause."
"A one-time increase in revenues cannot fund a tax cut," he said. "That's not the way money works."
Evers added that Fitzgerald's call for a tax cut possibly "has something to do with election prospects for him."
Fitzgerald's spokesman Alec Zimmerman said in an email the senator has spoken about tax cuts before.
"As leader, Scott Fitzgerald has always prioritized cutting taxes and has overseen billions of dollars in tax cuts," Zimmerman said in an email. "It should be no surprise that he's interested in the possibility of further tax cuts following revenue estimates early next year."
Economic development
Evers also touched on his appointment of Organic Valley executive Melissa Hughes to head the Wisconsin Economic Development Corp. and what that means for the state's economic development plans.
"I think the message there is we are supportive of the present work around advanced manufacturing and making sure we have good manufacturing facilities and employers and employees in the state," Evers said, adding that WEDC will be making sure to focus more on all 72 counties in the state, rather than just southeastern Wisconsin.
"We also have to make sure we value and ramp up our support for our startups," Evers added. "Those things, frankly, are going to be the future of Wisconsin … I expect Missy will be taking the lead on that."
In regard to Foxconn Technology Group, a Taiwan-based electronics manufacturer bringing a manufacturing campus to Racine County, Evers said the state should be supportive as the project continues.
The Associated Press contributed to this report.