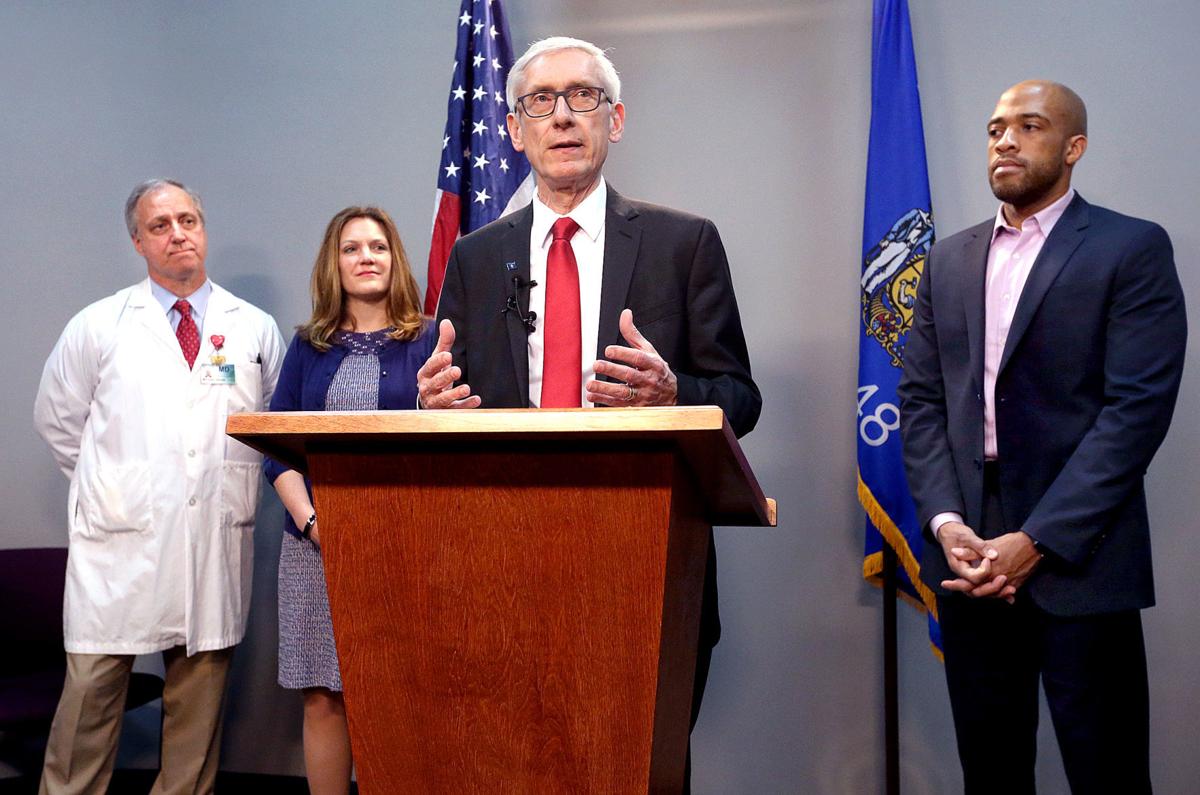 On his first full day in office, Gov. Tony Evers issued two executive orders on health care, with one directing a state agency to craft a plan to meet Evers' campaign pledge to expand Medicaid, the public health insurance program for the poor and disabled.
Evers released copies of the orders and signed them Tuesday afternoon, according to spokeswoman Melissa Baldauff. The move came hours after Evers visited Gundersen Health System in La Crosse.
The Medicaid expansion order calls on the state Department of Health Services to develop a plan to "ensure that more Wisconsinites have access to affordable, quality health care, while saving Wisconsin taxpayer dollars, by expanding Medicaid eligibility" in Wisconsin.
The other order deals with another health care issue Evers emphasized during the campaign: protecting people with pre-existing health conditions. It instructs state agencies to implement plans and give recommendations to the governor on how to make sure people with pre-existing conditions can get health insurance.
The order also says the plans and recommendations should "enhance health plan affordability, access and consumer protection; and protect against attempts to undermine the Affordable Care Act marketplace with short-term plans that do not comply with Affordable Care Act requirements."
Evers was joined at his La Crosse stop by Lt. Gov. Mandela Barnes and Department of Health Services Secretary-designee Andrea Palm.
Evers, a Democrat, said he plans to seek to uphold his campaign pledge to withdraw Wisconsin from a multi-state lawsuit to overturn the federal Affordable Care Act, also known as Obamacare. Wisconsin's governor previously had authority to order the state attorney general to do that, but GOP lawmakers and former Republican Gov. Scott Walker stripped Evers of that authority in a law passed in a lame-duck session last month.
You have free articles remaining.
"We feel it's important that we meet the promises we made in this campaign and we will be doing that," Evers said.
Evers was inaugurated Monday as Wisconsin's 46th governor. Also on Monday, he issued two orders directing state agencies to craft nondiscrimination policies and to evaluate turnover and staff morale in the state workforce.
Republican lawmakers last session mulled a bill to extend certain legal protections to people with pre-existing conditions, though not to the extent provided under Obamacare. The bill passed the state Assembly but faltered in the state Senate when all Democrats and two Republicans voted against it.
Senate Majority Leader Scott Fitzgerald, R-Juneau, said Monday that newly inaugurated Sen. Andre Jacque, R-De Pere, is working on a pre-existing condition coverage protections bill. Fitzgerald added he doesn't want to "over-promise" on passing a bill too early in the 2019 session.
"It'll obviously be still a priority. But I don't want all the Democrats in the state Senate to vote against it this time. So I would think that you'd want to work on something that, again, would be bipartisan," Fitzgerald said.
But the expansion would need to be codified in law — something that's likely to be a tough sell in the Republican-controlled Legislature.
Walker resisted Medicaid expansion throughout his tenure, placing Wisconsin among what are now 14 states that have refused federal funding to expand Medicaid to people earning up to 133 percent of the poverty level. Wisconsin Republicans have maintained the state, which shares the cost of Medicaid with the federal government, should not incur the long-term liability of expanding publicly funded health coverage.
La Crosse Tribune reporter Jourdan Vian contributed to this report.