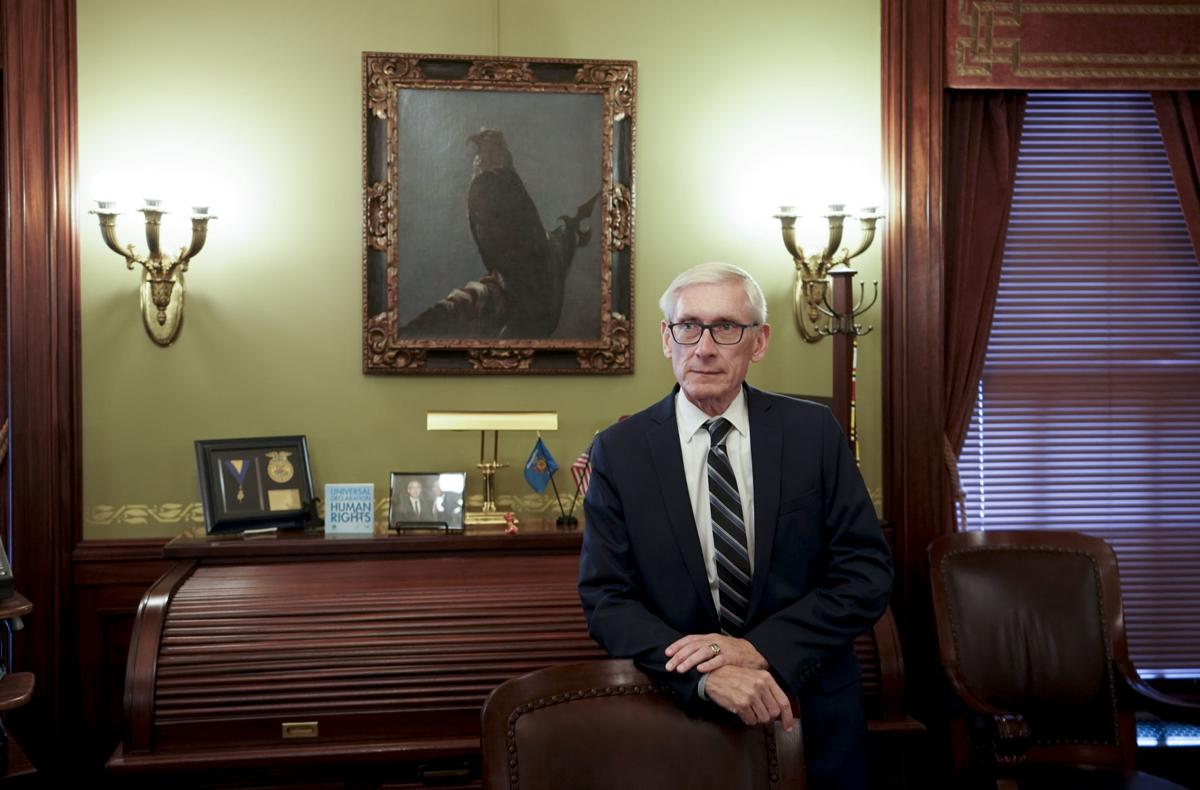 Gov. Tony Evers said Thursday he's confident Foxconn Technology Group and the state will reach a new agreement that better reflects the project being built by the company in southeast Wisconsin — though not necessarily one that costs taxpayers less.
Evers, a Democrat, said an amended contract could change the state's financial commitment to the project, but said the first step is finding out specifics on what Foxconn is building and if that will alter the capital investment or how many people they plan to employ.
"We believe that we will be able to sit down and get together and get this done. I'm hopeful about that," Evers said Thursday in an interview. "Could it be less? I suppose, but my main concern is that we know what it is … so I'm not necessarily looking to save money for the taxpayers of Wisconsin, I just want it to be clear for the taxpayers of Wisconsin."
Assembly Speaker Robin Vos, R-Rochester, in a separate interview Thursday, described the contract as "ironclad," but added he isn't opposed to small amendments as long as they don't affect the financial investment or job-creation pledge made in the 2017 agreement championed by then-Gov. Scott Walker, a Republican.
"I feel like we negotiated a really good contract that's entirely performance-based. I don't know what else we could do," Vos said Thursday. "If they want to try to reduce the amount of the incentive, that's going to have a direct relation on how many jobs they create and the investment that they make. I don't want them to make any less investment or hire any less people than they're planning on."
The current contract includes close to $3 billion in state tax credits. Because a state manufacturing tax credit nearly eliminates corporate taxes in the state, almost all of that amount for Foxconn would come from other state taxpayers.
Foxconn's original contract was for a $10 billion, 20-million-square-foot campus in Mount Pleasant in Racine County and 13,000 jobs over 15 years. However, multiple updates to the Taiwan-based company's plans have resulted in a smaller project.
The project has been downsized from making large display screens to manufacturing smaller screens for mobile phones, tablets, notebooks and wearable devices.
Earlier this year, Evers' administration told the company it would not be eligible for tax subsidies unless the contract was amended to reflect the project now planned, according to documents first reported by The Verge.
"We just need to change the deal to reflect the reality of today," Evers said. "I want them to succeed, but I think for the people of Wisconsin, this is a big deal. Being transparent is important."
Vos said he is more interested in the final results than the specifics of what Foxconn plans to build.
"I don't know why that would be controversial to be able to say we don't care what you make as long as you make something and hire the people," Vos said. "That's why I look and say there shouldn't be a problem with the contract because the contract is about jobs and investment. It's not about what you make."
Wisconsin Economic Development Corp. spokesman David Callender said contract amendments are a common occurrence and traditionally start with a request from a company. WEDC will ultimately recommend to the WEDC board approval or denial of any amendments.
Amendments are most often requested in response to a change in a project, including its budget, timeline, entities involved, payment deferrals for loans and if the scope of the project has changed in a matter that might raise or lower the original award.
Callender added that WEDC amends between 120 and 150 contracts each year, with the typical amendment taking up to eight weeks to complete.
Department of Administration Secretary Joel Brennan said the specifics of a new contract are unknown at this point.
"What we're responding to now is a set of applications that were filed for a very specific type of facility and for very specific types of jobs that were going to be in that facility," Brennan said. "That's now what has obviously changed and what we have been pretty consistent in saying to them is that they have to file new applications to provide that kind of information for us to assess what kind of changes would be necessary."
Brennan said the state cannot unilaterally change the contract without Foxconn's participation, but added the state has regular communication with company officials.
Foxconn is required to provide WEDC with an update on its progress and how many jobs have been created by April 1 in order to qualify for state tax credits.
The company fell short of the minimum jobs required to claim tax credits in 2018. It says it has hired enough workers to qualify for credits this year, but the state has not verified that yet.
The company has said it intends to have its manufacturing facility up and running by the end of 2020.
In a statement Thursday, Foxconn said it has "hired hundreds of hardworking employees over the last year while investing millions of dollars" in Wisconsin.
"We can confirm that we are in discussions with the State regarding our commitment to bring substantial impact to Wisconsin's economy, workforce and educational institutions," the statement said. "Foxconn will continue to comply with the reporting requirements as prescribed in the agreement for employees hired and capital expenditures during the 2019 reporting year."