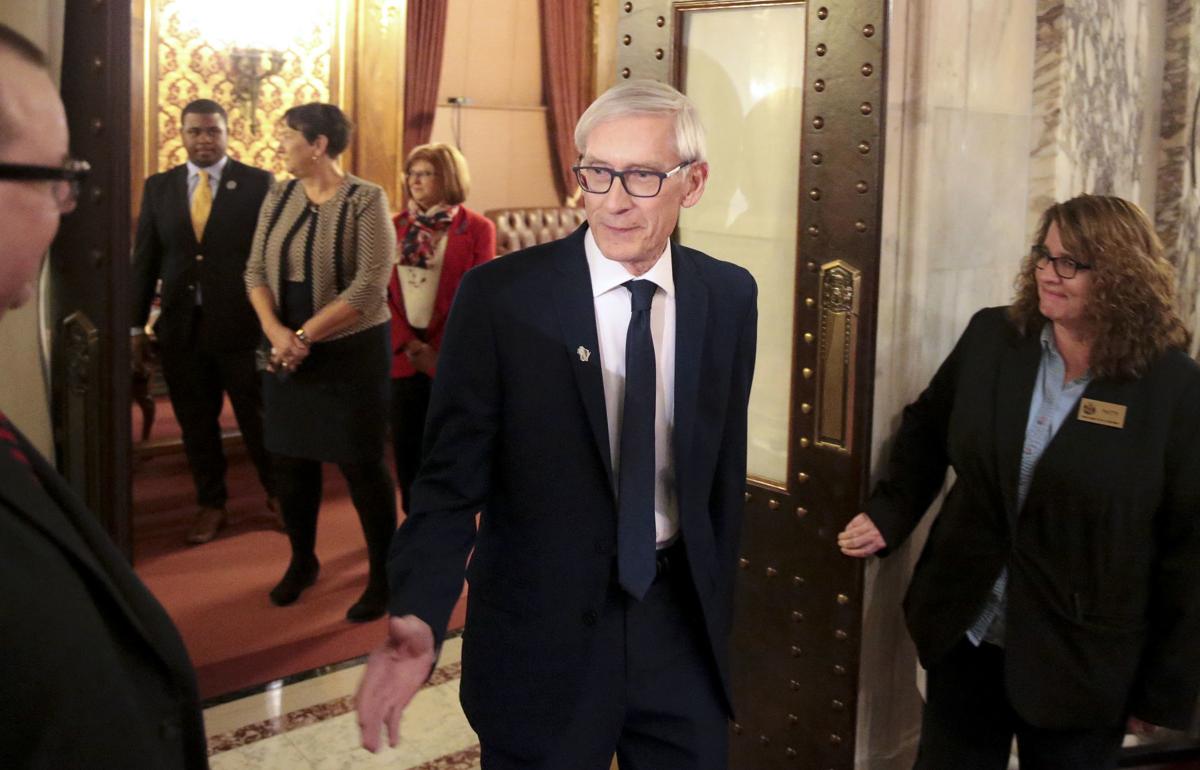 Gov. Tony Evers will seek to indefinitely delay the closure of the embattled Lincoln Hills youth prison to accommodate construction of replacement facilities and eliminate a state law that allows 17-year-old defendants to be charged as adults.
Evers' budgetary plan for criminal justice initiatives will also provide an increase of $194 million, or $274 million total, for building and renovating state and county-run juvenile detention centers that will eventually replace Lincoln Hills School for Boys and Copper Lake School for Girls in northern Wisconsin.
Evers plans to formally introduce his budget request Thursday.
Under a law passed last year, the youth prison, which is the subject of multiple lawsuits for alleged abuses there, is slated for closure by Jan. 1, 2021, when the facility's youth will be sent to county and state facilities.
Evers wants to delay the closure of Lincoln Hills/Copper Lake until the completion of county and state-run facilities, which is likely to be after the January 2021 deadline.
"I've said all along that criminal justice reform is an area where Republicans and Democrats should be able to work together," Evers said in a statement. "That starts with our juvenile justice system and making sure that our kids are safe and have a chance to be rehabilitated so they can get back into our communities and be successful."
The proposal, which would need to be approved by lawmakers, has received swift criticism from some.
Evers' plan would delay several of the deadlines for the replacement facilities by about 3 months, but doesn't provide a specific deadline for Lincoln Hills' closure. The plan does not prevent counties from submitting their plans early.
The Democratic governor previously said he wanted to delay by as much as two years, while a bipartisan group of lawmakers crafting a fix for the juvenile justice law sought to delay closure by about six months to accommodate the construction of replacement facilities.
Some lawmakers working on the fix, such as Sen. Lena Taylor, D-Milwaukee, who had a significant role in crafting the Lincoln Hills law, previously called a two-year delay "unacceptable."
On Wednesday, Sen. Van Wanggaard, R-Racine, chairman of the Senate Judiciary Committee and a co-author of the law closing Lincoln Hills, issued a one-word statement on indefinitely delaying Lincoln Hills' closure: "No."
He added in an interview "there's no compromise" on an indefinite delay.
"We crafted a piece of legislation that was bipartisan that passed both houses of our Legislature unanimously, because we all saw the sense of urgency that was necessary," Wanggaard said. "We provided a timeline that was doable."
Juvenile justice issues are such a priority for Wanggaard that he is delaying a Judiciary Committee vote on Corrections Secretary-designee Kevin Carr's confirmation to speak with him about the matter. He added he does expect Carr to be confirmed.
Meanwhile, Senate Majority Leader Scott Fitzgerald, R-Juneau, ripped the governor for "unraveling" the bipartisan plan to close the troubled youth prison.
You have free articles remaining.
"After using this issue as a political football during the last campaign, it's surprising that the governor is now indefinitely delaying the closure of Lincoln Hills and leaving those who work there at risk," Fitzgerald said in a statement.
'Transformation'
But Rep. Evan Goyke, D-Milwaukee, another co-author of the Lincoln Hills law, said he doesn't support removing a hard deadline on the youth prison's closure, but praised other parts of the proposal for introducing a "transformation" of the juvenile justice system.
Goyke said the bill he and other lawmakers are crafting to provide technical changes to last year's juvenile justice law and delay the closure of Lincoln Hills will still be introduced separately from the budget. Whether the bill includes a hard deadline for closing Lincoln Hills is yet to be determined, he said.
Wanggaard said he supports the bill and would consider a delay of six to nine months, but won't sign off on any change to the law that doesn't attach a deadline. He doesn't expect legislative action on any bill until April, he added.
His comments come amid the release of a Columbia Justice Lab report examining New York City's overhaul to its juvenile justice system. The report suggested other jurisdictions consider phasing in changes to youth justice systems over time, rather than rushing the process. It also recommended jurisdictions be vigilant in determining how much space they will need to house youth offenders, especially if they're looking to downsize.
"At the heart of this work is a need to right-size your system to fit your analysis, not to fit the historically over-placed environment from which the system is trying to evolve," the report said.
Centers for counties and state
Evers' plan would address concerns from counties about funding for the county-run centers by providing them an additional $60 million via grants for a total of $100 million.
The governor also wants to provide an additional $90 million for a total of $115 million to fund up to three state-run detention centers that will partially replace Lincoln Hills.
His plan would include an increase of $44 million for a total $59 million investment to construct a 50-bed addition at Mendota Juvenile Treatment Center, which was slated for expansion under the original juvenile justice overhaul.
Goyke said he supports the funding increases for juvenile justice provided in the bill, arguing that "state of the art, modern, safe, ethical facilities do cost money."
Meanwhile, Wanggaard said he would need to see details justifying the added cost.
Age as an adult
Additionally, the governor through his budget is seeking to raise the age that teen defendants can be charged as adults to 18 by 2021. The governor's budget would provide funding for the juvenile justice system to accommodate the change. Goyke praised the change, calling it "crucial" public policy.
Wisconsin is one of only a handful of states where 17-year-olds are charged as adults. They typically are not violent offenders. All states allow or require young offenders to be prosecuted as adults for more serious offenses, regardless of their age.
Goyke added that if the provision is somehow stripped out of the budget debate, he would ask Republicans to support a separate bill with the measure.