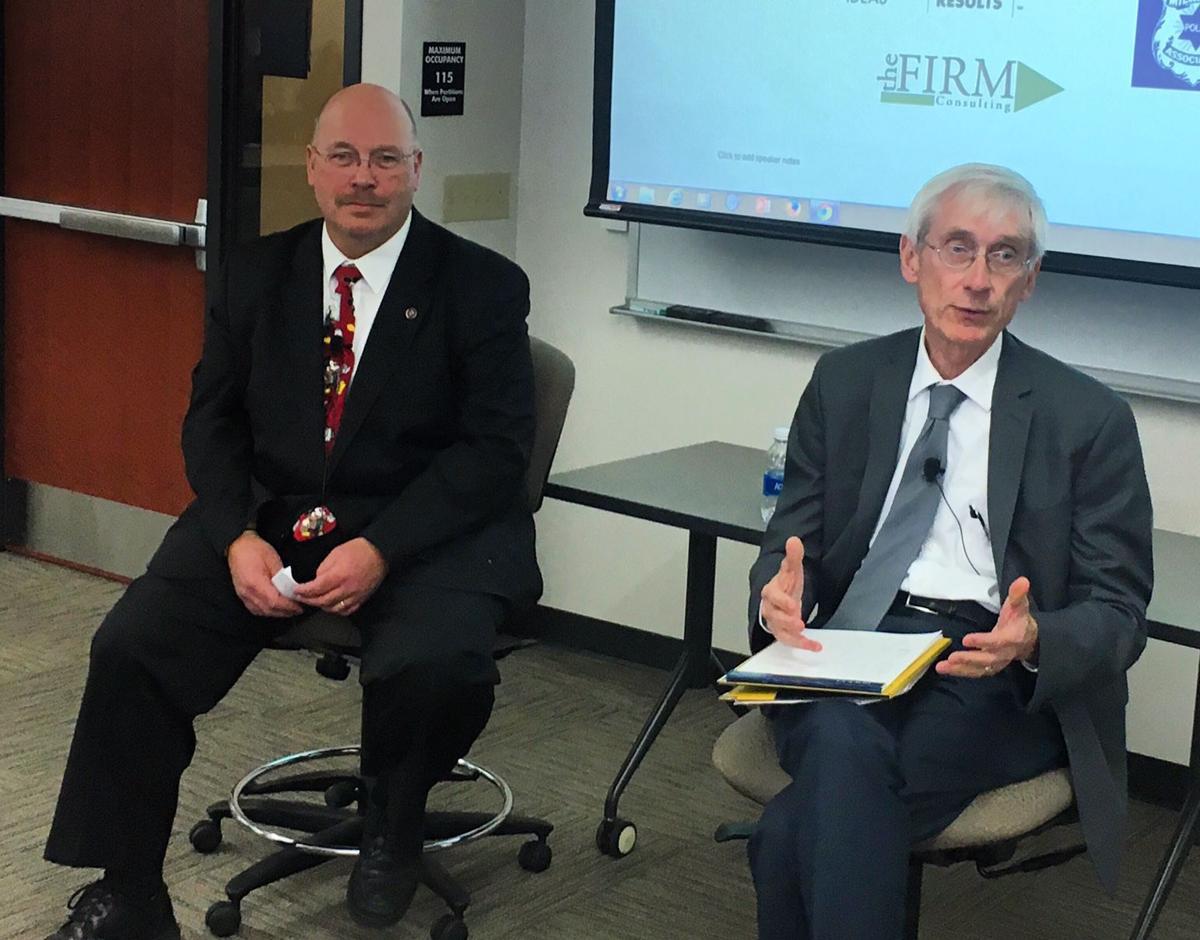 It's been 20 years since state superintendent Tony Evers first ran to oversee the state's public school system.
Eight since he won over enough voters to get the job. Seven years since Republicans took control of the rest of state government. Six since public school teachers stormed the state Capitol ahead of virtually losing their ability to bargain, and private-school vouchers became available outside Milwaukee. And five years since a doctor told Evers he was cured of a cancer that kills most people who get it.
Evers, 65, has held his post as head of the Department of Public Instruction during eight years of significant transition in the state's education landscape, which began while he was still recovering from esophageal cancer.
Evers began his career as a teacher and principal in Tomah, then became superintendent in tiny Oakfield and oversaw a population boom in rural Verona in the mid-1990s before moving into regional and state school administration.
Evers runs today as a public school advocate on the side of teachers — years ago he was a schools administrator who once encouraged his employees not to unionize, promoted the creation of charter schools and once said the voucher system is "an experiment that should continue." All along, Evers has maintained that public schools need more money and the ability to raise it through property tax increases.
Evers has been promoted by Democrats and criticized by Republicans for his 2010 adoption of the controversial Common Core academic standards, and criticized for the DPI's rocky rollout of a new state test to measure their effect on student learning.
Now, he seeks a third term after years of battles with Republican lawmakers who often characterize Evers as a champion of the status quo, unwilling to support publicly funded alternatives for lower-income students. Democrats largely support Evers, and see him as one of the only obstacles left to keep public dollars from going to private voucher schools.
Cancer diagnosis
Months before he embarked upon a campaign for what would become his first term as state superintendent, Evers was lying on a Madison operating table while surgeons worked to rid him of a cancer that few survive.
"I thought I was going to die," Evers said in an interview with the Wisconsin State Journal.
Evers awoke that day after the surgery at St. Mary's Hospital in 2008 without an esophagus and part of his stomach removed. He spent 12 days in the hospital and two more months recovering at home, he said. Evers lost so much weight he could have quit his job and collected disability insurance payments. He still can't eat full-size meals and has to sleep at a 45-degree angle.
"It changed my outlook on life," he said. "I'm less risk-averse than I ever was before. I think that served me well. I don't respond to little detours in the road like some people, and I'm not afraid to take a stand."
The ordeal triggered a desire to again seek the top job at the DPI, where he had worked as deputy to Libby Burmaster for seven years.
"It's something I felt strongly about," Evers said. "(The diagnosis) was difficult, but it was transformational, too."
Tomah, Oakfield, Verona
Evers' experience in schools and overseeing districts began in Tomah, where he worked as a teacher and principal from 1974 until 1984, when he was hired as superintendent of the Oakfield School District.
"We were really impressed with his ideas and his positive attitude," Raye Marie Steffes, a former Oakfield School Board member who was on the board when Evers was hired. "He was 32 years old — I do remember that. He just blew everybody away."
After four years in Oakfield, Evers was hired by the Verona School District as the district's superintendent. He spent another four years there, overseeing a building boom, according to former Verona School Board member Gregg Miller.
"Tony had some very good ideas, we implemented those ideas and they worked extremely well in our district," Miller said. "He does the best of anyone I'm aware of at balancing not only the needs of the students and the staff but also the abilities of the taxpayers to pay for those things."
Evers' longest job was as administrator of CESA 6 in Osh-kosh, a regional organization that provides services for schools, from 1992 to 2001, where he once discouraged his employees from unionizing, telling them that he and his fellow managers "do not believe that union representation serves the best interest of our employees."
Evers, who has since opposed Gov. Scott Walker's collective bargaining legislation known as Act 10, said last week that he conveyed to employees the position of the CESA board and that it was not a position he supported at the time.
School choice
and Common Core
While in Verona, Evers promoted the creation of charter schools, Miller said, which Evers still supports.
"The ability for school boards to use charters as kind of an incubator — I think that's great," Evers said, who lamented that the public often conflates private voucher schools with charter schools.
Evers, who now opposes the expansion of taxpayer-funded school vouchers in Wisconsin, also once voiced support for them in 2000 — when only students in Milwaukee could use them.
"To me, the key is student learning. I don't care if we find success in voucher schools, charter schools or Milwaukee public schools. The idea is to find what works and replicate it as soon as possible. So from that standpoint, I believe the (voucher) experiment needs to continue," Evers said in 2000.
By 2001, however, while running against former West High School principal Libby Burmaster, who would go on to beat him, Evers had publicly opposed the expansion of vouchers beyond Milwaukee and said the system's level of financial and academic accountability must increase.
Evers said he has tried to "thread the needle" on the issue since then.
"Basically, it was a recognition that it's not a genie that you can put back in a bottle," Evers said. "It wasn't like I gave up the political argument about it. The reality is we have kids in voucher schools and kids in public schools and both sectors are struggling. And kind of focusing on the fact that vouchers existed was not productive."
Some public school advocates, who typically support Evers, have said he has not been aggressive enough in opposing Republican lawmakers seeking to expand the voucher system.
"He should be leading the fight for our children and against the people who are trying to do this hostile corporate takeover, but he's playing defense," said former Racine Park High School math teacher Rick Melcher, who also is challenging Evers as a write-in candidate. "He is trying to come up with ways to play nice with the Legislature when they are not playing nice at all."
But John Matthews, former longtime executive director of the Madison Teachers Inc. teachers union, said Evers has been "exceptionally good at advocating for the needs for our public schools and exceptional in trying to make sure money didn't go into the private-school system."
Sen. Luther Olsen, R-Ripon, and Rep. Jeremy Thiesfeldt, R-Fond du Lac, leaders of the Legislature's education committees, did not return phone calls seeking interviews.
While Walker is currently promoting his agreement with Evers on school funding levels, conservatives and groups interested in expanding taxpayer-funded, non-public school options traditionally have seen Evers as an obstacle.
"He is clearly an ally of the teachers union and a staunch defender of the status quo in education," said C.J. Szafir, vice president for policy and deputy counsel at the Wisconsin Institute for Law and Liberty. "This has put him at stark odds with the priorities of the Republican state Legislature and Gov. Walker, who is more supportive of education reform and empowering parents to make their own decisions on their children's education."
Opponent Lowell Holtz, a former Whitnall and Beloit superintendent who is seeking support from conservatives, has made his opposition to the Common Core academic standards a focal point of his campaign, as a contrast to Evers who in 2010 adopted the standards and has continued to support them.
In 2014, controversy over the standards in Wisconsin erupted and prominent GOP leaders, including Walker and Sen. Leah Vukmir, R-Brookfield, publicly opposed the standards, prompting Evers to heavily promote keeping them. But soon after, DPI officials struggled with the implementation of a state test designed to measure Wisconsin students' academic skills learned through lessons linked to the controversial standards, which ended up being millions over budget and scrapped after a year because of technical problems that delayed administration and didn't work like it was supposed to.
Evers acknowledged the test rollout was rocky, but said the implementation of the standards in teachers' curriculum has been successful.
Szafir called the ordeal a "huge debacle."
Outside money?
Evers, who continues to be backed by the state's largest teachers union, is seeking another term at a time when the coffers of the Wisconsin Education Association Council's political arm are not nearly as robust as they once were after the passage of Act 10.
As the last Democratic-leaning head of a major state agency, the hefty spending that conservative-leaning outside interest groups can produce could turn his landslide first-place finish in the primary into a more competitive race in the general election.
"I worry like hell about it. It pops in the last couple weeks and wipes people out," Matthews said.