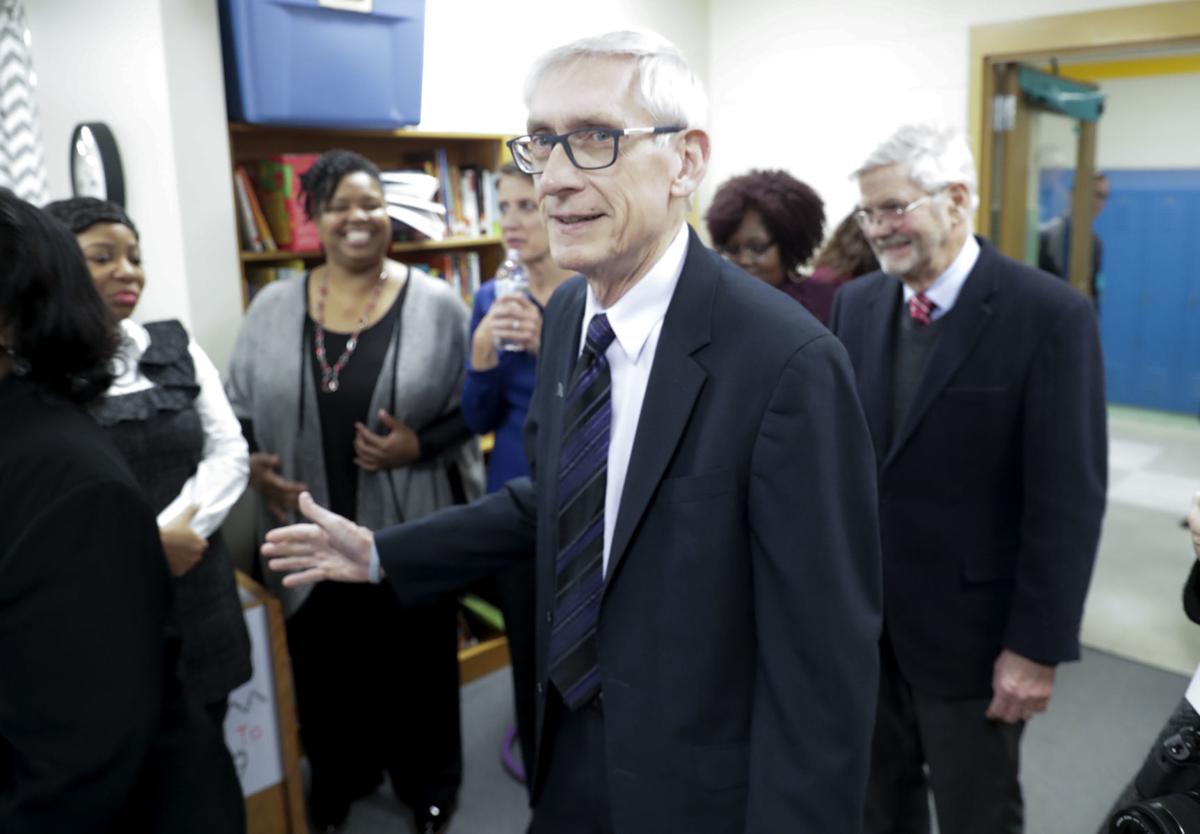 Gov. Tony Evers and his pick for state transportation secretary said Wednesday that his plan for the next state budget will prioritize funding local roads and bridges and preserving state highways, instead of what Evers described as "big highway projects."
Meanwhile, Transportation Secretary-designee Craig Thompson faced his first test in a public hearing before a state Senate committee.
The committee chairman, Sen. Jerry Petrowski, R-Marathon, told the State Journal after the hearing that he supports Thompson. Other Senate Republicans, including Majority Leader Scott Fitzgerald, R-Juneau, have voiced skepticism.
Evers' plans for transportation spending, if enacted, would continue a shift started under former Gov. Scott Walker of directing more state transportation dollars to municipalities and counties, instead of billion-dollar freeway reconstructions, primarily in southeastern Wisconsin.
"We'll see a significant increase for counties and municipalities and to fix roads and bridges that frankly aren't part of the interstate system," Evers said. His remarks came after a speech to the Wisconsin chapter of the American Council of Engineering Companies.
In the speech, Evers vowed that his budget would include "significant investments" in "horizontal and vertical" state infrastructure. Though he didn't elaborate, the phrase typically refers to roads and buildings.
Evers plans to present his budget Feb. 28 for the next two-year state budget cycle beginning July 1.
Asked if his transportation budget would shift funding away from large freeway mega-projects in southeast Wisconsin, Evers said "we'll be finishing some but we'll also be shifting lots of money to the locals."
Senate leaders have not said when they plan to vote on Thompson's confirmation as DOT secretary.
You have free articles remaining.
Fitzgerald signaled last month that senators may not confirm Thompson, a longtime leader of and registered lobbyist for a group that advocates increased spending on transportation projects. The group, the Transportation Development Association, includes road builders and other businesses, labor, local governments and other groups.
Thompson emphasized in his testimony Wednesday that the association rarely lobbied on specific legislation.
Gas tax
Much of the controversy about Thompson centers on his and Evers' views on increasing Wisconsin's 32.9-cent-a-gallon tax on vehicle fuel to increase revenue for transportation projects.
Evers said last week that a new transportation task force he named is nearing consensus on the need to increase the gas tax, in the strongest sign yet that Evers will propose an increase in his budget. Evers has declined to say how much of an increase the task force is considering.
Some Republican lawmakers are open to a gas-tax hike, while others oppose it — especially a group of hard-line conservatives in the Senate who say the department must spend existing resources more efficiently.
'Part of the mix'
Thompson testified that he views finding spending efficiencies as "absolutely essential" and welcomes accountability mechanisms for DOT, such as its new Office of Inspector General and the state's Transportation Projects Commission.
Asked about highway tolling, which GOP legislative leaders favor to help fund highway projects, Thompson said "we believe it's part of the mix that we should look at."
But Thompson called tolling "a longer-term solution," adding, "(I) believe that in the meantime, we have a today problem."
"By every metric, the condition of our system is declining," Thompson said.