Gov. Tony Evers said the case is growing stronger for a statewide mask mandate as positive cases of COVID-19 continue to climb across Wisconsin.
The state Department of Health Services on Thursday reported 1,052 new positive cases of COVID-19 and 13 new deaths. DHS Secretary Andrea Palm said one-third of the new positive cases recorded over the last month have been among people in their 20s.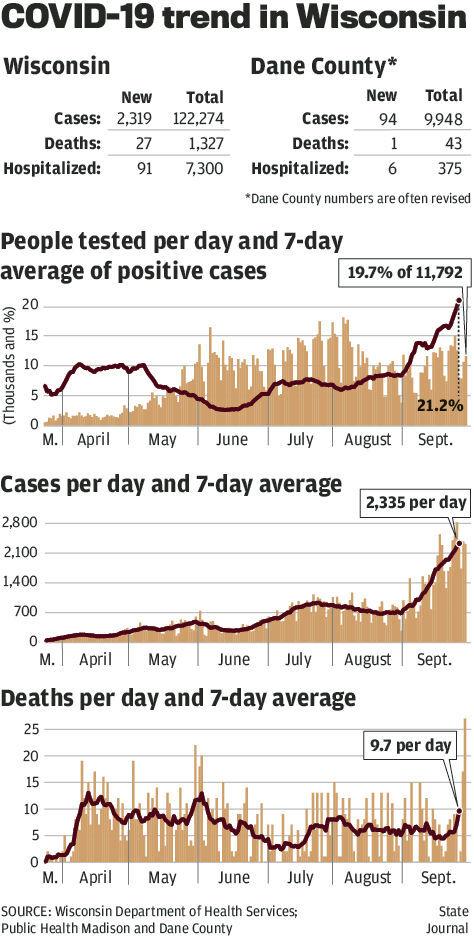 "Clearly, the number of consecutive record increases in case have accelerated our consideration," Evers said.
"Unfortunately, there are some folks in the state that don't believe that masks help," Evers said. "We know they do, there's no question. Even Donald Trump suggested that it's a good idea."
Though President Trump has only occasionally donned a face covering in public, he recently tweeted that it's patriotic to wear a mask.
Asked if he would hesitate to issue a mask mandate if there were no concern that such an order would be challenged in court, Evers said, "No."
If a statewide mask mandate is issued, Evers said it would have to take into account how school districts have responded to the pandemic.
"It will look different in different places across the state, and any order that we would do would need to consider that," he said.
Last week, the UW Board of Regents unanimously passed a mask mandate, a few weeks after UW System guidelines recommended masks but stopped short of requiring them.
Anti-mask protest
During Evers' call with reporters on Thursday, between 50 and 75 people opposed to mask mandates, such as the one in Dane County, gathered outside the state Capitol to decry mask-wearing and other government mandates to manage the spreading virus. Some disputed the severity of the virus, while others sang about spreading the virus to instill herd immunity and theorized COVID-19 was simply a way for pharmaceutical companies to rake in profits from a potential vaccine.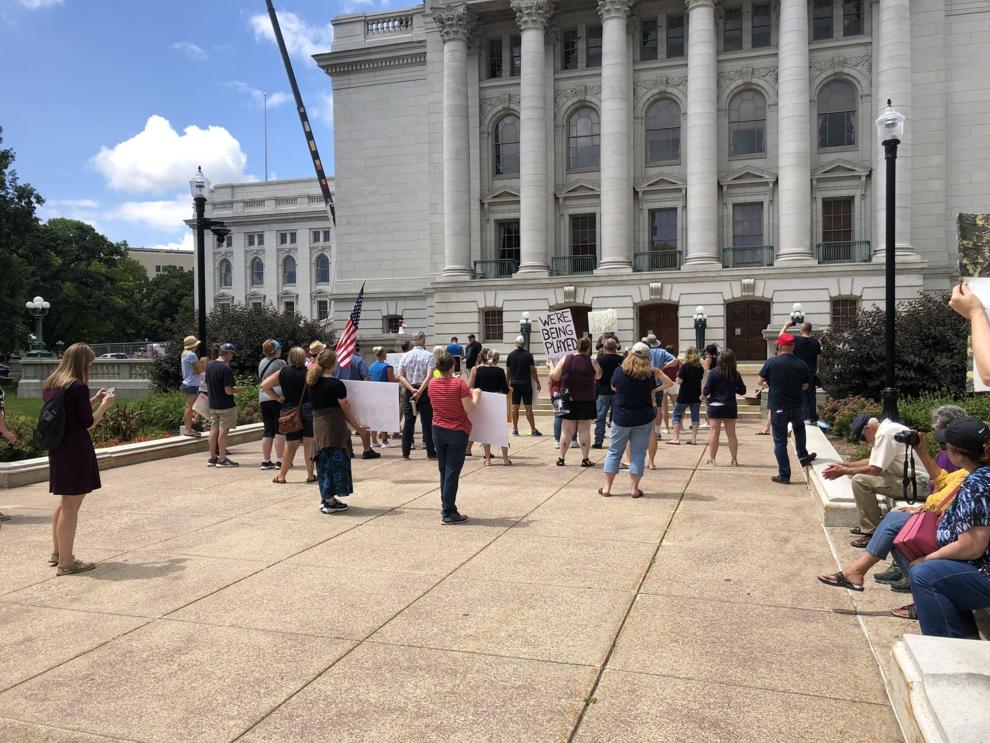 Some in attendance said wearing a mask was simply a personal choice and shouldn't be mandated, and that above all, mask mandates are an encroachment upon civil liberties.
"We just want to be left alone," said Thomas Leager, one of the event's organizers. "We can trust people to make their own decisions as far as what's best for their health, what's best for their lives."
Leager also decried fear-mongering over the virus, saying it had gone too far.
Guidance on mask-wearing from public health experts has at times been confusing.
Today, however, the Centers for Disease Control and Prevention recommends wearing a cloth face mask in public settings in areas with significant community-based transmission where social distancing is hard to maintain, such as grocery stores, pharmacies or a busy street. The CDC began recommending public mask-wearing after studies showed that COVID-19 can be spread by people showing no symptoms.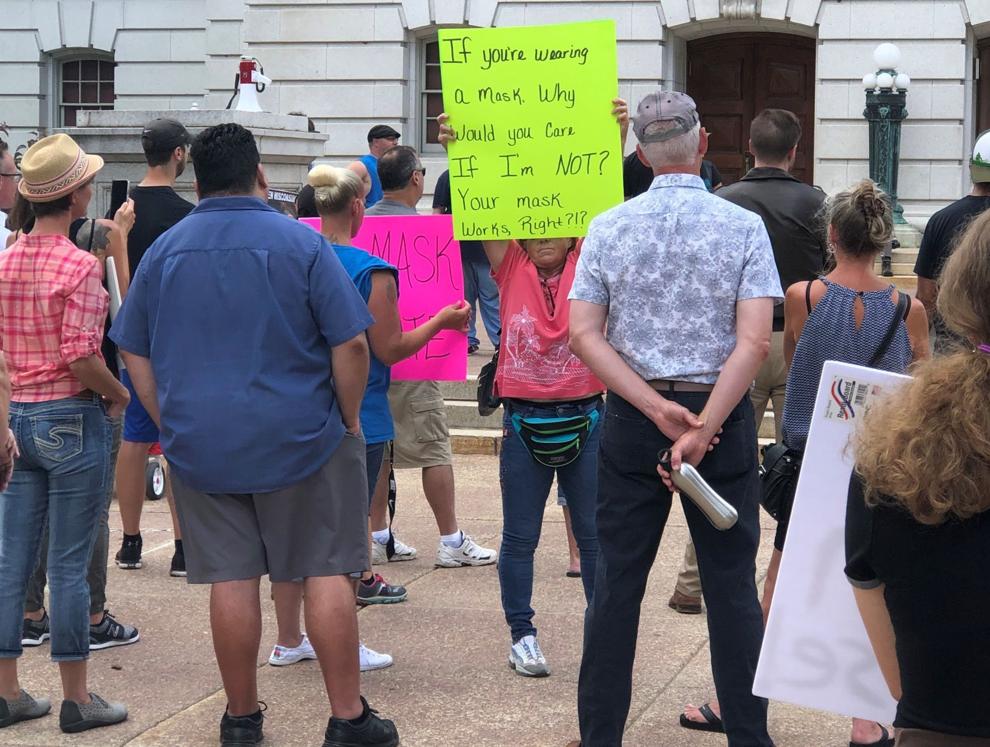 Various studies have shown that mask mandates have led to slowdowns of new COVID-19 infections and that masks have the ability to block respiratory droplets that could potentially spread the virus.
Research on the effectiveness of wearing face masks is limited, but the idea is that wearing a mask helps reduce the transmission of the virus from the wearer to people in proximity through talking, coughing or sneezing. Dr. James Conway, a pediatric infectious disease specialist at the UW-Madison School of Medicine and Public Health, said cloth masks can achieve that quite well.
School funding
Also on Thursday, Evers announced that more than 150 of Wisconsin's school districts are eligible to apply for $46.6 million in federal assistance provided due to the COVID-19 pandemic.
The Madison School District — the only Dane County district eligible for Governor's Emergency Education Relief funds — could receive nearly $3.9 million, according to information provided by the governor's office. The list of eligible school districts includes much of the state's southwest, central and northern regions.
Wisconsin received more than $2 billion in federal funding from the Coronavirus Aid, Relief, and Economic Security Act, signed March 27. Included in CARES Act funding was about $45.6 million in Governor's Emergency Education Relief funds.
The block grant funds are controlled by Evers and cover K-12 and higher education institutions. The state Department of Public Instruction, in consultation with Evers and state Superintendent Carolyn Stanford Taylor, created eligibility criteria for schools, which includes low-income student population, access to personal computers and internet, and students' score on the English Language Arts Assessment.
In June, Evers said the GEER funds would be used to "help alleviate expenses already incurred and further creative efforts to transition between in-person learning and distance learning seamlessly as we prepare for the upcoming fall semester and continue to fight COVID-19 in Wisconsin."
The state's three tribal schools would receive the same per pupil payment as the state's 155 local education agencies.
In an April statement, the Wisconsin Council of Religious and Independent Schools said GEER funds should flow from public school districts to private schools.
"Public school districts must provide equitable services to students and teachers in private schools located within the district," the council posted April 24. "Public districts must engage private schools in timely and meaningful consultation."
Several of Dane County's largest school districts have indicated this month they plan to start the school year all online, including Madison, Sun Prairie and Middleton-Cross Plains.
National Guard
Evers' chief legal counsel, Ryan Nilsestuen, said the governor's office has reached out to the White House to request that Trump once again extend a National Guard order authorizing domestic coronavirus response missions in states like Wisconsin.
Trump earlier this year extended domestic activities by the National Guard to mid-August, but Nilsestuen said many states, including Wisconsin, have asked to extend that mission through the end of the year.
"We're hoping that we get an answer any day now," Nilsestuen said. "This is something that Wisconsin cannot do just on its own and we need strong federal support and we're hoping that the White House stands up."
Members of the Wisconsin National Guard have conducted more than 250,000 COVID-19 tests across the state and continue to assist with community testing sites and other roles.
If the mission is not extended, Nilsestuen said the state would explore options of funding an extension of the Wisconsin Guard's mission.