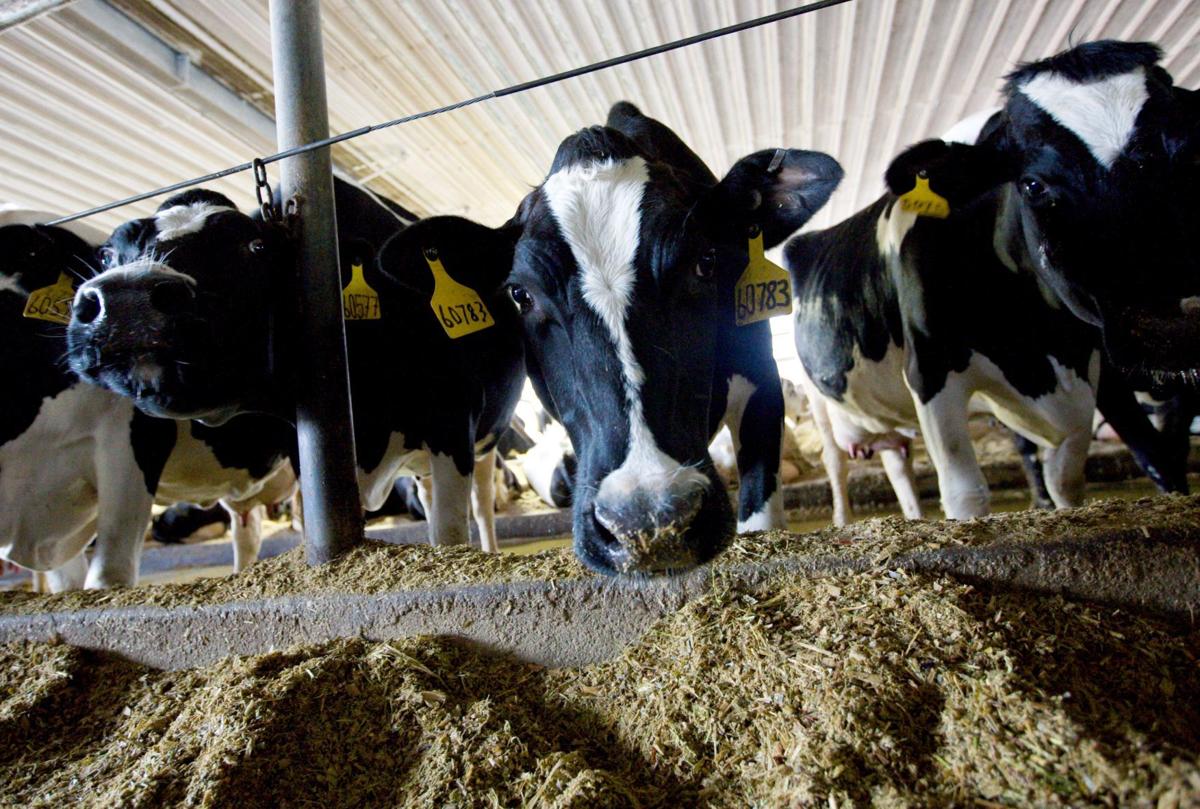 Wisconsin's Democratic governor and a Republican legislative leader have put forth two water quality-related proposals signifying possible bipartisan support for clamping down on industrial farm pollution.
The proposals call for increased use of fees paid by the state's growing animal feedlots to shore up Department of Natural Resources efforts to keep millions of tons of farm manure from tainting drinking water, lakes and streams.
However, much more is at stake. Newly elected Gov. Tony Evers has declared 2019 the "Year of Clean Drinking Water" and proposed $70 million in spending to protect water resources.
Evers took office in January after nearly a decade of environmental rollbacks under former Republican Gov. Scott Walker.
Now, though, conservationists say they are beginning to feel hope that growing awareness of environmental problems could translate into GOP support for Evers' clean-water proposals such as the increased CAFO fees.
"I think that has a very good chance to pass because there is bipartisan recognition that the state needs to do something about water quality," said Amber Meyer Smith, a vice president for government relations at Clean Wisconsin. "I think the way politicians see it is that the human component of the issue has gotten very real in the last few years with the fact that more and more people can't drink the water that comes out of their taps."
Possible signs of change
There have been several recent instances of Republicans being more vocal about water quality issues.
For decades Wisconsin Republicans have accused the DNR of being unnecessarily tough on polluters, but in an unusual occurrence on Friday, a GOP lawmaker issued a press release chastising the department as it approved a permit allowing continued operation of a CAFO with a long history of environmental violations.
The DNR on Saturday said Ledgeview Farm's permit application met standards in state law, and the permit will help the state enforce those standards.
The release from Rep. John Macco, R-Ledgeview, included a four-page, single-spaced description of state and federal investigations in the feedlot since 2007, including a 2013 probe that began after a member of the public reported walking "through knee-deep manure while hiking along a stream tributary that lies adjacent to the (site)."
Ledgeview's violations were handled under DNR policies aimed at stopping pollution while minimizing legal penalties for polluters. Evers has criticized the practice as being soft and ineffective under Walker.
Public awareness of bad water
Public opinion polls have long indicated Wisconsin voters were unhappy about the unnatural pollution-driven growths of weeds and bacterial algae in state lakes, but last year contaminated drinking water rose up as a top issue for the first time, said Jennifer Giegerich, government affairs director for Wisconsin Conservation Voters.
"It seems like every other week there is another news story about private wells that are polluted," Giegerich said. "It is widespread and it's getting worse. … To me there's never been a better time to ask legislators to find the money to protect our water."
Among Republicans, Sen. Rob Cowles, R-Green Bay, has been a leader on environmental issues, blocking or forcing changes in some proposals to loosen regulations, and winning enactment of several of his own initiatives.
Cowles said he couldn't predict what the Legislature would do this year, but there is potential for change.
"There's a lot of momentum right now on water quality," Cowles said.
Audit found lax CAFO enforcement
Under a 2009 law, each of the state's 305 CAFOs pays a $345 annual permit fee. The DNR keeps $95 while the rest goes into the state's general fund.
Cowles has introduced a bill that would keep the entire fee with DNR, adding about $76,250 to DNR revenue annually.
The money could help pay for an additional DNR employee. Cowles said he's not sure it would be enough.
"It's a very basic part of our water pollution strategy to have people designing permits, inspecting the facilities, and then ultimately referring them to enforcement if they are not complying," Cowles said.
The number of CAFOs has grown rapidly. There were 146 CAFOs in 2005, and 264 in 2014.
DNR record-keeping had become so spotty it was impossible to tell how often pollution violations led to enforcement action. The department had lower than a 50 percent success rate at meeting its goal of inspecting each CAFO twice every five years. Under the law, CAFO operators dispose of thousands of tons of manure on fields and are expected to tell the DNR if they do it in ways that threaten water.
In response to the audit, the DNR said it needed to add enough field staff so that each employee had responsibility for no more than 20 CAFOs. Two years ago, Walker and the Legislature approved a plan to shift four DNR workers from other areas into the CAFO department.
That increased the number of front-line field workers to 14. The DNR has also added coordinators who work to make enforcement consistent statewide, and specialists who make field staff more efficient by handling water protection evaluations of CAFO plans for disposing of manure on farm fields, said Brian Weigel, deputy director in the DNR watershed bureau's runoff management program.
Evers' proposal to add the equivalent of five more employees — including two frontline workers — would bring the number of CAFOs handled by each field worker just below 20 while also bolstering support services, Weigel said. The DNR estimates an additional 15 new CAFOs will be added annually.
Taxpayers subsidize feedlot fees
Cowles said he wanted to see a Legislative Fiscal Bureau analysis of Evers' proposal before deciding whether to support it. Evers would pay for the new positions by increasing CAFO fees. The current annual revenue of $105,225 would increase to $425,000.
Conservationists say either amount would be movement in the right direction, but it's far from clear that even Evers proposal would be enough to protect state waters.
"Fee increases would allow the regulated industry to absorb more of the cost of the regulatory program rather than taxpayers footing the bill," said Sarah Geers, an attorney with Midwest Environmental Advocates, which has gone to court repeatedly to represent people who say the state failed to force CAFOs to obey clean water laws.
The Wisconsin Dairy Business Association didn't respond to requests for comment. A spokeswoman for the Wisconsin Dairy Alliance said the group hadn't taken a position.
For each five-year CAFO permit term, Evers plan would increase fees to $5,910 with higher amounts due for permit renewals to recognize the additional work for DNR staff.
Currently, each CAFO pays $1,725 over five years. In four neighboring states the average is nearly $5,400, ranging from $1,785 in Iowa to $12,660 for Minnesota, said Clean Wisconsin's Smith.
Elected officials have kept the fees low to support farmers, said Fred Clark, a former state lawmaker who now directs Wisconsin's Green Fire, an educational nonprofit formed by retired DNR employees.
"We're the dairy state, and we're a farming state, and everyone in Wisconsin wants to support small farmers, (who are in) a tough business," said Clark, who has been appointed by Evers to the DNR's policy board.
But as small farms leave the scene and CAFOs with thousands of animals become more prominent, it's important to make the distinction, Clark said.
"We have to change the conversation and see that our largest producers are industrial in scale," Clark said. "If you are running a dairy with 8,000 cows you are running a very large business with potentially a large environmental impact."
Dairy farming is among the state's biggest businesses with an estimated 1.3 million dairy cattle. The size of the state's dairy herd has changed little since the early 2000s, but more intensive farming techniques have rapidly increased production of milk — and manure.