Gov. Tony Evers proposed Wednesday that the state kick in $30 million to support a redevelopment plan at the Dane County-owned Alliant Energy Center.
The proposal, which Evers said would be included in his 2019-21 capital budget, comes after years of study and consideration by Dane County committees on how to draw in new users of the convention and event spaces. In May, an oversight committee approved a master plan for the redevelopment of the 165-acre campus that calls for $305 million in public and private funds for the first phase.
The $30 million in state funding would go toward a massive expansion of the Exhibition Hall to convert it from a regional exposition center to a "full-service convention center" for Wisconsin and the upper Midwest region, Evers said. Prospective users are opting against booking the Alliant Center in favor of venues with more adequate space and amenities that are outside of Wisconsin, Evers said.
"We have to stop that trend," he said at a news conference at the center where he was surrounded by Madison-area leaders.
The center's master plan, developed by Minneapolis-based Perkins+Will and approved by the county's Alliant Center oversight committee, detailed changes needed to the Exhibition Hall to retain current users and draw in new users. The plan would add exhibition space, meeting rooms and two ballrooms, which Perkins+Will said would attract larger conferences.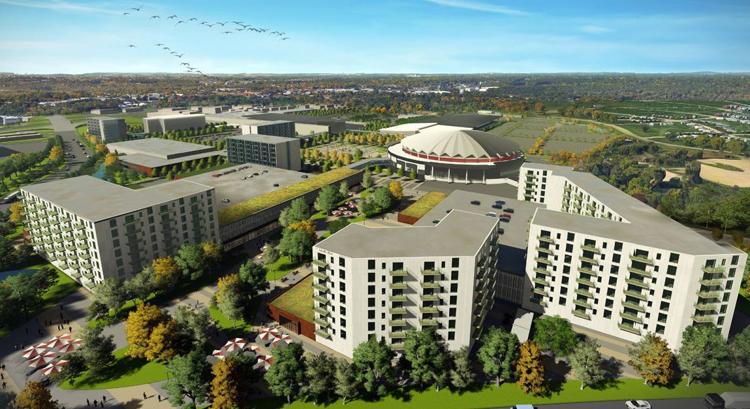 The first phase of the Exhibition Hall expansion is projected to cost $77.4 million. That would add 50,000 square feet of exhibition space that could be subdivided into a 30,000-square-foot ballroom — an amenity conventions look for when selecting venues — as well as the first section of an upper level that would house a kitchen, service hallways and storage space.
The Exhibition Hall project would create 644 net new jobs and generate $670,000 in annual state income taxes, or about $25.3 million over 20 years, Evers said.
Dane County Executive Joe Parisi said the Alliant Center has become a "hub" for the agricultural industry, holding events such as the World Dairy Expo.
"This expansion will allow us to maintain and grow our reputation as a premier destination for the national ag industry and this frankly couldn't come at a better time for Wisconsin's farming community," Parisi said.
Parisi had originally asked for about $36 million in state funding, said his chief of staff, Josh Wescott .
You have free articles remaining.
Thanks for visiting our newly updated site!
njoy unlimited articles FREE for a limited time by signing up or logging in. No credit card required.
Dane County Board Chairwoman Sharon Corrigan said the other $47.4 million for the Exhibition Hall expansion will come from taxpayer funds and private partnerships, such as naming rights deals.
Wescott said he's confident the county can secure the difference in funding without putting taxpayers fully on the hook.
Ruben Anthony, president of the Urban League of Greater Madison, called the project a "game-changer" for neighborhoods surrounding the center's location in the town of Madison near the city of Madison's South Side.
"So often south Madison is looked at as last," he said.
The project will spark private development and more spending for years to come in an area where many of the city's lower-income minorities live, Anthony said.
The Exhibition Hall is just one part of the $305 million first phase of development. The master plan calls for the county to spend $13.4 million to create an entrance plaza, a new arena show ring and stormwater and roadway improvements on top of the costs for the Exhibition Hall's first phase. The other $205 million would come from private developments such as hotels, restaurants, retail shops, office space and housing on the campus.
"This is the first piece in the puzzle," said Corrigan, who has spearheaded the expansion.
The Coliseum will also see improvements under the master plan, including new loading docks, better lighting and sound systems, renovated concourses and entrances, upgraded locker rooms and new spectator seating, but Corrigan said those upgrades aren't the top priority.
Asked about a construction timeline, Corrigan offered few specifics. She said shovels would not hit the ground in 2019.
---
[Correction: Ruben Anthony was incorrectly identified in an earlier version of this story.]