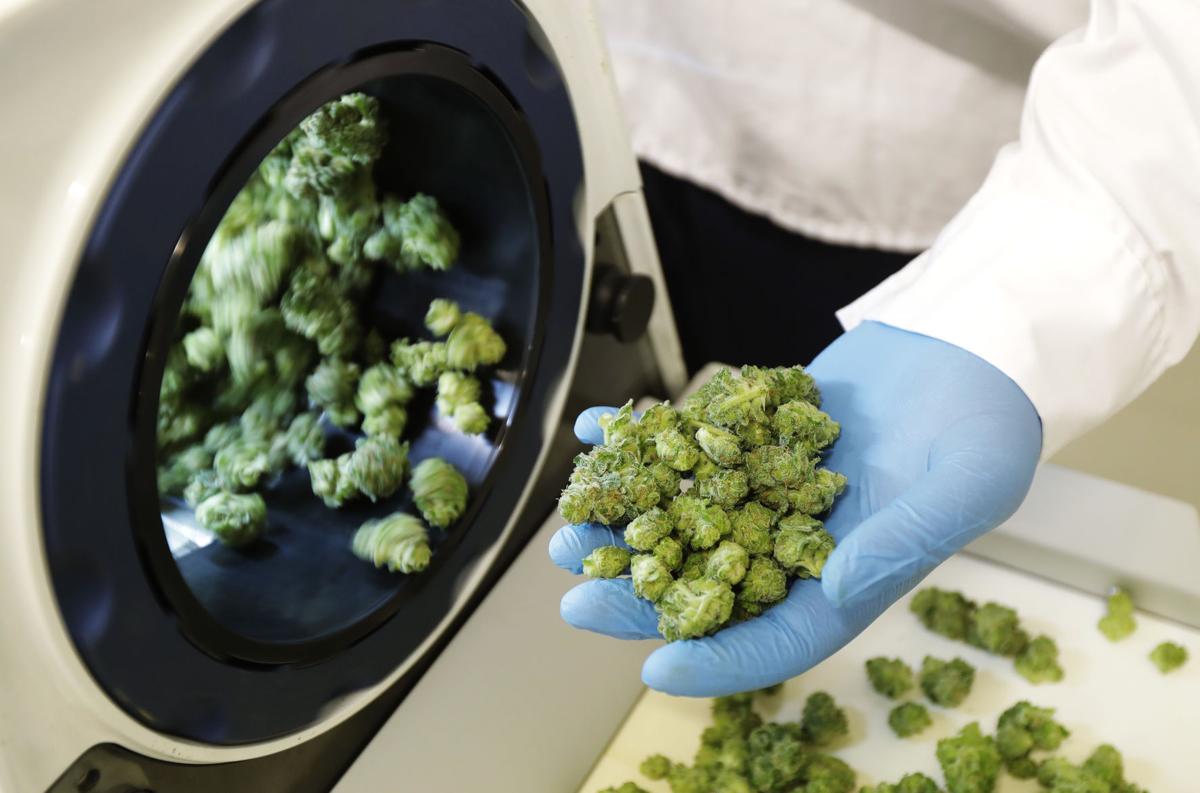 Gov. Tony Evers plans to provide a pathway for the legalization of medical marijuana in his state budget and said he supports eventual full legalization.
Evers, speaking Tuesday to the Wisconsin Technology Council, said he plans to include a "first step" toward medical use in his upcoming budget and wants to explore ways to legalize recreational use that favor entrepreneurs and small businesses.
"At the end of the day, do I favor legalization? Yes." Evers said. "So we will likely have in our budget a first step around medical marijuana."
If a bill fully legalizing recreational marijuana were presented to him, Evers said, "I personally would sign that bill."
Meanwhile, Attorney General Josh Kaul told a Milwaukee TV station he is open to allowing medical marijuana and will advocate for it with the Legislature.
Evers, as he's done on the campaign trail, said Tuesday he would support an advisory referendum to determine whether Wisconsinites approve legalizing marijuana in full.
Such a referendum would not have the force of law. Wisconsin does not allow voters to enact their own laws, as other states such as California do, without the Legislature approving it first through a bill.
Already, nearly 1 million voters in 16 counties and two cities in Wisconsin answered "yes" on a nonbinding referendum in November asking if marijuana should be legal for medical or recreational use.
A Marquette University Law School poll conducted in August 2018 found 61 percent of Wisconsinites surveyed support legalizing marijuana by regulating and taxing it like alcohol, while 39 percent oppose the idea.
Rep. Melissa Sargent, D-Madison, who has long been a proponent of legalizing both medical and recreational marijuana use, said she views medical marijuana as a path toward full recreational legalization, and said Evers' march toward approving medical use is refreshing.
Sargent said she views legalization as a means to address racial disparities, enhance individual liberty and boost the state economy.
She plans to re-introduce a bill this legislative session that would fully legalize both medical and recreational cannabis use.
GOP skeptical
Republicans in the Senate see any movement on medicinal or recreational legalization as unlikely, and question whether the state budget process is an appropriate means to debate marijuana policy.
Senate Majority Leader Scott Fitzgerald, R-Juneau, at a news conference Tuesday said a marijuana policy debate would likely not be included in the state budge debate and cast doubt on whether there is support for any legalization among Republicans in the Senate.
"I still don't believe the support's there within the Senate caucus to move in that direction," Fitzgerald said.
Meanwhile, Assembly Speaker Robin Vos, R-Rochester, in a previous interview with the Wisconsin State Journal said he supports medical marijuana but under no circumstances would approve full legalization.
He said he'd like to ensure Wisconsin complies with federal law, which still prohibits consumption.
'More when than if'
Evers in his comments Tuesday said he wants to pursue a path toward legalization that allows small businesses and entrepreneurs to make money off selling cannabis rather than implementing a marketplace that gives preference to large pharmaceutical companies.
"I want it to be set up in a way that the people in the state of Wisconsin feel comfortable that they can make some money by doing this work," Evers said, adding legalization is "more when than if."
He criticized tax structures in Colorado and Washington state he argued benefit large companies.
State Journal reporter Judy Newman contributed to this report.
Editor's note: This story was corrected to reflect that Attorney General Josh Kaul expressed support for medical marijuana, not recreational marijuana.