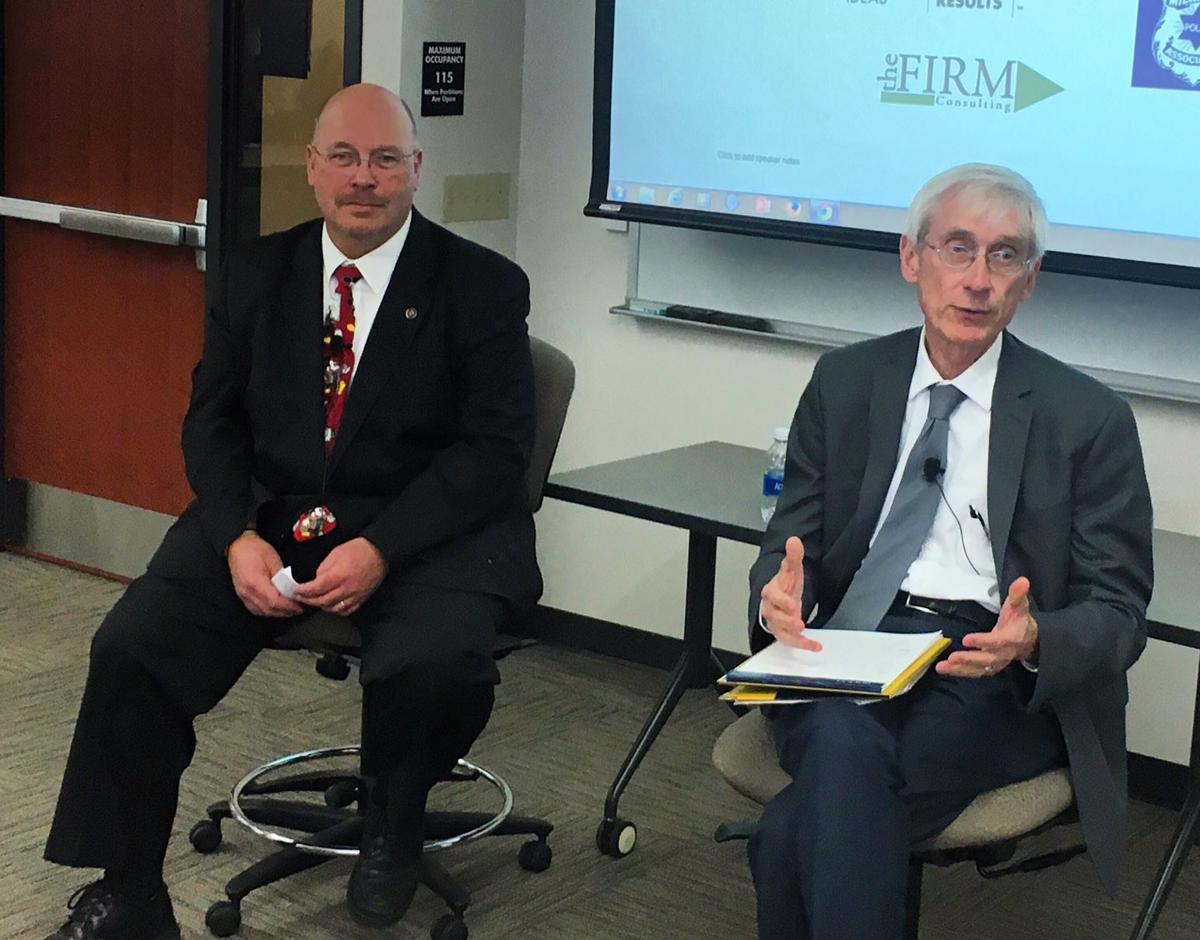 MILWAUKEE — Candidates to oversee the state's public schools on Monday disagreed on whether Act 10 was good for teachers and schools and whether to spend more money on taxpayer-funded vouchers for private schools.
It was the first public forum between state Superintendent Tony Evers and his challenger, Lowell Holtz, a former district superintendent. The meeting came in the wake of two weeks of accusations of lying, election bribery and using public resources to plot campaign strategy leading up to and following the Feb. 21 primary. The general election is April 4.
After Monday's forum hosted by Wispolitics.com at UW-Milwaukee, Evers told reporters that Holtz should be investigated for sending campaign-related emails using a school district email account when Holtz was superintendent of Whitnall School District in suburban Milwaukee.
Holtz said he isn't sure the email violated any state law and if it did, he will "own it." He pointed out that Evers paid a fine for a campaign violation in a previous campaign.
"I'm still not sure that I violated anything. But if I did, I really am the kind of person who is willing to name it, own it and fix it," said Holtz. "And I obviously fixed it because I'm not working at the school district. I wanted to keep that separation so I could run 100 percent of the time and not worry about that. If the Ethics Commission says it was a problem, which I'm not sure they're going to, then of course whatever the remedy is (I'll accept)."
During his 2009 campaign, Evers was fined $250 after he sent an email from his personal email account to a Green Bay education administrator on his work account to assist in planning a fundraiser and increasing turnout.
Holtz suggested the race should focus on issues, not his email use, but Evers said the emails are relevant because integrity matters to voters.
"I paid a small fine and learned the lesson on pressing the right button," Evers said. "Yeah, I think there should be an investigation. It's clear that I never thought integrity would be an issue in this campaign but it's clear it's going to be. People in Wisconsin should be concerned that someone in a position that Lowell Holtz was would be using his email to kind of plan and plot strategy."
Impact of Act 10
During the forum, Evers blamed a burgeoning shortage of teachers on the Act 10 collective bargaining law.
"I think it's made a hell of a big difference," Evers said. "We have turned off a generation of people who want to become teachers."
Holtz said it stemmed the tide of layoffs in districts he oversaw.
"Up until Act 10 took effect, as a school district superintendent, every single year I had to lay people off. When you lay people off that means class sizes get bigger, resources go down and post-Act 10, I never had to lay a single person off," Holtz said.
The Whitnall School District saved more than $150,000 in district benefit payments in the first year after passage of Act 10, largely in employee retirement costs, according to a 2012 report from the Wisconsin Taxpayers Alliance.
Holtz added that fewer state requirements on teachers will lead to fewer teachers driven away from the profession.
According to research released last year by the Public Policy Forum based on U.S. Department of Education data, enrollment in the state's teacher preparation programs fell by 28 percent between the 2008-09 school year and the 2013-14 school year. But that drop also reflects a nationwide trend.
Evers acknowledged the 2011 law has saved school districts money "by taking money out of teachers' pockets."
Evers is largely supported by public school advocates and Democrats while Holtz is running as a conservative choice, appealing to school voucher supporters and opponents of the Common Core State Standards. Holtz's support of Act 10 is a key difference between he and Evers, who was one of about 900,000 people who signed a petition to trigger a recall election for Walker over the law.
On vouchers, DeVos
During the forum, the candidates agreed that the state's mandated school year start date of Sept. 1 should be repealed and that the state needs an accountability system that measures public and private voucher schools the same way and requires both kinds of schools to report the same data.
Holtz said he isn't afraid of the competition that the expansion of voucher schools gives public schools, while Evers said he does not support the expansion if it's at the "expense" of public schools.
The two diverged on whether President Donald Trump's pick to lead the U.S. Department of Education, Betsy DeVos, is promising for Wisconsin schools.
Holtz said if Trump's pledge to return more power to state education departments and local school boards holds true with DeVos, who had until recently headed the pro-voucher group American Federation for Children, Holtz would welcome that "with open arms."
Meanwhile, Evers said he is concerned DeVos won't use the position's bully pulpit to advocate for public schools as well as private schools.
"I think I was more qualified than Betsy DeVos," Evers said.
The candidates also disagreed on whether a provision in Walker's budget proposal should tie $649 million in new funding for schools to whether the district is requiring its teachers to pay at least 12 percent of the district's health insurance costs, which reflects a provision in Act 10.
Holtz supports the idea and Evers opposes it.
Get Election 2020 & Politics updates in your inbox!
Keep up on the latest in national and local politics as Election 2020 comes into focus.