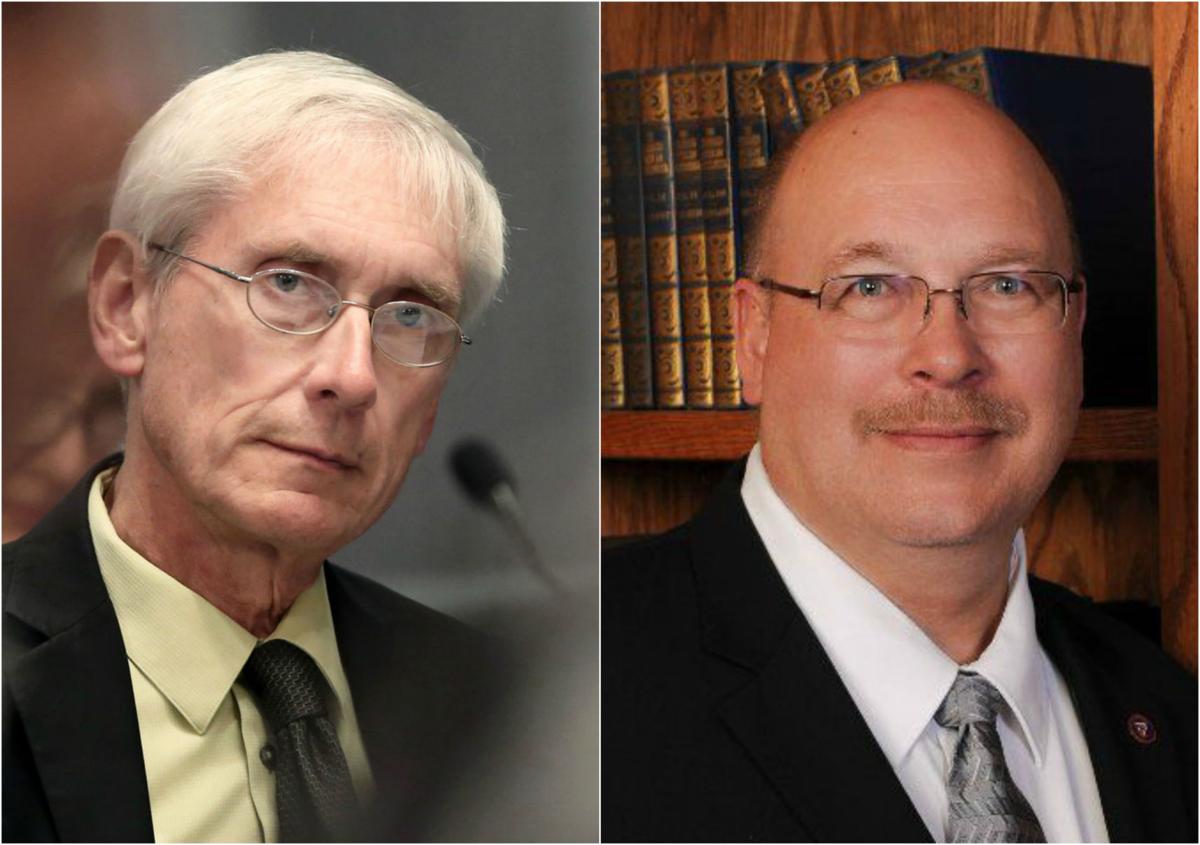 State Superintendent Tony Evers easily advanced through Tuesday's primary election and will face former Beloit and Whitnall superintendent Lowell Holtz in the April 4 general election. 
Evers, seeking a third term as state superintendent, garnered about 69 percent of the votes counted as of late Tuesday night, well more than double what his opponents drew combined. Holtz received around 23 percent.
Third candidate John Humphries, a former Dodgeville School District administrator, drew about 7 percent of the vote and was eliminated. 
Evers said the wide margin by which he secured a first-place finish in Tuesday's election was "a reflection of the work that we've done ever the last eight years."
"And more importantly, I really tried in this election, thus far and I'm going to continue, to focus on the 860,000 public school kids and their needs and try to avoid the issue of this policy and that policy and focus on kids," Evers said. 
Holtz, who competed with Humphries for support among conservatives and is running for a second time for state schools chief, said he was not surprised to advance. 
"I really believe I was called to run for this position," he said. "I want to dedicate my life to the kids of Wisconsin and I want to change things for them, and that's why I'm thrilled I'm one of the two. I know Tony, and I'm looking forward to competing with him."
In a statement, Humphries congratulated Evers and Holtz and said all three displayed a "commitment to improving educational outcomes for Wisconsin students."
"We may not have agreed on how to get there, but there is no denying we are all passionate about that outcome," Humphries said. "I remain convinced that Wisconsin students can achieve so much more with the right leadership at DPI."
Humphries said he encouraged voters to consider Evers' record and to learn more about Holtz's proposals. 
Voters went to the polls after a tough last week of the race for Holtz and Humphries, during which Humphries released a document to reporters showing Holtz had sought a $150,000-per-year job on a three-year contract with the Department of Public Instruction if Holtz dropped out of the race and Humphries won in April, and the offered the same to Humphries if he dropped out of the race. 
Part of that proposal suggested if Holtz dropped out he would be put in charge of a handful of large school districts and given powers to break apart districts and take over school boards -- abilities that do not exist in state law. Holtz said the proposals were just ideas from business leaders neither candidate would identify, and that they never went anywhere. 
The race exploded into accusations of lying and doctoring documents between Humphries and Holtz and prompted liberal advocacy group One Wisconsin Now to file a complaint with the state Elections Commission alleging the job offer deal amounted to election bribery. 
Holtz on Tuesday said he didn't think Evers would "degrade himself" by continuing to focus on the controversy. 
"From my perspective, Tony's a classy guy," Holtz said. "It was a desperate action and obviously it didn't put me out of the race." 
But Evers on Tuesday signaled the proposal to take over school districts would come up again. 
"Trust and integrity matter to me and certainly matter to the folks of the state of Wisconsin," Evers said. "To kind of cut deals behind the scenes to break of up school districts -- that's a trust issue and yes, I think it's going to continue to be an issue in this race."
Get Government & Politics updates in your inbox!
Stay up-to-date on the latest in local and national government and political topics with our newsletter.