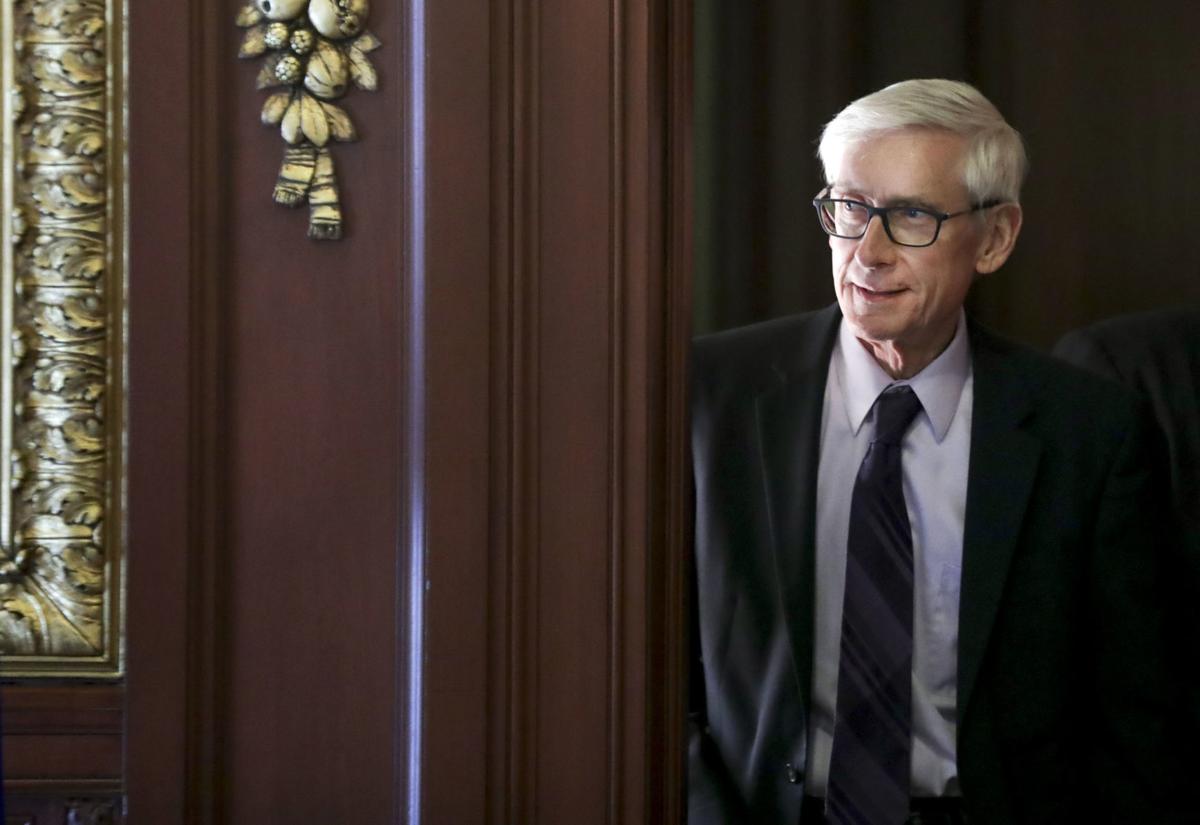 Gov. Tony Evers called on President Donald Trump to end the country's trade dispute with China and other nations, citing harm done to several Wisconsin industries.
In a letter sent Monday, Evers underscored the grave impact of the administration's trade policy on Wisconsin's $88 billion agricultural sector, which has undergone a rough period in recent years.
"Farmers of all commodities have been hit by a triple whammy of trade uncertainty, low selling prices for their products, and bad weather," wrote Evers, a Democrat. "Wisconsin's farmers deserve better than this."
Farmers over the past several years have suffered from a slump in milk prices. Their struggles have only been compounded after the Republican president entered the U.S. into a global trade war by imposing tariffs on steel and aluminum.
Those prompted retaliatory tariffs, such as a 25% tariff Mexico placed on American cheese. Ninety percent of Wisconsin's milk is made into cheese.
The Trump administration has defended the tariffs as a way to counter unfair trade practices by China and other countries.
Evers' letter comes as the Trump administration and lawmakers consider approving an update to the North American Free Trade Agreement that would give American dairy farmers more access to Mexican and Canadian dairy markets. Some farmers say the trade agreement would offer them some needed relief.
Republican National Committee spokeswoman Mandi Merritt said the trade deal with Mexico and Canada, currently under negotiation, would "dramatically" help farmers and knocked Evers for creating a harsh climate in Wisconsin.
"Finally we have a President who is getting tough on China and is serious about leveling the playing field for Wisconsin workers," Merritt said in a statement.
To come to the aid of ailing farmers, the Trump administration earlier this summer began rolling out a $16 billion aid package consisting of direct payments to farmers for several crops, a food purchase program and trade promotion.
Covered products include soybeans, corn, barley, wheat, cotton, dairy, hogs, cranberries, cherries and nuts.
Evers criticized the program, arguing that eliminating the trade wars is a better long-term solution for farmers than providing aid payments.
"Farmers want trade more than government aid," Evers wrote. "They deserve better than short-sighted trade wars that do lasting damage to their businesses and their heritage."
Last month, U.S. Sen. Ron Johnson, R-Oshkosh, said Trump's tariffs are not helping Wisconsin farmers, and urged passage of the updated trade agreement between the U.S., Mexico and Canada.
Trump's trade policy has previously sparked controversy in Wisconsin. A year ago, Trump said it would be "great" if there were a boycott against Wisconsin motorcycle manufacturer Harley-Davidson, which had announced plans to move some production overseas in response to retaliatory tariffs imposed by the European Union in response to Trump's trade measures.
Get Election 2020 & Politics updates in your inbox!
Keep up on the latest in national and local politics as Election 2020 comes into focus.