GOP leaders said Friday they will not support Democratic Gov. Tony Evers' request to extend Tuesday's presidential primary and spring election into May, limit almost all voting to mail-in ballots and send a ballot to every registered voter who has not yet requested one — all measures to mitigate a health hazard for poll workers and voters amid the COVID-19 pandemic.
Evers on Friday ordered the Legislature to meet in special session at 4 p.m. Saturday to take up the legislation. Evers' order came a day after a federal judge declined to postpone Tuesday's election, but ordered the deadline for filing absentee ballots be extended to April 13.
Republicans asked the 7th Circuit U.S. Court of Appeals, based in Chicago, to put that ruling on hold, asserting that U.S. District Judge William Conley, on short notice before Tuesday's election, "rewrote" the rules for the election, creating voter confusion.
However, the appeals court on Friday refused to grant the stay. The order did not provide any explanation for the refusal.
The 7th Circuit did stay Conley's decision to exempt absentee voters from the witness signature requirement, saying the judge didn't consider that lifting the mandate might open the door to fraud.
The legislation Evers is proposing would require sending absentee ballots to all remaining voters by May 19 and extend the deadline for returning the ballots to May 26. Only those who are unable to vote absentee because of a disability or limited English ability would be permitted to vote in person at the clerk's office between now and May 19.
"Yeah, it's late in the game, there's no question. But it's things that have been discussed before, people have had time to chew on it," Evers said in a Friday media call. "I'm hopeful that common sense will prevail and we'll be able to get some solutions to this."
Senate Majority Leader Scott Fitzgerald, R-Juneau, and Assembly Speaker Robin Vos, R-Rochester, quickly dismissed the proposal. Although they're required to convene, lawmakers aren't obligated to take any action.
"Our Republic must continue to function, and the many local government positions on the ballot must be filled so that municipalities can swiftly respond to the crisis at hand," the two legislative leaders said in a joint statement. "We continue to support what Governor Evers has supported for weeks: the election should continue as planned on Tuesday."
In addition to the presidential primary, Tuesday's ballot features a race for state Supreme Court and hundreds of municipal races and referendums. Many local officials' terms end in mid-April. Evers said the legislation he is proposing would extend the terms of officeholders' due to conclude before the proposed May 26 vote.
"If they take no action we'll be looking at every action we can take," Evers said of the Republicans, providing no specifics.
Last week, Evers called on the Legislature to mail a ballot to every registered voter in the state, but the idea was quickly rejected by GOP leaders who argued such a proposal was unrealistic.
Senate Minority Leader Jennifer Shilling, D-La Crosse, and Assembly Minority Leader Gordon Hintz, D-Oshkosh, endorsed Evers' newest proposal.
"The April 7th election should be postponed by any means necessary," Hintz said in a statement. "Having tens of thousands of people gathered at polling places around the state on Tuesday will result in the further spreading of the COVID-19 virus."
As of Friday, 1,916 Wisconsinites had tested positive for COVID-19, according to the Department of Health Services. More than 22,000 people have tested negative and 37 people have died due to the respiratory disease. In Dane County, public health officials reported 252 confirmed cases and five deaths.
Over the last week, several municipalities across the state began planning for consolidated polling places in an effort to address a shortage of poll workers for the Tuesday election. Evers said he made the call to shift to a mail-in election to eliminate what could be large crowds of in-person voters at a time when social distancing is encouraged and mass gatherings are banned.

"I'm not sitting here trying to point fingers, I'm trying to solve this thing," Evers said. "Clearly, if the number of poll places are down, that means it's going to be much, much more difficult to maintain social distancing."
Ruling clarified
If the election moves forward on Tuesday, a ruling Thursday by Conley has extended the deadline for receipt of absentee ballots until 4 p.m. April 13. In a followup ruling Friday, Conley clarified that initial results of the balloting could not be disclosed until all the ballots are received.
Under Conley's revised order, the Wisconsin Elections Commission "and any inspector … are enjoined from releasing any unofficial results until April 13 at 4 p.m. or as soon thereafter as votes are tabulated."
WEC spokesman Reid Magney said the commission was still working out whether clerks could begin counting votes before that time and would give them guidance on that point soon.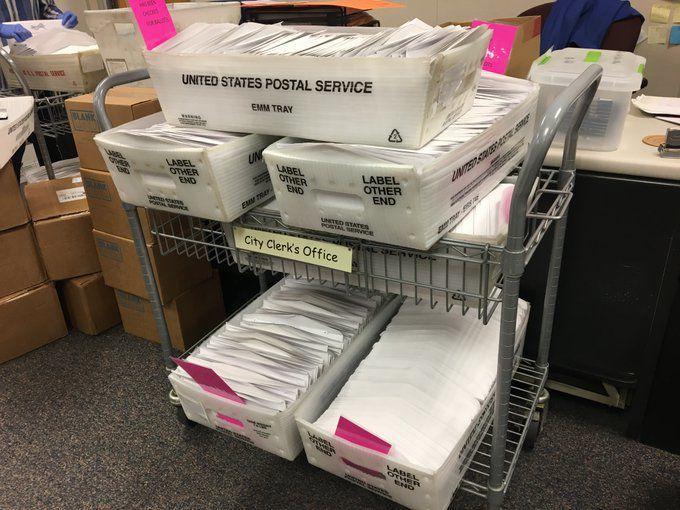 GOP appeals
Appeals of Conley's ruling Thursday have been filed by the Republican National Committee and the Republican Party of Wisconsin, which intervened in the lawsuit. Conley didn't allow the state Legislature to intervene in the case but the 7th Circuit reversed that decision.
"We still have grave concerns about election security by allowing votes to be postmarked or submitted after Election Day, and plan to appeal that issue to the United States Supreme Court," Fitzgerald said in a Friday statement.
Lawyers for Democrats have responded that other circumstances surrounding the election, including the locations of polling places, have been changing rapidly as the election approaches and have not caused the chaos Republicans claim that the latest rulings will cause.
The Associated Press contributed to this report.
Concerned about COVID-19?
Sign up now to get the most recent coronavirus headlines and other important local and national news sent to your email inbox daily.