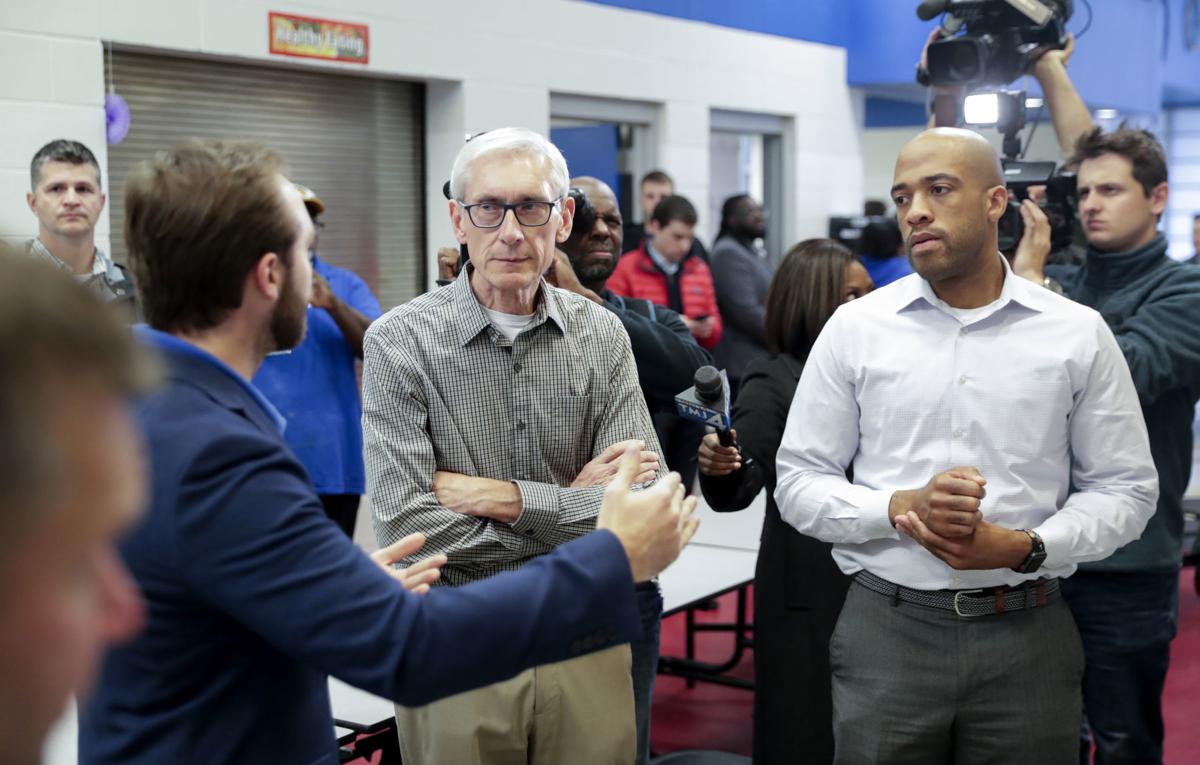 Democratic Gov.-elect Tony Evers has unveiled a panel to advise him on public safety and criminal justice, saying he views the issue as ripe for compromise with Republicans controlling the state Legislature.
In a statement Monday announcing the panel, Evers and Lt. Gov.-elect Mandela Barnes also noted racial disparities in the prison system and said it's time "to start prioritizing people, not prisons."
The new panel includes Dean Strang, who gained international fame for his defense of convicted murderer Steven Avery, whose case was featured in the Netflix series "Making a Murderer," as well as former state Supreme Court justices Louis Butler and Janine Geske.
Other notable names include:
Dane County Sheriff Dave Mahoney;
Kelli Thompson, head of the state Public Defender's Office;
Matt Frank, former state Department of Natural Resources secretary and former assistant state attorney general;
Milwaukee County Chief Deputy Sheriff Denita Ball;
Rick Raemisch, former state Department of Corrections secretary and Dane County sheriff who now leads the Colorado Department of Corrections;
Walter Dickey, University of Wisconsin Law School professor and former DOC secretary;
Angela Lang, director of the Milwaukee-based Black Leaders Organizing for Communities;
Jim Palmer, head of the state's police union.
The announcement Monday said the panel aims to "bring together people from all sides of the criminal justice system" to work on possible criminal justice changes.
Evers noted that in Wisconsin, African-Americans are 10 times more likely to be imprisoned than white people, and the state spends more on corrections than on the University of Wisconsin System.
"Red states like Texas have passed comprehensive criminal justice reform, and I know Republicans and Democrats can work together to get it done here in Wisconsin," Evers said.
The offices of the Legislature's top Republicans, Assembly Speaker Robin Vos and Senate Majority Leader Scott Fitzgerald, did not respond Monday to requests for comment on Evers' announcement.
Evers said during the campaign that he wants to cut the state's prison population in half, although he did not specify a time frame for doing so. He also said he wants to end solitary confinement and give ex-convicts more help.
Evers said he supports medical marijuana and would back legalizing marijuana for recreational use if approved by voters in a statewide referendum.
Natural resources, agriculture panel
Also Monday, Evers announced a panel advising him on agriculture, energy and natural resources, while vowing to "bring science back to decision-making" in those areas.
A news release said the panel will work with Evers' transition team "on identifying strategies to protect Wisconsin's natural resources, strengthen our agricultural industries, and work toward clean energy innovation."
"Whether it's ensuring we have clean drinking water, protecting our natural resources, standing up for our family dairy farms, or investing in clean, renewable energy, we have to get to work on addressing these issues that affect our kids and our future," Evers said in the release.
The panel includes several noted environmentalists, conservationists and former DNR employees, among them:
Spencer Black, a former state lawmaker and prominent environmentalist;
Tom Hauge, a former longtime DNR wildlife management bureau chief who retired in 2016 after being threatened with a demotion for not being "customer-focused" enough;
Preston Cole, who serves on the DNR's Natural Resources Board;
Former DNR state forester Paul DeLong;
Dave Clausen, former chairman of the Natural Resources Board;
Matt Krueger, who leads the conservation group WI Land + Water.
Get Government & Politics updates in your inbox!
Stay up-to-date on the latest in local and national government and political topics with our newsletter.