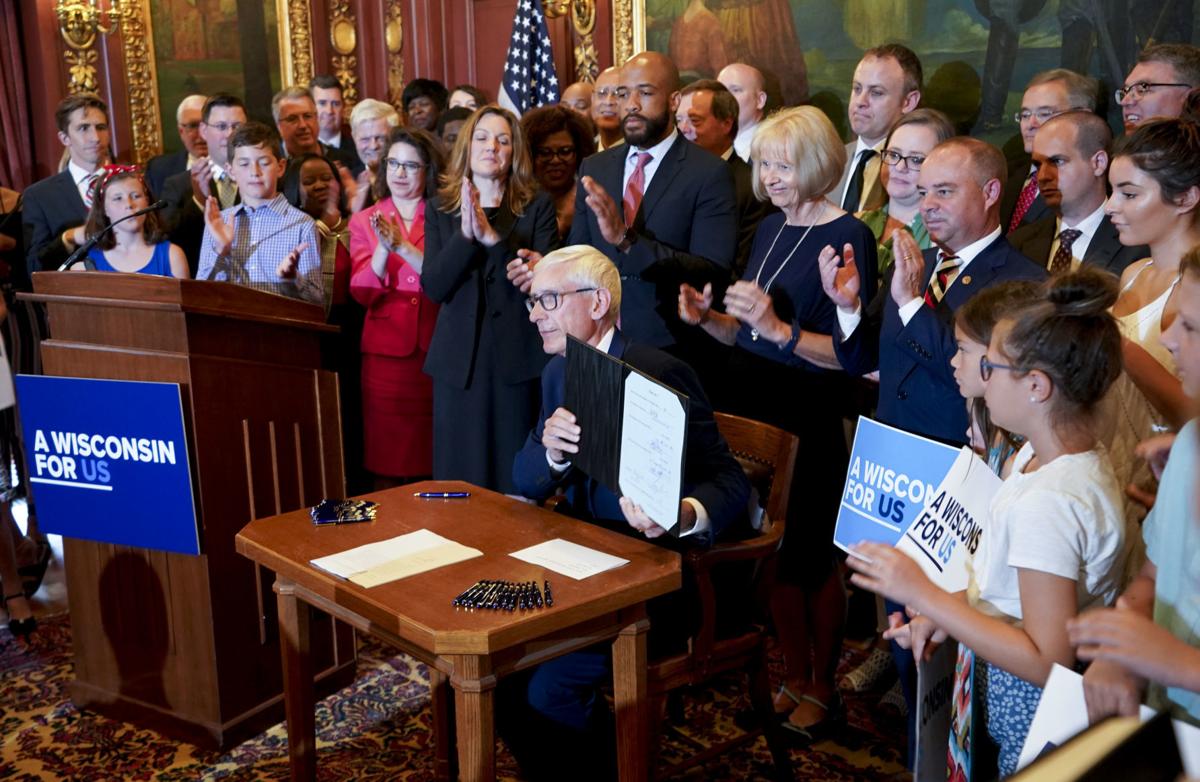 Gov. Tony Evers has announced the addition of more than 60 new assistant district attorney positions across the state, a move he called the largest state investment in the district attorney program in Wisconsin history.
Evers said in a Tuesday statement the new hires will represent the first new full-time general purpose revenue-funded positions created for the program in more than a decade.
"For far too long our county district attorney offices have been doing more with less," Evers said. "This historic investment will enable our county officials to improve victims services, enhance diversion and treatment options for those struggling with substance use disorders, and address backlogs that are standing in the way of justice."
Allocation recommendations from the Department of Administration were made based on requests by county district attorneys. Fifty-six counties are slated to receive a total of just shy of 65 new positions.
Milwaukee County is slated for three new positions, Dane County is poised for 1.15 new positions and La Crosse and Fond du Lac will each see two new assistant district attorney positions.
Evers' spokeswoman Melissa Baldauff said counties likely will have discretion on hiring for the positions, including on pay.
The typical starting salary for an assistant district attorney is about $25 an hour and, over the two years of the budget, the total staffing increase is expected to cost about $7.8 million, Baldauff said.
Sen. Andre Jacque, R-De Pere, said more investment is needed in assistant district attorneys but the new positions mark a crucial step forward.
"I am pleased that the uncertainty over prosecutor allocation for counties has ended, and that DOA's recommendations are similar to its prior analysis, including several assistant district attorneys that will be added in Northeast Wisconsin," Jacque said in a statement.
During the budget process, Republicans, who control the Senate and Assembly, had originally earmarked funding for new district attorneys to specific counties.
However, Evers vetoed the earmark and directed the Department of Administration to work with the State Prosecutors Office to allocate positions to counties "in a manner that considers need holistically, including staffing needs based on creation or expansion of treatment alternatives and diversion programs, meeting with victims prior to charging, addressing backlogs, and utilizing available workload analyses," according to the governor's veto message.
Rep. Gordon Hintz, D-Oshkosh, said in a statement the district attorney staffing shortage is one of the biggest barriers to criminal justice reform.
He added that two new assistant district attorney positions in Winnebago County "will help enhance treatment and diversion options, address backlogs, and improve victim services."
Rep. Mark Born, R-Beaver Dam, raised concern that Milwaukee County is slated for three new assistant district attorney positions, while Manitowoc and Monroe counties will get only one each.
"Governor Evers' decision today to take district attorney positions away from understaffed rural counties to give more to Milwaukee County is very concerning," Born said in a statement. "Picking political winners and losers when it comes to public safety is the wrong way to govern."