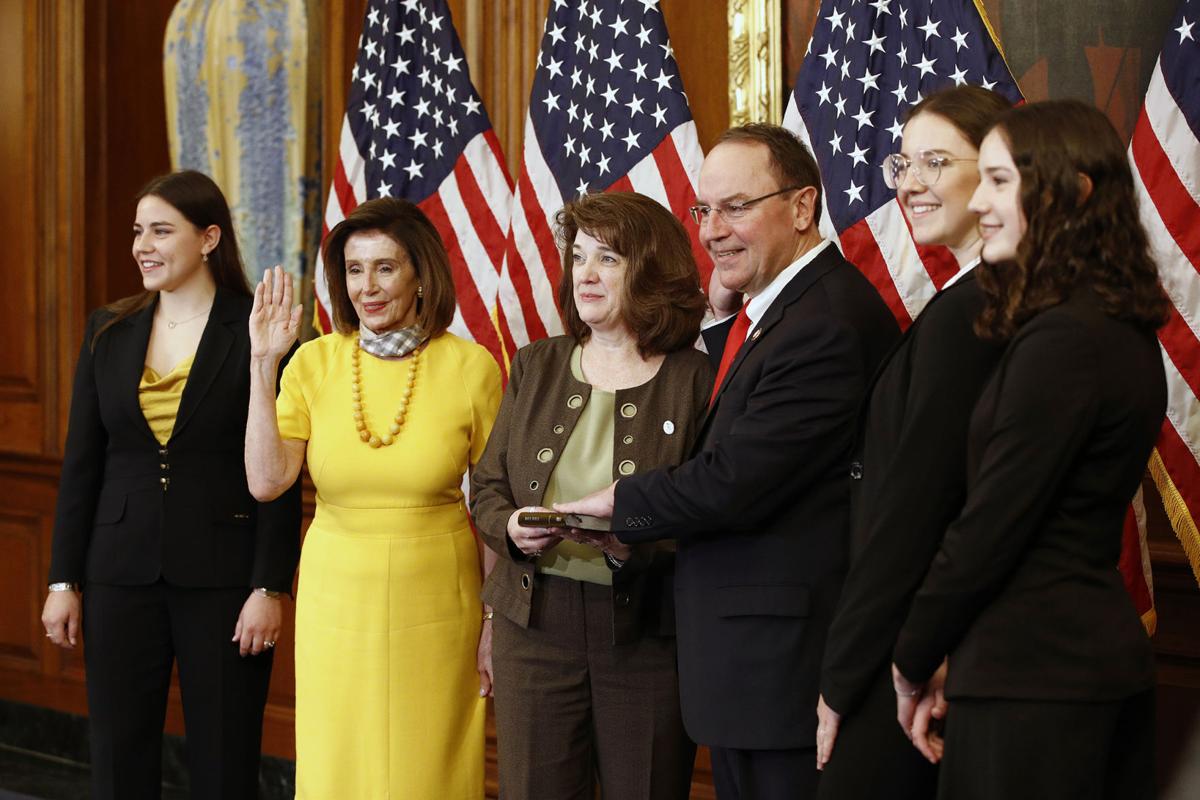 U.S. Rep. Tom Tiffany, R-Wausau, was one of 17 congressional Republicans on Friday to vote against a House resolution to condemn conspiracy theory movement QAnon.
The resolution passed the House with overwhelming bipartisan support after its introduction at the end of September.
Tiffany, who won his seat in a special election over the summer, rejected the resolution out of protest because he saw the vote as a waste of time.
"I have repeatedly condemned, and continue to condemn, anyone who engages in rioting, looting, or violence of any kind, regardless of their political views — while the Left has remained largely silent," he said in a statement.
"Unfortunately Friday's resolution was just another time-wasting exercise in election-year virtue signaling by Speaker Pelosi — time that would be better spent unlocking PPP funding, providing resources for the police who keep our neighborhoods safe and enacting common-sense liability protections for schools, health providers and small businesses."
Tricia Zunker, Tiffany's opponent in the northern Wisconsin district for a two-year term in the Nov. 3 election, seized on the vote and called it a "total failure of leadership" in a statement released Friday.
"Conspiracy theories and movements like QAnon dehumanize citizens, incite violence and threaten our democratic institutions," she said. "Rep. Tom Tiffany is so extreme that he won't join his own party leaders in condemning this dangerous conspiracy theory and the violence it promotes. The message is clear: Rep. Tiffany is standing up for QAnon in Congress; he is not standing up for the people of Wisconsin."
QAnon, a conspiracy theory movement, is based on the groundless belief that President Donald Trump is waging a secret campaign against enemies in the "deep state" and a child sex trafficking ring run by satanic pedophiles and cannibals, according to The Associated Press.
"Conspiracy theories that falsely blame secret cabals or marginalized groups for society's ills have long fueled prejudice, violence and terrorism," Rep. Tom Malinowski, D-New Jersey, author of the resolution, said in a statement Friday. "Today the House of Representatives came together across party lines to say that QAnon has no place in our nation's political discourse."
The FBI determined that fringe political conspiracy theories, such as QAnon, are likely to motivate some domestic extremists to engage in criminal or violent activity, and such conspiracy theories very likely encourage targeting and violence against specific people, places and organizations, according to Malinowski.
The Associated Press contributed to this report.
Get Government & Politics updates in your inbox!
Stay up-to-date on the latest in local and national government and political topics with our newsletter.