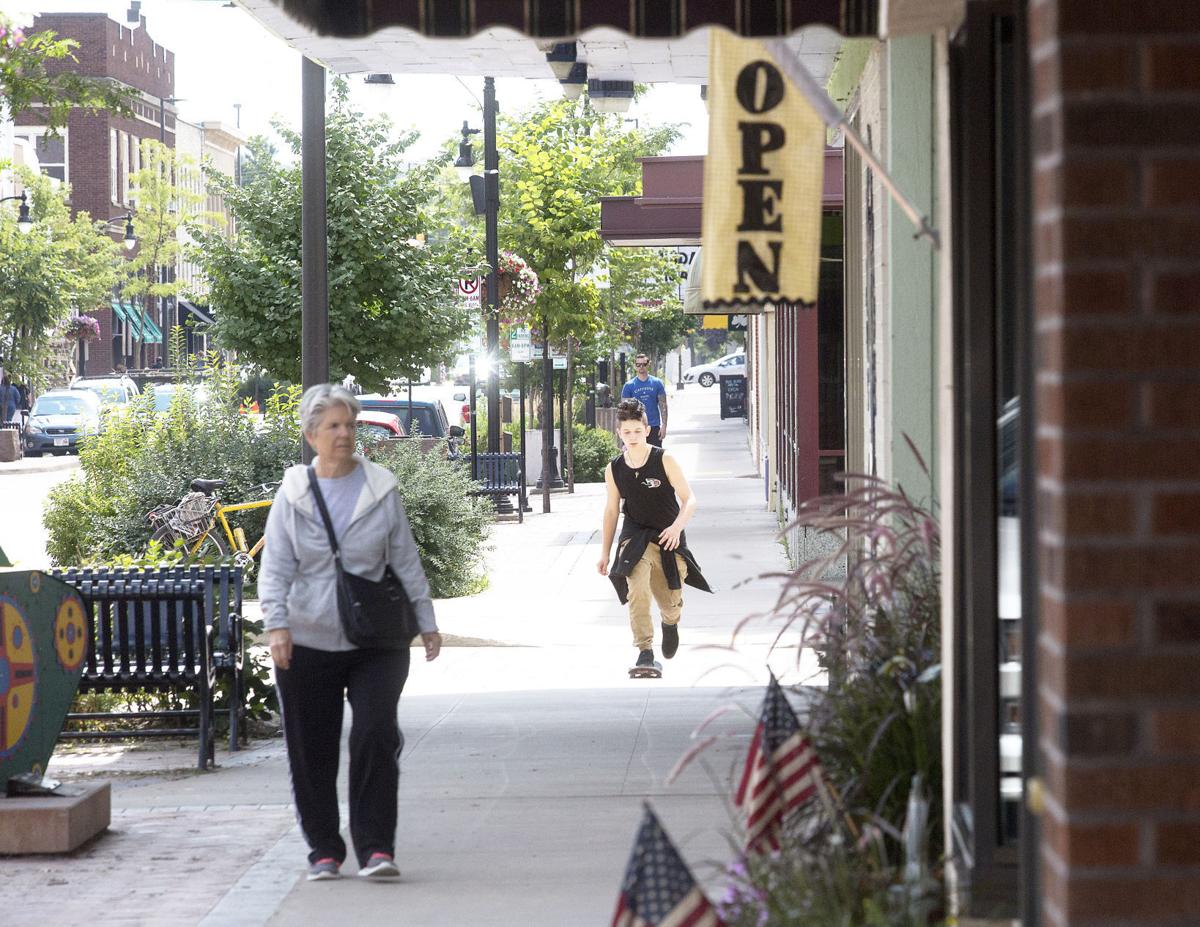 Cheese. Cold winters. Packers.
When people in other parts of the country think of Wisconsin, those are some of the main ideas that come to mind, according to a survey conducted last year by the Wisconsin Economic Development Corp.
Or, as one survey respondent from a neighboring state put it: "I thought it was just farms and bars."
State officials counter that Wisconsin has developed far beyond its reputation as an agricultural rust belt state.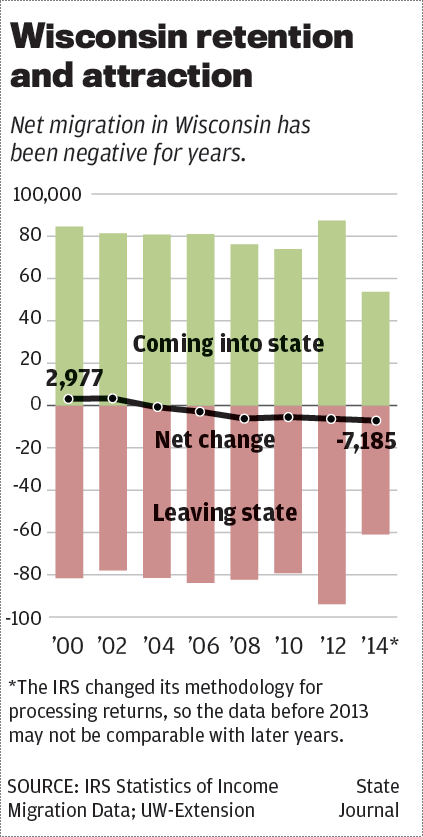 "It's not only beer and cows," said Lt. Gov. Rebecca Kleefisch in an interview. "We're biomedical. We're aviation and aerospace. And now (with the pending arrival of Taiwanese manufacturer Foxconn) we're LCD and software and the cutting edge of information and internet and high-end technology."
But the state remains challenged by a historically slow-growing economy, an industry mix still heavily rooted in manufacturing and spread across several small- to mid-size cities, and the limited appeal of its largest city to young professionals compared with the work and cultural offerings in Minneapolis and Chicago.
And Wisconsin doesn't have a major employer on the scale of Dell in Austin, Texas, or Boeing and Microsoft in Seattle to draw talent from across the country.
Meanwhile, the reputation of some of Wisconsin's drawing cards — stellar university and K-12 education systems and abundant natural resources — has suffered in recent years due to state budget cuts and highly charged political debates.
As employers in Wisconsin and across the country grapple with a worker shortage brought on by low unemployment and retiring baby boomers, some see a need to address Wisconsin's historic difficulty retaining college graduates and attracting people to the state.
Later this year WEDC plans to deploy one new strategy: A $1 million advertising campaign targeting Wisconsin alumni, millennials on social media and commuters in Chicago and northern Illinois.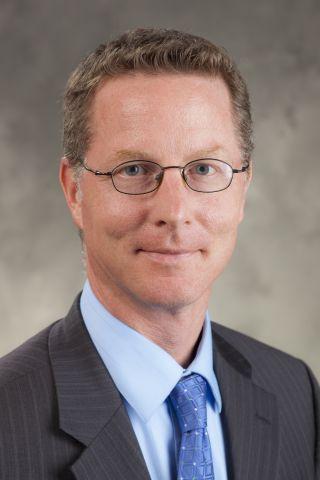 "It really needs to be addressed," said Kelly Lietz, WEDC vice president for marketing and brand management. "We have people coming here to study who … have no idea beyond stereotypical perceptions about Wisconsin."
Wisconsin has long suffered from an inability to attract people from other states, according to IRS data compiled by Matthew Kures, a UW-Extension community development specialist. In 2015 it had the 47th lowest rate of residents migrating into the state. That's consistent with its rank as far back as 1990.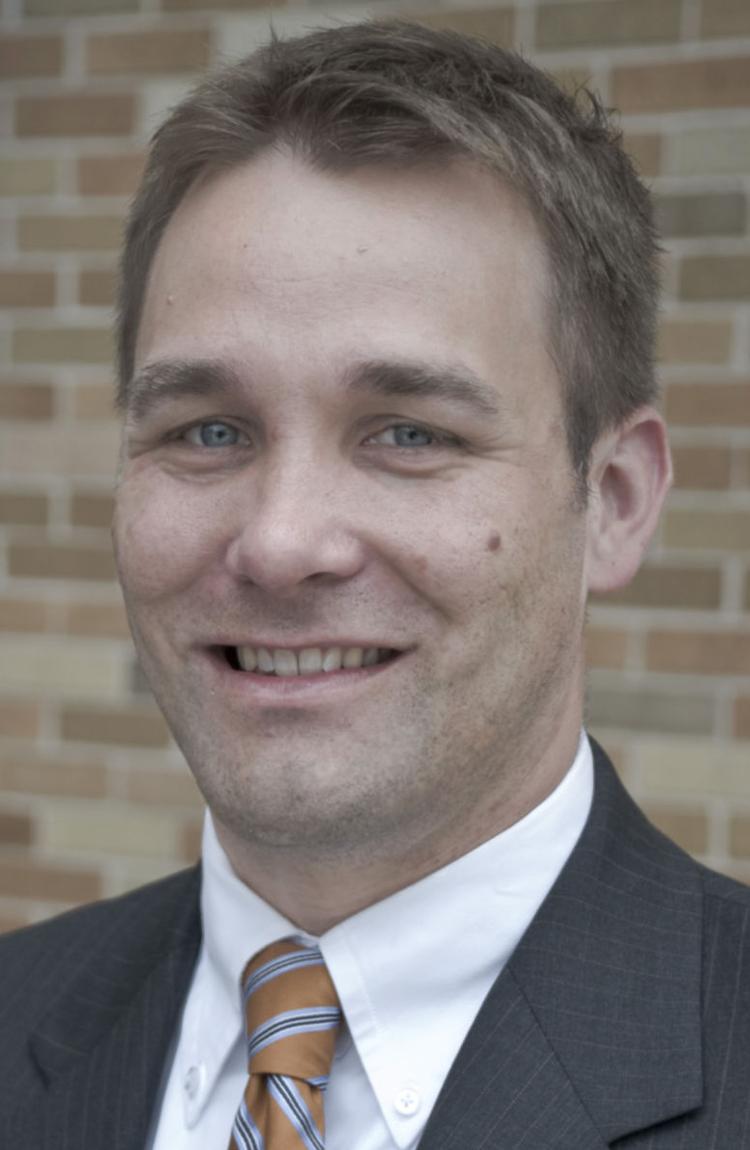 Conversely, it has also ranked well over that period in retaining its population. In 2015 it ranked fourth lowest in terms of residents migrating out of the state.
Since 2000, most of Wisconsin's population growth has occurred in Dane County, while the population in Wisconsin's rural areas has tumbled since the Great Recession. In the seven years before the recession began in December 2007, Wisconsin's slowest-growing 57 counties added 48,979 people. In the seven years after the recession began, those counties lost 1,377 people.
The population loss is not just a cold weather Midwestern problem. Since the 2010 Census, Wisconsin has added only 90,000 people. Minnesota, with a slightly smaller population and its concentration of corporate headquarters in the Twin Cities, has added almost 210,000.
"If we're thinking about attracting new people to the state, it's a challenge and it's always been a challenge," Kures said. "Places able to attract college graduates are large metropolitan areas, but also high natural amenity areas. In our state we use our natural amenities to promote tourism and promote hunting and fishing and other opportunities, but I don't think we promote them to entice people to come live here."
Brain drain vs. brain gain
Others who have researched the issue say Wisconsin must also focus on addressing its "brain drain" — the loss of University of Wisconsin System graduates to other states.
"The workforce numbers are not going to improve unless we keep out-migration down and we attract more people," said Tom Hefty, a former Blue Cross/Blue Shield of Wisconsin CEO and economic adviser to both Republican and Democratic governors.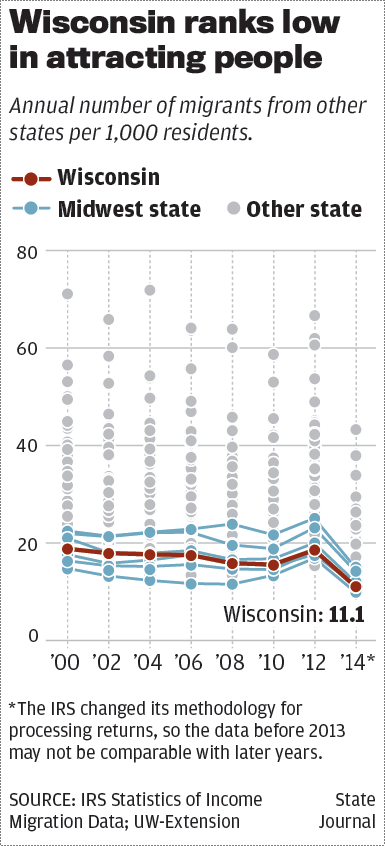 Hefty pointed to a 2016 UW-Madison report showing 56 percent of the university's bachelor's degree alumni from the previous decade still living in Wisconsin. Of those who were originally from Wisconsin, 78 percent lived in Wisconsin in 2015, while 9 percent of those from other places stayed in Wisconsin.
The report also mentioned a College of Engineering graduate survey that found 42 percent of respondents took jobs in Wisconsin. Hefty noted other surveys have ranked UW-Madison and the state poorly in business-sponsored research, university spin-offs and start-up activity.
"That shows the UW does not emphasize connecting graduates to local businesses," Hefty said.
Some residents boomerang
Some Wisconsin residents who leave also boomerang back to the state as they get older. From 2011 to 2015, there was a net negative migration of college graduates among 18- to 34-year-olds, but among 35- to 49-year-olds there was a slight positive migration.
Jessica Bingham, 33, an accountant at Jump River Electric Cooperative in Ladysmith, left the city of 3,400 in northwestern Wisconsin to go to school in Minnesota, but unlike many of her high school classmates she eventually came back.
"It seems like not a lot of people are coming back to their home towns in rural America," Bingham said. "It's kind of depleting the younger people."
Bingham attended Winona State University across the border, and Western Technical College in La Crosse, before completing her bachelor's degree in business administration at UW-Stout. When she left for college she always thought she would work for some huge company, but she came to realize that she wanted to live closer to family. Many other young people are departing northern parts of Wisconsin, leaving a much larger senior population. In 2015, Rusk County's over-65 population made up 22.5 percent of the county. By 2025 it's expected to grow to 30.6 percent of the population, a sign that young workers will be in even shorter supply.
"We can't get the businesses unless we have the people, and we can't get the people unless we have business," said Mari Kay-Nabozny, CEO of the Northwest Wisconsin Workforce Investment Board. "Any business that comes in wants to know the demographics. If we can't bring new professionals in it's really a double-edged problem."
There are efforts underway to get into local middle and high schools and promote local businesses, Kay-Nabozny said.
Bingham said those efforts could have made a difference when she was in high school.
"I always got the feeling, people say, 'Go to school and go make something of yourself,' " Bingham said. "It's like you couldn't make something of yourself here."
'Think, Make, Happen'
To attract more visitors and residents, other states have spent tens of millions of dollars on branding campaigns. The Pure Michigan branding campaign, with an annual $34 million budget, estimates it drew 4 million visitors to the state with an economic impact of $1.2 billion in 2013. The Michigan Economic Development Corp. also uses the brand to attract business and talent to the state.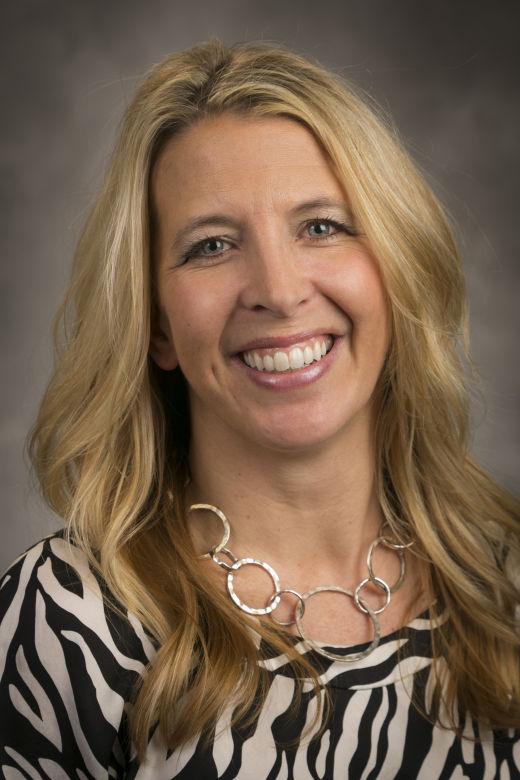 Last December, after months of surveys and testing of different concepts, WEDC first introduced its "Think, Make, Happen" brand. The roll out was intentionally done with little fanfare so as not to elicit the kind of social media mockery that greeted Rhode Island's "Cooler & Warmer" brand, explained WEDC deputy secretary Tricia Braun.
Lietz said the brand is meant to convey a certain idea: "While Wisconsin is known for its natural beauty and abundant resources, it is perhaps best defined by the people who call it home. People with a restless drive to invent, create and achieve. Who combine passion and pride and turn ideas into industries, and whose intellectual curiosity and commitment to collaboration propel groundbreaking discoveries to meet global challenges."
In April the concept was floated at a young professionals event and in the coming months an ad campaign will focus on images and ideas contrasting shorter commute times and lower rental costs in Wisconsin compared with Chicago.
The campaign also includes a website that will help connect people interested in moving to Wisconsin with resources for finding jobs and places to live.
Braun said the campaign marks a shift in the agency's focus from attracting businesses to attracting people. The goal is to reach out to people who aren't looking at Wisconsin for their career because they don't realize there are opportunities suited to them here.
The budget for the initial roll-out is $1 million, all from WEDC's existing budget. Braun hopes the Legislature will provide additional funding in the future if the campaign is successful.
Get Government & Politics updates in your inbox!
Stay up-to-date on the latest in local and national government and political topics with our newsletter.