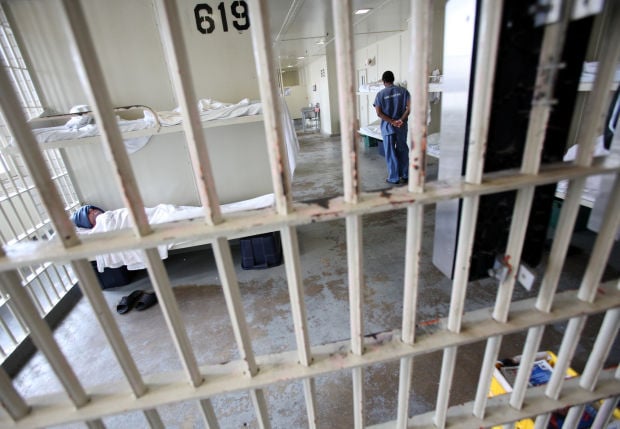 Three contractors have been selected to lead the design of the Dane County Jail consolidation project and have begun meeting with various groups to compare other jail configurations and to determine how space within the jail should be allocated.
The $76 million jail consolidation, which will add four floors to the existing Public Safety Building, 115 W. Doty St., and close the Ferris Center and outdated jail in the City-County Building, was approved by the Dane County Board last year amid protest from advocates pushing for increased funding to diversion programs and social services instead.
Contractors Mead & Hunt, Potter Lawson and HDR have begun to meet with jail employees, mental health providers and faith leaders who work at the jail and others to set design priorities, said Chief Deputy Jeff Hook.
The contractors and the Sheriff's Office are also touring other jails around the country, including the jail in McLean County, Illinois, which is undergoing a similar project, Hook said, as well as the jail in Harris County, Texas, considered a model for mental health best practices.
A general plan for the updated jail had been devised last year before the County Board approved the project, which includes creating programming spaces, designating medical and mental health beds and reducing the overall number of inmate beds by about 100, but Hook said those concepts need to be solidified.
You have free articles remaining.
"We have plans at the jail ... but everything we have is at a conceptual point," Hook said.
Sheriff Dave Mahoney has long been critical of the portion of the jail located in the City-County Building, built in 1954, for its faltering equipment, obstructed views and barred cells, which are counter to more modern ideas for housing inmates.
Hook said the jail facilities at the City-County Building were designed at a time when little or no focus was put on factors such as mental illness or substance abuse that can lead to criminal activity.
"That philosophy that existed in 1954 when the City-County Building was built is just not appropriate today," Hook said, adding that a higher standard of care is needed to match the current philosophy.
The new space will have designated areas for medical and mental health care, which Hook said will drastically reduce or eliminate the use of solitary confinement, which is sometimes used at the jail to separate people in the midst of a mental health crisis to keep them from potentially harming others.
"The mental health space will prevent the exacerbation of these crises," Hook said.
The design process will continue through the year, Hook said, and construction is expected to be completed in 2021.