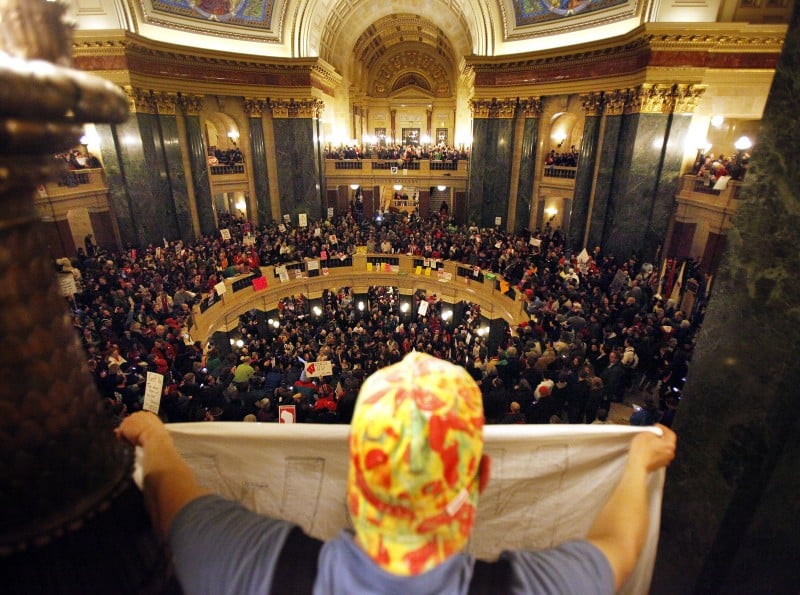 Thousands of protesters rushed to the state Capitol Wednesday night, forcing their way through doors, crawling through windows and jamming corridors, as word spread of hastily called votes on Gov. Scott Walker's controversial bill limiting collective bargaining rights for public workers.
The Capitol overnight crowd had gone mostly silent by 2:15 a.m. Thursday after a nearly continuous stream of protest songs, drumming and the occasional bagpiping since about 7:30 p.m. Wednesday. Protesters on the ground floor of the state Capitol rotunda led others in Woody Guthrie's "This Land Is Our Land" just after 2 a.m. then joined about 200 others snoozing in sleeping bags along the Capitol walls.
Outside the Assembly chambers, about 50 protesters were sleeping and planned to remain until the body takes up the Senate's amended budget-repair bill, scheduled for 11 a.m. Thursday. Police and protesters continued to get along, with no incidents reported and no arrests.
Some union leaders interviewed at the Madison Labor Temple said the abrupt passage could lead to strikes. Officials with Madison Teachers Inc. and the Wisconsin Education Association Council urged teachers to show up to work Thursday, despite a call for a mass demonstration Thursday morning.
"The Senate's improper and illegal action will be challenged in court," predicted John Matthews, MTI's executive director.
Marty Beil, executive director of the Wisconsin State Employees Union, declared that the governor and his Senate "cronies" had "turned our proud state of Wisconsin into a banana republic."
"Senate Republicans have exercised the nuclear option to ram through their bill attacking Wisconsin's working families in the dark of night," added Phil Neuenfeldt, president of the Wisconsin State AFL-CIO. "Tonight's events have demonstrated they will do or say anything to pass their extreme agenda that attacks Wisconsin's working families."
Shortly after 8 p.m. Wednesday, hundreds of protesters gathered outside the locked King Street entrance to the Capitol, chanting "Break down the door!" and "General strike!"
Moments later, police ceded control of the State Street doors and allowed the crowd to surge inside, joining thousands who had already gathered in the Capitol to protest the votes. The area outside the Assembly, which is scheduled to take the bill up at 11 a.m. today, was crowded with protesters who chanted, "We're not leaving. Not this time."
Some said they planned to spend the night in the Capitol. Last week, a Dane County Circuit Court judge ordered dozens of protesters who occupied the Capitol for more than two weeks to leave.
"I'm staying. I'm angry enough," said UW-Madison student, Nathaniel Adragna, who stayed overnight during earlier protests. "It feels good to be back."
Department of Administration spokesman Tim Donovan said although protesters were being encouraged to leave, no one would be forcibly removed. Madison Mayor Dave Cieslewicz said he had instructed Madison Police Chief Noble Wray not to allow his officers to participate in removing demonstrators from the building.
At one point, officials estimated up to 7,000 people had spilled into the Capitol, some coming through doors and windows opened from the inside, including one legislative office and several bathrooms. Some door knobs and door handles were removed, Donovan said.
Officers eventually retrenched to the third floor, Donovan said, adding, "it was felt by several law enforcement officials that the best solution was to keep everybody safe" and stop trying to keep the crowds out.
Rob Koening, who has been involved in Madison protests for decades, exhorted protesters to remain peaceful.
"I ... encourage all my brothers and sisters to not make keeping this house our priority," Koening said. "It's not about maintaining this space. It's about building this movement."
Cieslewicz joined the protest, calling the bill's stealth passage "disgraceful." Former Mayor Paul Soglin, who is challenging Cieslewicz in the April election, urged protesters to express their pleasure to businesses whose executives supported Walker.
The budget repair bill was stalled in the Senate since the body's 14 Democrats fled Wisconsin on Feb. 17 in a desperate gambit to slow or stop passage of the measure, which affects about 175,000 public employees.
Representatives of the union that represents blue-collar, technical and safety officers at UW-Madison said the possibility of a general strike has been discussed. "Anything is possible," said Local 171 steward Carl Aniel.
Aniel said only locals can call a strike, and it would be up to each one to do so individually.
Anne Habel, a steward with AFSCME Local 171, said Wednesday's action will further inflame the unions, which have staged repeated protests since Walker introduced his budget repair bill in mid-February.
"Every time something happens, people become more militant," Habel said.
Jim Roberts, a retired Madison Fire Department lieutenant, was among those who raced to the Capitol after hearing about the impending vote. Wearing a fire helmet and carrying a protest sign, Roberts said Wednesday's vote made it clear to him that the real goal was busting unions, not balancing the state budget.
Ted Lewis, a union representative for Rock Valley Education Professionals, led protesters in a cheer referring to the effort to recall Walker, in office for two tumultuous months.
"Scott you don't remember me," Lewis chanted, "but I can recall you."
State Journal reporters Sandy Cullen, Steven Verburg, Ron Seely, Dan Simmons, Devin Rose, Patricia Simms and Dee J. Hall contributed to this report.
[Editor's note: This story initially mischaracterized remarks by former Mayor Paul Soglin. Soglin urged protesters to express their displeasure to Gov. Scott Walker's supporters, including business executives who gave to the governor's campaign, but he did not call for a boycott of those businesses.]