Angered by bills in the state Legislature they consider anti-immigrant, thousands of Latinos and their allies descended Thursday on the state Capitol in what they hoped would be a persuasive show of unity and opposition.
The rally, called "A Day Without Latinos and Immigrants in Wisconsin," also sought to convey the economic power of the Latino community by illustrating what would happen if thousands of Latino employees and business owners didn't show up for work.
Numerous local businesses, including a McDonald's in Middleton and the popular restaurant Quivey's Grove in Madison, closed Thursday, either in solidarity with their Latino employees or because they did not have enough staff to open.
The Capitol Police Department estimated the crowd size inside the Capitol and on the grounds at 14,000. The Madison Police Department estimated there were 20,000 people on the streets around the Capitol at the peak of the day's march.
No arrests or incidents related to the rally were reported by either department.
Many protesters were Madison students, some of whom marched in throngs from West and East high schools. Early estimates showed about 4,500 students, or 16 percent of the district's total enrollment, were absent Thursday, compared with 1,500 students and 5.5 percent on a typical day, said district spokeswoman Rachel Strauch-Nelson.
The primary goal of the day was to defeat two "anti-immigrant laws" moving through the Legislature, said Christine Neumann-Ortiz, executive director of Voces de la Frontera, the rally's main sponsor.
One bill, SB 533, would place restrictions on a local government's ability to issue identification cards to people such as immigrants who are in the country illegally. It has passed the Assembly and the Senate and is awaiting action by Gov. Scott Walker.
The other bill, AB 450, would withhold state funding from so-called "sanctuary cities." These are cities where public employees are prohibited from inquiring about someone's citizenship status. The bill has passed the Assembly and is awaiting action in the Senate.
Jennifer Mancera, 30, of Madison, who attended the rally, said she takes the legislation personally "because, at one point, I was an illegal immigrant."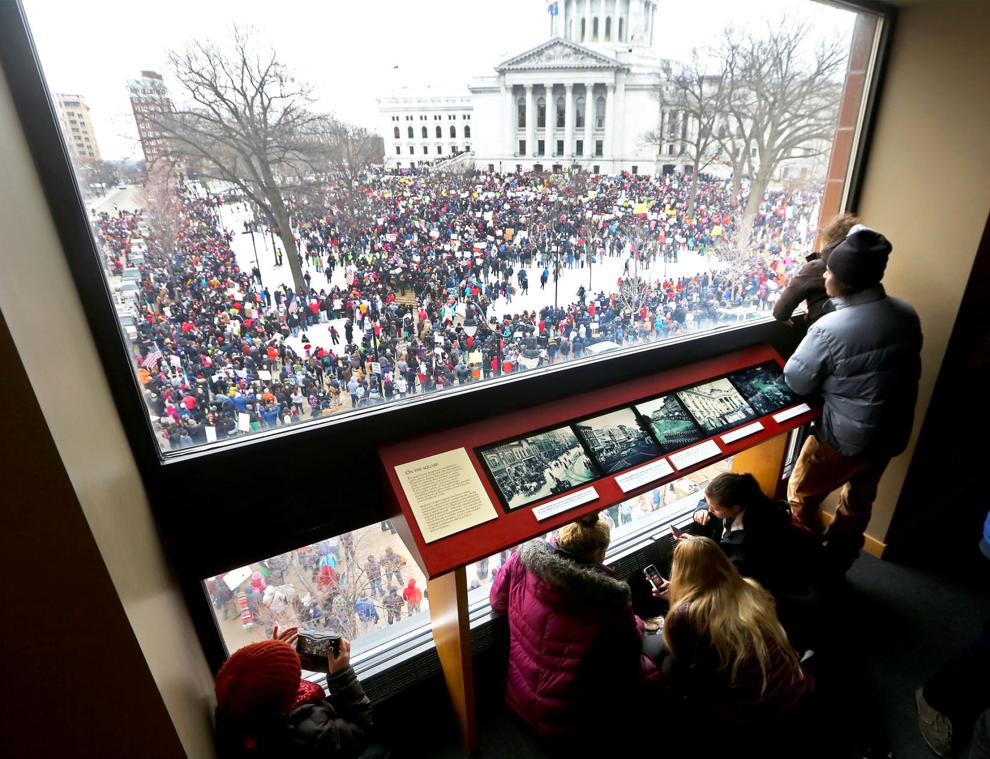 "At the end of the day, these bills push away people who are only trying to make this a better country," she said.
Assembly Speaker Robin Vos, R-Rochester, told reporters Thursday that protesters misunderstood the impact of the sanctuary cities bill.
"The goal of the legislation is to make sure that people who commit crimes are punished," Vos said. "The basic idea that fear is being instilled is not coming from the Wisconsin Legislature. It's coming from the activists who want to try to pursue a political agenda."
Dave Gorak of La Valle, executive director of the Midwest Coalition to Reduce Immigration, also took issue with the rally, calling it "outrageous."
"These people have no respect for our laws or our sovereignty, yet they want us to respect them for attempting to cut the legs off our enforcement policies," he said.
However, Middleton dairy farmer Thomas Wagner, 62, said he doesn't think legislators understand the consequences of what they're doing. He came to the rally to support the 13 Latinos who work for him, more than half of his farm's workforce, he said. He and his brothers would not be able to continue operating their 1,700-head dairy operation without them, he said.
"We need these people in our state," he said. "They are good, honest, hard workers."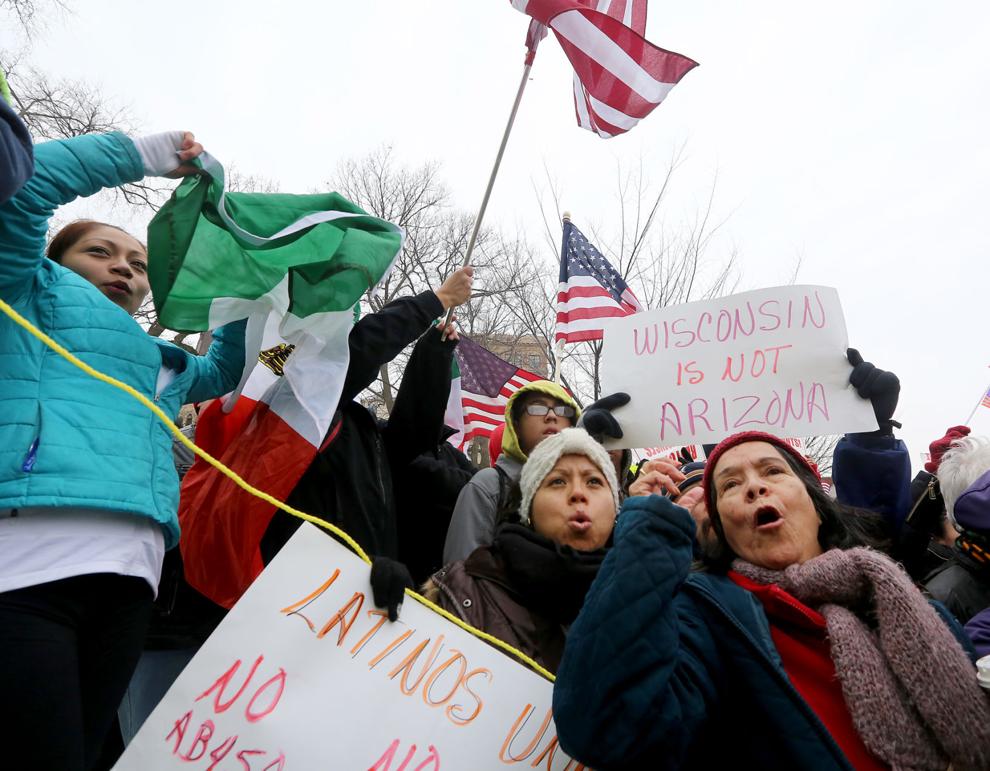 East High sophomore Alexandra Miranda, 15, came to the rally with her parents and two younger brothers. She said most of her friends also chose the rally over classes.
"This means a lot to me because I don't want my family to be torn apart," she said. Her brothers' stroller was festooned with white balloons saying, "Wisconsin is not Arizona."
Javier Hernandez, 39, of Madison, waved a huge homemade white flag with red letters reading, "The Land is to Who Works It." Each young person in a large group of students from the Watertown area held a placard with an individual letter that together spelled out, "One nation under God, indivisible, with liberty and justice for all."
Neumann-Ortiz said her organization was keeping a list of businesses that had closed and said she was confident the number would end up being in the hundreds across the state.
"If you have a climate that is so unwelcoming that people leave your state, industries are going to die," she said.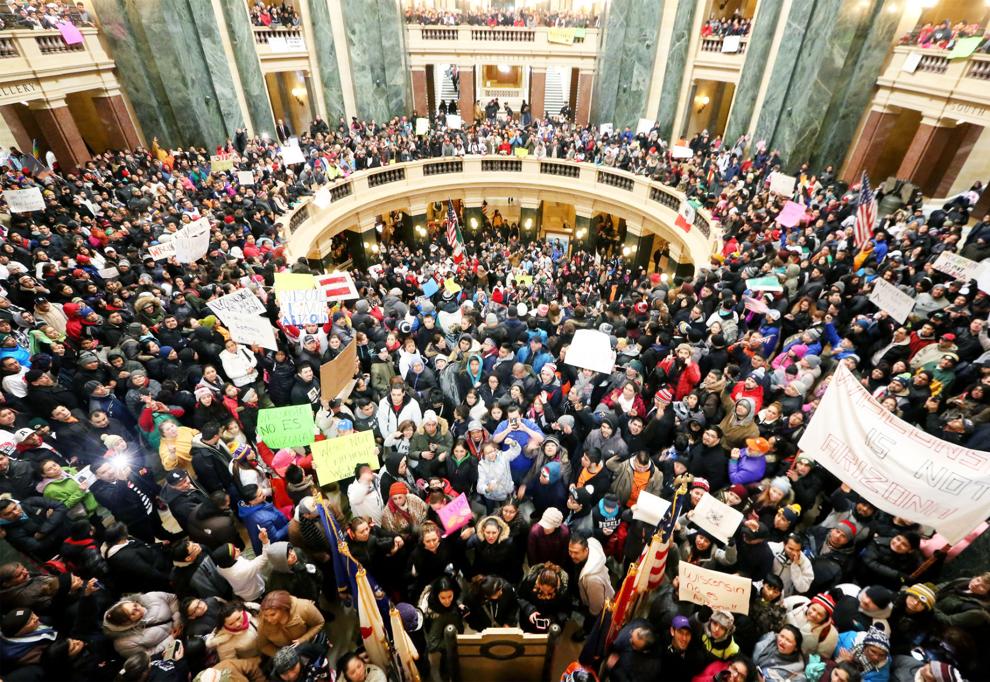 La Brioche, a bakery and restaurant in Madison that employs about 40, was among those that closed Thursday.
"We have a fair number of Latino employees, so it will be obvious to them where we stand on these issues, and I hope for some sort of ripple effect if enough people understand the negative aspects of this legislation," said owner David Yankovich.
La Brioche and another Madison bakery, Le Petit Croissant, planned to make sandwiches to pass out at the rally so that people would not spend money at restaurants that remained open.
Carrie Barndt, who owns six area McDonald's restaurants, said she closed the one on Allen Boulevard in Middleton Thursday because so many employees, both Latino and non-Latino, asked for the day off. She consolidated the remaining employees at the other five locations.
At least half a dozen businesses on State Street in Downtown Madison were closed either part or all of the day on Thursday in solidarity with the rally. Tutto Pasta, Casa de Lara and Endless Knot closed for the day, while Hawk's Bar and Grill, Roast Public House, and Himal Chuli were planning to reopen for dinner.
Amy Moore, owner of Little Luxuries on State Street, said she did not close for the event because she wanted to "be open for people who are Downtown for the event or not." She noticed an uptick in shoppers because of the rally – specifically those in need of gloves and socks.
State Journal reporters Matthew DeFour and Amanda Finn contributed to this report.