In a joyous big step, organizers on Thursday unveiled the dynamic design and ambitious fundraising they said will make the proposed $38 million Center for Black Excellence and Culture on the South Side a reality and a national model.
For generations, Madison has fallen short of developing the types of spaces the Black community needs to feel connected, empowered and rooted, advocates said.
The project, a first-of-its-kind Black-inspired, Black-designed and Black-led multimillion-dollar project in Madison, will provide a wide range of opportunities to celebrate and learn about the Black community, hold performances, socialize and promote wellness at all stages of life, and more, they said.
The 65,000-square-foot, three-level building will include dedicated spaces for youth, students and seniors, lounges, multiple studios, coworking space, offices, two performance spaces, and "Club Afrique," a professional lounge for members of the Black community to use for weddings, conferences and after-work gatherings.
"The Center," as the space has affectionately become known, will rise on 6 acres at 655 W. Badger Road near the Beltline and just west of the Fountain of Life Covenant Church and an adjacent building that holds the nonprofit Nehemiah Center of Urban Leadership. The latter structure will be demolished for the project, with its offices moving to the new facility. Organizers hope to break ground at the end of 2022 and open the next year.
"The Center isn't a program," CEO and founder Rev. Alex Gee, who is also pastor at Fountain of Life and founder/CEO of the Nehemiah Center, told the enthusiastic crowd gathered at the site. "It is a solution, and a Black-designed solution that will use cultural expression, history, innovation and leadership development to inoculate ourselves against the stress and cultural isolation that's killing us and our aspiration.
"We members of the Black community stand in solidarity to say, 'We need this now,'" he said. "This is our moment. This is a transformational moment."
The project has seen a groundswell of support that spans generations, advocates said. Already, more than 300 Black donors and their honorees have led the early fundraising effort, with hundreds more Black donors expected to give next year. Black professionals and cultural influencers are also contributing their expertise at every level of the project, from design to programming to operations, they said.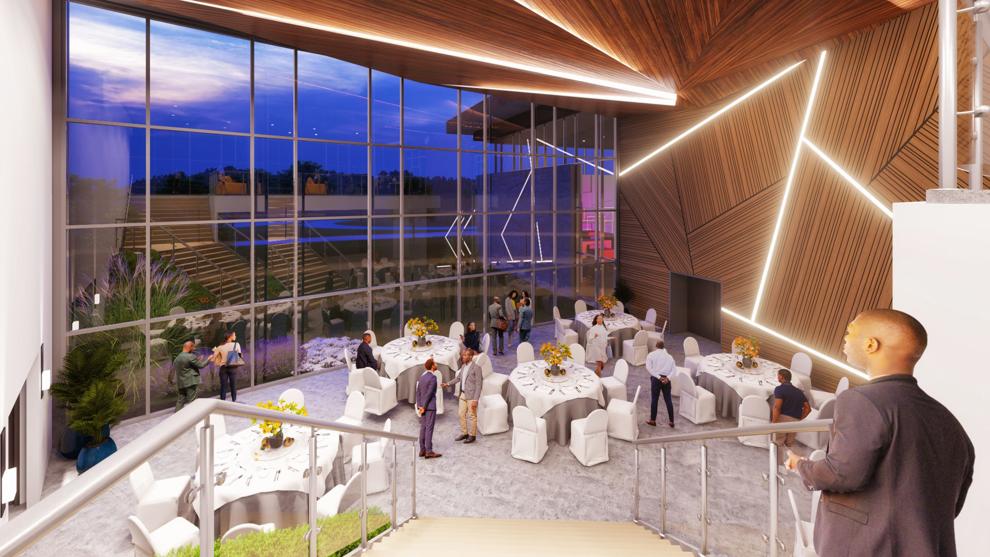 On Thursday, the center also announced that Summit Credit Union became its first founding donor with a $2 million gift, part of $5 million already raised in a $36 million capital campaign.
"The Black community needs to know that the broader white business and philanthropic community are listening to us and getting behind this momentum financially in a major way," Gee said. "The way you've supported Downtown for everyone. The way you've supported clean lakes for everyone. The way you've supported great bike paths for everyone. This will benefit everyone."
An inspired design
The Center's design and programming are a product of Black architects, artists, business leaders and experts inspired by numerous meetings with hundreds of Black residents, advocates said. The meetings were supported by Lord Cultural Resources, the visionaries behind renowned cultural spaces including the Smithsonian Museum of African American History in Washington, D.C.
"You told us," Gee said, "You said we want our children to be seen as leaders to be developed and not problems to be studied or fixed. We need a space for networking, innovating, nurturing, healing, performing, creating, belonging. In essence, a space that creates a bold counternarrative, which affirms and expects Black excellence."
The facility will include:
A 250-seat multipurpose theater and 100-seat black-box theater, set and design shop, recording studio, fitness room, art production room, bar and lounge areas, garden atrium and a 220-space parking garage.
Three youth rooms, a child care room, a youth commons area, health and wellness studio, multimedia area, gift shop, seniors area with commons, art gallery, reading room, lounge and demonstration kitchen and kitchen.
The center and Nehemiah offices, conference rooms, commons area, Club Afrique, conference area and coworking space.
While Madison has places like the Overture Center or the Chazen Museum of Art, it lacks a space that emphasizes Black history, narrative and culture, Gee said later.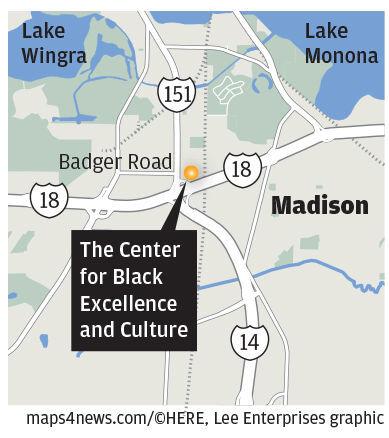 "It can't be a community center," Gee said. "It's got to be a place that celebrates culture. Art and culture are important to every society. We don't have a place for that. We don't have a place to decompress, to gather, to heal.
"The Center can be a place where schoolchildren from across the state learn about Black history, where business connections are made, where local youth learn, where seniors have their own space, where culture is experienced through lectures, plays and concerts," he said.
In its mission to make Madison more inclusive, organizers said, The Center does not seek to be exclusive of non-Black visitors; all are welcome to help better understand the Black experience in Wisconsin, advocates said.
"It will be a destination," Gee said.
Alan Fish, former associate vice chancellor for facilities planning and management at UW–Madison who is on The Center's capital campaign committee and project work group, called it "the most transformational project I've ever worked on."
The leadership from hundreds of Black community members has inspired others across Dane County to step up with sizable gifts to help launch The Center's capital campaign, advocates said.
The project includes a $38 million construction budget, timed to break ground at the end of 2022 and open in 2023. Additionally, The Center is raising $4 million for an endowment/operating fund over the next two years. A $36 million capital campaign and $6 million in federal New Market Tax Credits will complete paying for the building's construction and provide funding for ongoing operating costs.
In addition to Summit Credit Union's $2 million gift, U.S. Rep. Mark Pocan, D-Black Earth, and U.S. Sen. Tammy Baldwin, D-Madison, said they had helped secure a $1 million federal earmark for the project. The Center previously received $810,000 from Dane County and $250,000 from the city of Madison.
The Center also launched a capital campaign with numerous six-figure gifts from across the county, including $500,000 from the Pleasant Rowland Foundation, $500,000 from the W. Jerome Frautschi Foundation, $125,000 from Marla and Larry Frank, $100,000 from UW Health, $100,000 from M3 Insurance and a $100,000 anonymous gift.
"This effort is within our reach," capital campaign co-chair Frances Huntley-Cooper said. "Our capital campaign still has a long way to go in raising $36 million, and we're excited to see Dane County as a whole step up and bring The Center to life."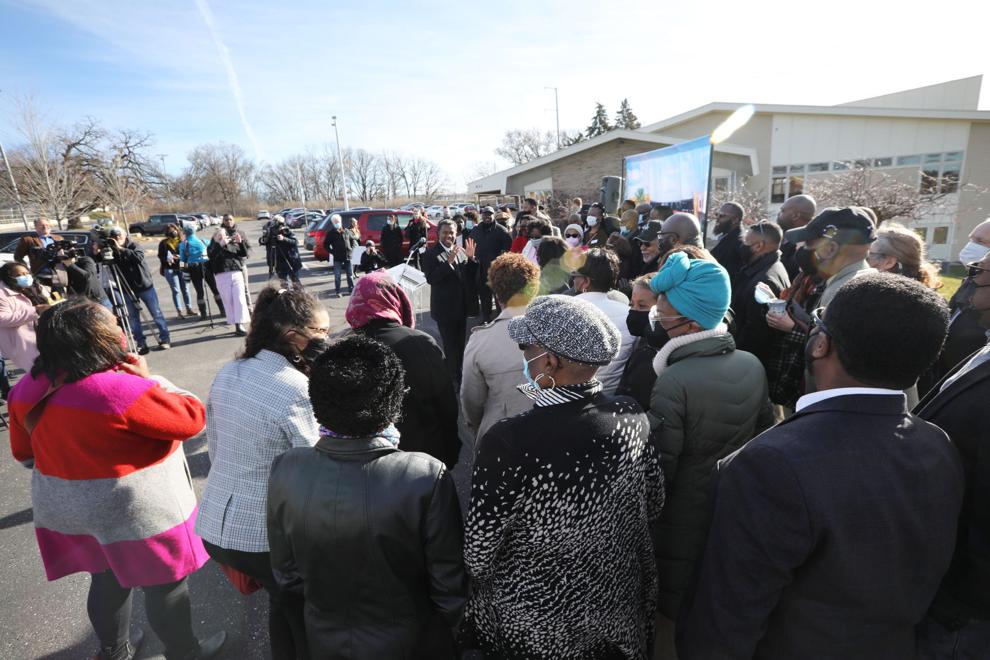 "It's time for all of us to join leaders like Dr. Gee to transform Madison from one of the worst cities for Blacks to live in to one of the best," said Kim Sponem, CEO and president of Summit Credit Union. "For businesses, The Center will help us retain our Black talent, recruit talent from other areas, and make Madison the welcoming and supportive place that it wants to be — but has struggled to become."
"For all these reasons, I am proud today to announce that Summit Credit Union will help launch The Center for Black Excellence and Culture with the Center's first corporate gift and Summit Credit Union's largest gift ever, by far, of $2 million," Sponem said to cheers from the crowd and a fist-bump from Gee as she announced the gift.
"We need business leaders like Kim to say this will help this community .. the ripple effect that is that this makes Madison a destination for the kids of Black families," Gee said. "Summit and others supporting the Center … it's going to make others lean in. Business leaders can speak to business leaders. They've got resources and we still need more."
Numerous other Dane County organizations and individuals have provided services to help support The Center's development, advocates said. Those include JLA Architects, J.H. Findorff & Son, Hiebing, Frank Productions, Baker Tilly, Carlson Black O'Callaghan & Battenberg, and Husch Blackwell.
"In order for us to recruit and retain a world-class workforce, we need to be sure that the environment of this community is safe and homey for Black people because you cannot pay us enough to come here and languish," Gee said. "Money without Black leadership won't fix problems. We need you to discern this moment, stand with us, and make Madison desirable and a destination community for African Americans as well."
State Journal reporter Emilie Heidemann contributed to this report.