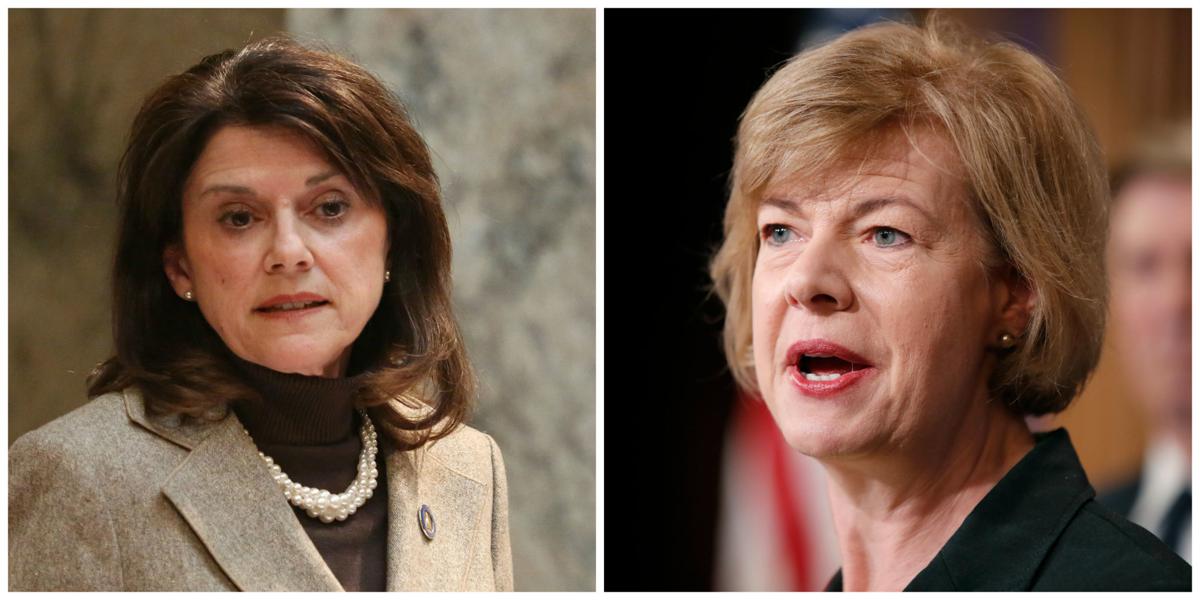 U.S. Senate candidates Tammy Baldwin and Leah Vukmir don't just disagree on health care.
Their differences are so broad, so basic, that they may be the starkest of any U.S. Senate contest in 2018, experts say.
Both Baldwin, D-Madison, and Vukmir, R-Brookfield, acknowledge health care as top issues in their campaigns, and both have backgrounds rooted in it. Baldwin is a first-term U.S. senator seeking re-election on Nov. 6; Vukmir, a state senator, is the GOP nominee against her.
After being elected to Congress, in part, on the basis of her advocacy for universal health coverage, Baldwin helped enact the Patient Protection and Affordable Care Act, also known as Obamacare. Now Baldwin seeks to defend the law from GOP attempts to repeal or erode it.
In the long term, Baldwin would go bigger: she supports a "Medicare-for-All" single-payer health care plan.
Baldwin, in an interview last week framed her contrast with Vukmir as "who's in your corner, and who's beholden to the special interests."
"I'm listening to my constituents and going to Washington, D.C., and standing up to some pretty powerful interests who want to make profits — and fighting to protect things like coverage for people who have pre-existing health conditions," Baldwin said.
Vukmir, a nurse practitioner, favors what she calls a "free-market" approach to health care that would deregulate the industry and return more health-care decision-making to states. Vukmir wants to repeal Obamacare and restore much of what it replaced, such as Wisconsin's high-risk coverage pool for people with pre-existing health conditions.
"When I look at Wisconsin and where we were before Baldwin gave us Obamacare, we took care of our own. We had one of the lowest uninsured rates in the country. We had an incredibly robust insurance market," Vukmir said.
She added Baldwin "spent her entire life in politics pushing for government-run health care."
The difference between these two candidates shows how polarized that national debate has become, said Larry Levitt, a health-care reform expert at the nonpartisan Kaiser Family Foundation.
"The Wisconsin Senate race illustrates how the partisan divide in health care is as wide as it's ever been," Levitt said.
Whichever candidate wins this race likely will go to a U.S. Senate in 2019 that remains deadlocked on health care, said Mark Peterson, a professor of public policy, political science and law at the University of California-Los Angeles.
Peterson said it's likely that much of the focus in the health-care debate will be on laying groundwork for the 2020 presidential election. At stake then, he said, is whether its winner supports Obamacare and more sweeping health care measures — or continues to oppose them, as does President Donald Trump.
"The big debate going forward will be 2020 — which party's vision prevails," Peterson said.
Repealing Obamacare
Baldwin strongly opposes repealing Obamacare, having helped craft it while a U.S. representative in 2009 and 2010. Her advocacy for the inclusion in the bill of a so-called "public option" to private health coverage ultimately fell short.
Vukmir has supported various Obamacare repeal proposals offered by Republicans in Congress. She said she supported the Graham-Cassidy repeal measure debated in the Senate last year, and praised the American Health Care Act, the repeal bill that passed the U.S. House last year.
Baldwin co-sponsored a bipartisan bill, which was blocked in the Senate, to stabilize the Obamacare individual insurance marketplaces and hold down their premiums. Vukmir opposed the bill, saying "more conservative reforms need to be included."
In the state Senate earlier this year, Vukmir voted for a reinsurance proposal, later signed into law by Gov. Scott Walker, aimed at financially stabilizing Obamacare marketplaces in Wisconsin.
Pre-existing conditions
Obamacare barred insurers from denying coverage or charging more to people with pre-existing health conditions such as asthma, diabetes or cancer.
Baldwin has made preserving that protection a key part of her campaign. Baldwin says the issue is personal: She had a childhood illness, myelitis, that left her hospitalized for months, which she has said made her "uninsurable" for years afterward.
Vukmir advocates returning to the high-risk coverage pool model Wisconsin employed before Obamacare. Such an approach creates a publicly subsidized coverage pool for people who can't otherwise obtain private insurance.
Advocates of this approach say it would reduce coverage costs for the broad majority without pre-existing conditions. Critics note Wisconsin's high-risk pool system was too expensive for many to afford, left more than half a million state residents uninsured, included a six-month waiting period for coverage of pre-existing conditions and imposed a lifetime coverage cap of $2 million.
Consumer protections
You have free articles remaining.
Obamacare also put an end to the practice of insurers being able to cap the amount of health costs they would cover in a lifetime or in a single year. Proponents say this protection is critical for people if they experience a severe accident or illness.
The law also created a set of "essential health benefits" — such as maternity care, mental health and substance abuse treatment — that insurance plans are required to cover for individual and small-group plans.
Baldwin wants to retain these protections.
Vukmir, in an interview with the State Journal earlier this month, said she supported scaling back essential health benefit requirements. She declined to say if she supports allowing insurers to set lifetime or annual limits. But Vukmir said "we need to unleash consumerism and let the market dictate what people need and want."
Vukmir said in an interview last week that greater price transparency is needed for health care consumers.
"Just like you go in for your oil change, your tire rotation – you know exactly, when you go in for your car maintenance, how much it's going to cost. You can do the same in health care," Vukmir said.
Vukmir supports rules recently issued by the Trump administration that aim to chip away at Obamacare by permitting certain types of health plans that don't meet the law's requirements.
Baldwin has fought those efforts, calling many of the plans permitted by Trump's rules "junk plans."
"Many people will be fooled into thinking that they are real insurance policies that cover people, and they don't," Baldwin said.
Funding Medicaid
Baldwin has fought efforts to cut funding for Medicaid, the state-federal program of health coverage for the poor, elderly or disabled.
Vukmir is among the majority of Republicans who say the program is financially unsustainable and must be overhauled. The Graham-Cassidy measure she supported would have cut funding for Medicaid relative to the future course set under current law. Wisconsin would have gotten $562 million fewer federal dollars for Medicaid over a decade under the plan, the Kaiser foundation found.
Drug prices
In the Senate, Baldwin has advocated measures aimed at curbing the cost of prescription drugs.
She co-sponsored a Democratic bill last year that would allow Medicare to negotiate lower drug prices and allow U.S. pharmacies to import cheaper drugs from Canada.
Another bill Baldwin co-sponsored with Sen. John McCain, R-Ariz., aims to curb drug price spikes. Introduced in 2016 in response to an uproar over EpiPen prices, it would force drug makers to tell the federal government why any price increase of more than 10 percent is justified at least a month before the increase.
Vukmir, in an interview, declined to say whether she supports letting Medicare negotiate lower drug prices.
"I'm always worried about government coming in and setting prices," Vukmir said. "As somebody who believes in less government, I prefer to have the market dictate."
As a presidential candidate, Trump called for having Medicare negotiate drug prices, though he has not advanced the measure since he's been in office.
Baldwin said drug prices is an area where, if Trump is willing, she envisions potential opportunities to work with the president, should she be re-elected.
"I think there's some common ground, and maybe he'd have a new perspective," Baldwin said.
Medicare for all
Baldwin last year signed on to Sen. Bernie Sanders' "Medicare for All" single-payer health coverage bill.
Baldwin also backs a bill to let people ages 55-64 buy coverage through Medicare.
"I simply believe that people in America deserve to have high-quality care that they can afford and that's comprehensive," Baldwin said.
Vukmir said Medicare for All would be a "disaster." She predicts it would curtail patient choice and quality of care — and would not reduce overall health care costs, as its proponents predict.
Vukmir cited a recent study by a conservative think tank that estimated the proposal would cost taxpayers more than $32 trillion over a decade.
Baldwin's campaign, asked what options she would consider to pay for the plan, responded with a statement that didn't address the question.