Mayor Satya Rhodes-Conway is increasing police efforts, making modest physical changes to the space and taking other steps to address negative and criminal behavior plaguing the intersection of State Street and Capitol Square.
"It's gotten to be a party-like atmosphere," Rhodes-Conway said, adding that the scene attracts people and a criminal element. "The party's over. Illegal behavior will not be tolerated."
The moves are being generally applauded, but observers say more must be done.
"This is a good next step," said Jason Ilstrup, president of Downtown Madison Inc. "To know the leaders of the city are taking issues seriously and taking tangible steps is great. But we have a long way to go."
Ald. Paul Skidmore, 9th District — whose private security firm, Skidmore Property Services, has contracts with many business and property owners, large and small, in the State Street area and grown to 29 employees — was critical.
"Baby steps," he said. "It will have an impact. But it will not be a significant impact. It will not be enough."
Downtown Ald. Mike Verveer, 4th District, said, "It's a real issue, a real concern. I enthusiastically support everything the mayor is doing. Of course, it's not enough. There's always more to do."
Mary Bottari, the mayor's chief of staff, said, "It's a work in progress. We're going to try some things. We're going to keep meeting."
The bustling pedestrian intersection, one of the most traveled in the state, can be filled with upbeat activity. But other times, groups of people hang out for hours, some drink in public, aggressively panhandle, fight, urinate and defecate in nearby doorways and alleys, deal and use drugs — especially crack cocaine and heroin — and engage in prostitution.
On July 7, three men were arrested after punching and kicking a 51-year-old man, then firing a round from a handgun on the 100 block of State Street, Madison police said. The three men — ages 19, 24 and 29 — began harassing the older man around 7:20 p.m., then started battering the man, and the 29-year-old shot the handgun.
Tuesday afternoon, a 21-year-old woman who had been cited for trespassing in the 100 block of State Street walked away and physically assaulted an innocent bystander, a 42-year-old woman, Police Chief Mike Koval said in his blog. The 21-year-old was tentatively charged with battery, disorderly conduct, misdemeanor bail jumping and felony bail jumping.
"There isn't one problem," Rhodes-Conway said of the space. "We're seeing a myriad of issues converging in a geography."
'Sense of urgency'
Although chronically homeless people have long frequented the area, the more troubling behavior comes from others who congregate where State Street meets North Carroll and West Mifflin streets, drink and use drugs and prey on the homeless, officials say.
As initial steps, Rhodes-Conway is endorsing some initiatives to target continuing negative and criminal behavior, and others to aid the homeless and address impacts of that population, which has migrated toward nearby Central Library and has been storing belongings on the sidewalk and in bike racks along the 200 block of West Mifflin Street.
"We have a police presence already. Things are going to be stepped up in coming weeks," the mayor said, vowing a mix of education and enforcement.
The police currently have a neighborhood officer and neighborhood resource officer in the area and will increase activity in two main ways — special operations and foot patrols — Central District Capt. Jason Freedman said.
In 2017, police conducted nine special operations, and did another 15 operations last year, Freedman said. Police have already done 11 operations this year and will likely do around 20 total, planning for two a week, he said. Under special operations, teams of three to six officers do surveillance and target education, arrests and citations.
The district also will add two-officer foot patrols — designed to increase visibility, educate and address crime if they see it — in the evenings several times a week, Freedman said.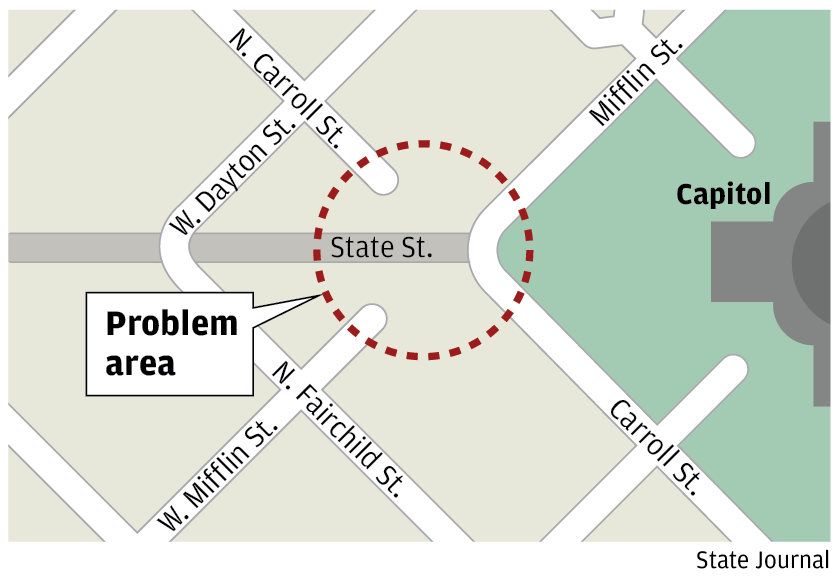 "I appreciate the mayor's sense of urgency on this," Freedman said. "It's important to do some things quickly. (But) I don't think it will be enough. I don't think anyone involved in this would suggest it is. We need to have stronger mechanisms to connect people to services and also hold people accountable. We shouldn't have to arrest somebody 15 times for the same thing there."
Rhodes-Conway is supporting modest environmental changes to the space, such as temporary removal of several benches, adding fencing around a larger planter near Ian's Pizza, 100 State St., lighting changes, and limiting the electricity from outlets used by people to charge cell phones or power other devices.
"The spaces allow for a larger number of people to congregate," the mayor said. "We want to encourage people to be in the space, but not to be there for hours and hours."
A party atmosphere and negative behavior are not unique to the top of State Street, she said, noting that the city has issues at bar time on the 600 block of University Avenue and the annual Mifflin Street block party. "We're trying to do things to break up the parties," she said.
"When we don't have positive activities in the area, it just exacerbates the problem," she said.
The mayor also is encouraging well-intended groups who provide food and goods to the homeless at the top of State Street to work with The Beacon homeless day resource center and other nonprofits and do distributions at other locations.
Much more to do
The city, Rhodes-Conway stressed, will continue to focus on helping the homeless through the creation of housing, outreach and other means. But it will also take new measures to improve quality of life on the upper State Street area, including adding more portable toilets in discreet locations and extending the mall concourse services to include Central Library so city employees can do cleaning and tag belongings left there with warnings that they must be removed or they will be taken away and stored for pick up at another location.
The mayor is also supporting the efforts of the volunteer homeless outreach group Friends of State Street Family to locate small clusters of lockers for temporary storage in the area.
Together, "the steps will make a difference," Illstrup said, adding that the mayor's office has been "great partners and have really tried to work with us."
But there's much more to do, observers said, including more police presence, increased attention on mental health, substance abuse and root causes of problems, and significant physical changes to the area.
"This is a very serious concern," Rhodes-Conway said. "It's a hard one to solve. It's something we have to keep working at."
"We have a police presence already. Things are going to be stepped up in coming weeks." Madison Mayor Satya Rhodes-Conway
"We have a police presence already. Things are going to be stepped up in coming weeks."

Madison Mayor Satya Rhodes-Conway