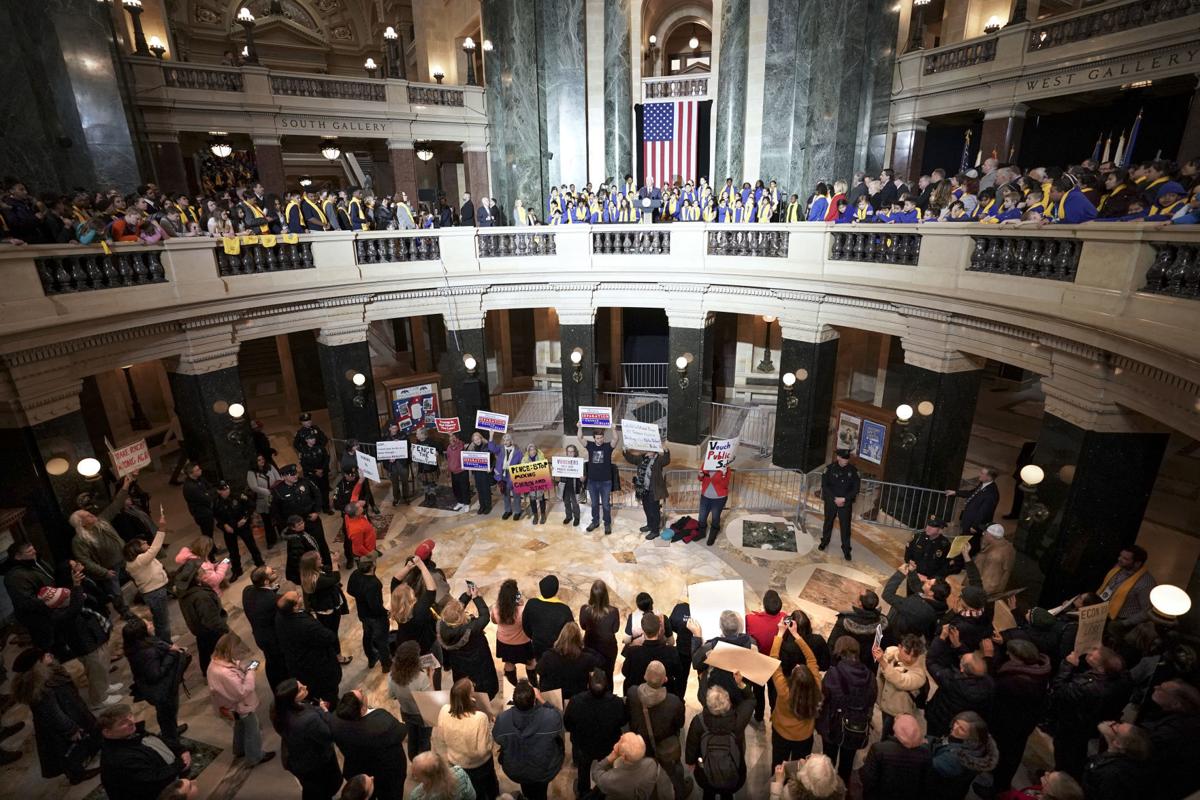 All eyes might be on Iowa's first-in-the-nation caucuses Monday, but political experts say the road to the White House this year will likely once again run through Wisconsin, where the battleground state's sliver-thin margin could tip either way and potentially decide the 2020 election.
"Wisconsin could be the decider," said Larry Sabato, founder and director of the University of Virginia Center for Politics and Sabato's Crystal Ball. "There are only a handful of states that are truly competitive and that switch sides with any regularity, and Wisconsin is one of them."
Wisconsin's significance in the presidential election, where close to a dozen Democratic candidates are vying for the nomination and their shot at derailing President Donald Trump's re-election plans, comes down to the Midwestern state's nearly even partisan split.
"It really is to a certain extent a bellwether, or very representative of how divided America is … we kind of represent that split, almost 50-50, in terms of politics, with liberal progressive versus conservative free market," U.S. Sen. Ron Johnson, R-Oshkosh, said in an interview. "What the attitudes are of Wisconsin voters I think says an awful lot about what the divide and attitude is nationally as well."
In the 10 presidential elections since 1980, Wisconsin has mirrored the nationwide popular vote, ranking fifth in the nation — just behind Ohio, Iowa, Michigan and Pennsylvania — in how closely the state's margin of victory in the popular vote compares with the national popular vote.
Wisconsin will play an out-sized role in the Democratic nominating process, hosting for the first time ever a national party convention July 13-16 at the Fiserv Forum in Milwaukee. Less clear is whether state voters will play a significant role in choosing a nominee, with the state's April 7 primary coming a month after 14 states hold Super Tuesday primaries on March 3.
'Center of the universe'
Trump beat Democratic candidate Hillary Clinton by about one point, or less than 23,000 votes, in 2016, becoming the first Republican to win the state since Ronald Reagan in 1984.
In the 2018 midterms, Democrat Tony Evers defeated incumbent Republican Gov. Scott Walker by about one point, or less than 30,000 votes. Last year, conservative-backed Wisconsin Supreme Court candidate Brian Hagedorn edged out liberal-supported candidate Lisa Neubauer by about 6,000 votes, or half a point.
"Wisconsin has a track record of extremely close statewide elections over the past several years that I don't think any state can match," UW-Madison political science professor Barry Burden said. "You don't need any more evidence than that (to show) that Wisconsin is on the knife edge and could go either way in 2020."
Barack Obama won Wisconsin handily with margins of 14% in 2008 and almost 7% in 2012, but those victories are looking more and more like outliers, as several presidential elections in recent years have been been extremely close. Despite winning nationally, Republican George W. Bush lost Wisconsin by margins of less than a quarter of a point in 2000 and about a third of a point in 2004.
"Those are incredibly close elections," said Charles Franklin, director of the Marquette Law School Poll. "So we're important in the sense that we really are a battleground state that could tip either way when we're talking about a history of margins that close, but then we're also the center of the universe because we are very close to being the tipping-point state in the Electoral College."
Wisconsin, along with Michigan and Pennsylvania, were states that traditionally voted Democratic in presidential elections — but were critical in 2016 in helping Trump secure the 270 electoral votes needed to win a majority in the Electoral College. Wisconsin has 10 votes, one for each member of Congress, with the winner of the state's popular vote taking them all.
Anthony Chergosky, UW-La Crosse assistant professor of political science, said polling seems to suggest a shift back toward slight Democratic leads in Michigan and Pennsylvania, but not Wisconsin, where the split appears to have remained even.
"I think Wisconsin is giving Democrats a lot of heartburn," Chergosky said.
Campaign efforts
Sabato said educational attainment is one of the biggest demographic shifts to watch this year. White, mostly blue-collar workers without a college degree had traditionally voted Democrat until they shifted largely to Trump in 2016. Also that year, many traditionally Republican college-educated voters moved more Democratic.
"Look at Wisconsin's electorate, you have a disproportionately white- and blue-collar electorate," Sabato said. "There are plenty of other groups in there, but disproportionately, you're in the category of demographic change as with political change. We'll have to see in which direction it's gone."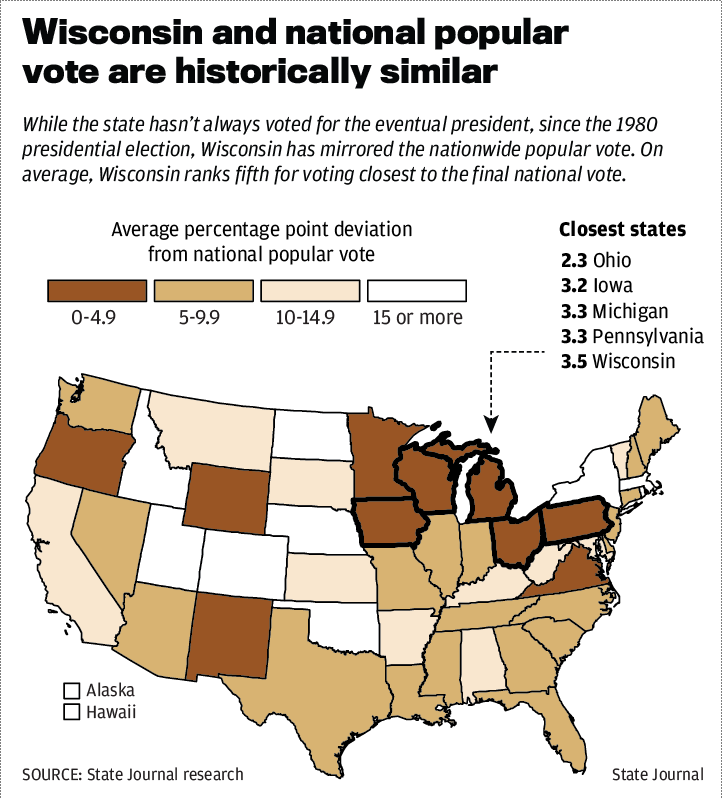 Officials with both state parties have said it will come down to boots-on-the-ground staffing and volunteers to fire up the base, while also trying to secure potential swing voters.
The Democratic National Committee in January announced Battleground Build-Up 2020, a multimillion-dollar investment in six battleground states, including Wisconsin. The committee's goal is to double field organizers, open new regional offices and expand staff to lay the groundwork for the party's eventual nominee.
"Talking to previous chairs and state directors, we're pretty confident this is the biggest organizing push that the state of Wisconsin has ever seen," said Ben Wikler, chairman of the Democratic Party of Wisconsin.
Mark Jefferson, executive director of the Republican Party of Wisconsin, pointed to one potential untapped bank of voters in the strongly Republican WOW counties — Waukesha, Ozaukee and Washington — who voted for Sen. Johnson but not Trump in 2016. In Waukesha County alone that year, the margin for Johnson was 26,000 voters more than it was for Trump.
"I think (Trump) can maintain his anti-establishment credentials in the rural areas, his support there seems as strong as ever, but the ground game is going to mean a lot in southeast Wisconsin," Jefferson said.
For Democrats, Chergosky said the challenge will be to find a way to balance their campaign in a manner that can ignite the base, while also appealing to more moderate or swing voters in southwestern Wisconsin. In the Driftless region, Trump won U.S. Rep. Ron Kind's district — the most narrowly divided in the state — by four points.
"It's a needle that the party will need to thread," Chergosky said. "How can they shift the margin back in their favor in these western parts of the state, while also maintaining and increasing turnout in the core Democratic areas of Madison and Milwaukee?"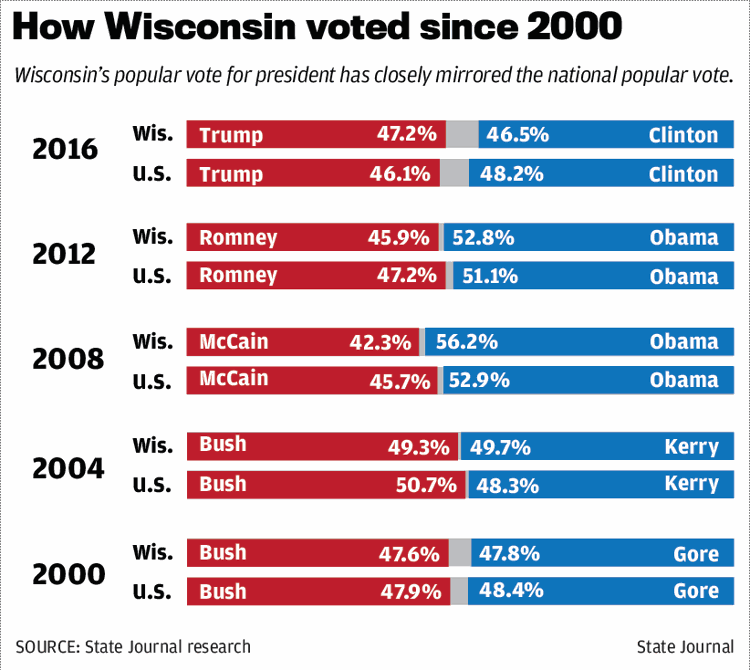 Democrats also will look to address the nearly 20% drop in turnout among black voters from 2012 to 2016.
"Nonwhite voters in the state are an important thing for Democrats, but are a relatively small fraction of the total statewide vote because they — especially African Americans — vote overwhelmingly Democratic," Franklin said. "Their turnout rate matters a lot."
A busy year
The 2016 election was marred by low voter turnout, due in part to Clinton's decision not to campaign in the swing state, where she lost the primary to Vermont Sen. Bernie Sanders. In addition, Trump, who lost the state primary to Texas Sen. Ted Cruz before becoming the surprise Republican nominee, operated his campaign largely separate from the Republican National Committee.
Despite boasting the second-highest voter turnout in the nation in 2008 and 2012, Wisconsin fell to fifth in 2016, marking the state's worst showing in 20 years.
Officials from both parties have said this year will be drastically different, with campaign mobilization efforts now several years in the making.
"The RNC and the Trump campaign are now basically one unit … it will be a machine unlike what we saw in 2016," Burden said. "The fact that both parties are doing that means that there's just going to be a much higher level of activity in the state than we saw four years ago."
To ensure Trump's victory, Johnson said, campaign efforts will need to focus on the successes of the president's term, including the economy and recent trade deals, while also spotlighting topics of discussion among some Democratic candidates that will fire up conservatives in opposition, such as the proposed Green New Deal or Medicare for All.
U.S. Sen. Tammy Baldwin, D-Madison, said in an email Democrats are "engaged and energized" and the party's focus this year will be on Trump's failure to address concerns regarding trade and prescription drug prices.
"I also think there is Trump fatigue with independents and some Republicans," Baldwin said. "People are tired of the tweets, the division, the chaos and corruption. I think people get it. Trump is only out for himself and doesn't care about anybody but himself."
Last month, Trump held one of his first campaign rallies of the year in Milwaukee, just blocks from where Democrats this July will converge for the Democratic National Convention. Vice President Mike Pence joined him and last week walked into the state's Democratic bastion of Madison to celebrate the state's private school voucher program, which conservatives and some Milwaukee Democrats have championed. While not a traditional campaign rally, Pence's speech was a clear indicator that Trump and the Republican Party have their sights set on a repeat of the party's surprise 2016 victory in the state.
For Democrats, Wikler said, the hope is to have a firm campaign infrastructure ready and waiting for the eventual nominee.
"Our goal is to be out-organizing the GOP even before we have a nominee," Wikler said. "We're building a field infrastructure that will work for whoever wins the nomination."
With the stage set for potential record voter turnout this year, Sabato said neither party should have much difficulty in getting out the vote. He added that Trump could arguably be the biggest factor at play for both parties.
"Trump is that kind of president, he can activate both sides, which is rare," Sabato said. "You either love him or you hate him, and pretty much everybody has made up their mind as to whether they love him or hate him."
Get Election 2020 & Politics updates in your inbox!
Keep up on the latest in national and local politics as Election 2020 comes into focus.