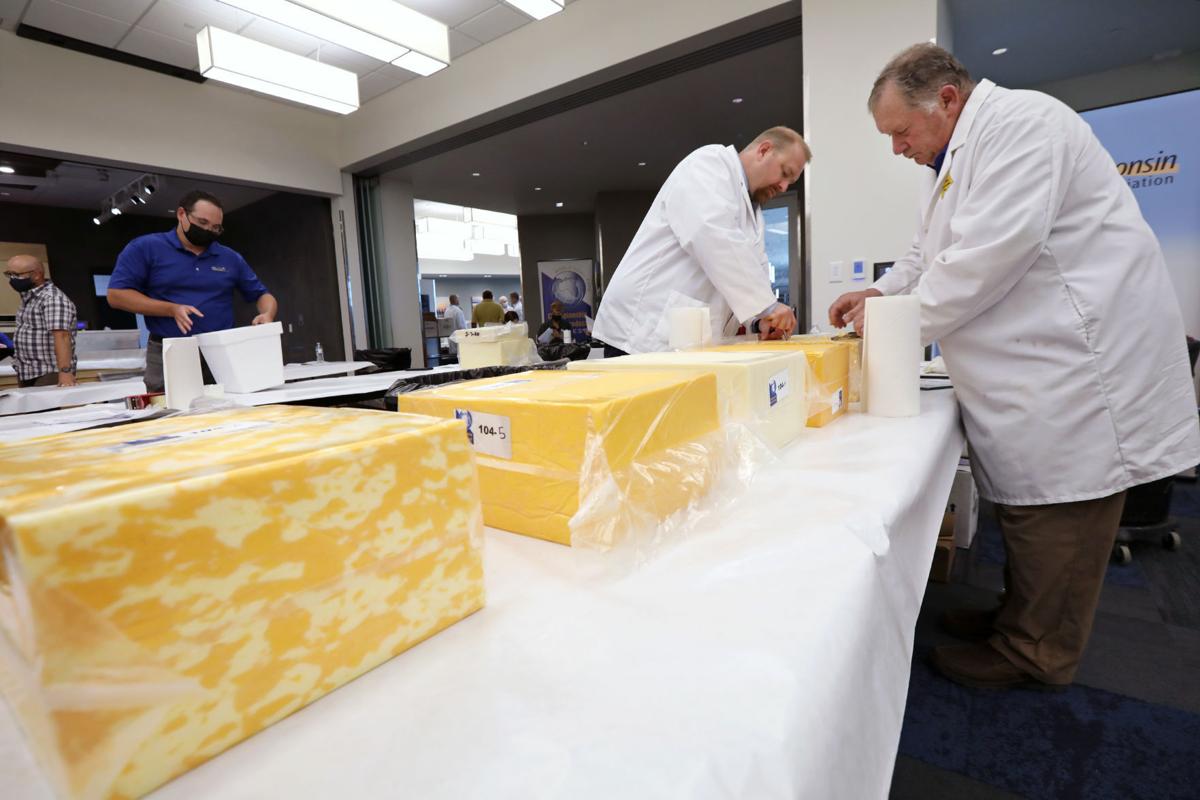 A judge plunged the trier — a metal tool resembling a thin, 8-inch-long spade — into a block of aged cheddar Tuesday, pulled out a plug of cheese, sniffed it, gave it a bend and tasted.
The cheese being judged Tuesday at Madison Area Technical College was one of roughly 1,400 submissions of cheese, milk, butter and ice cream to the World Dairy Expo Championship Dairy Product Contest. By the end of Thursday, judges had ranked every submission from 93 categories and named the winners.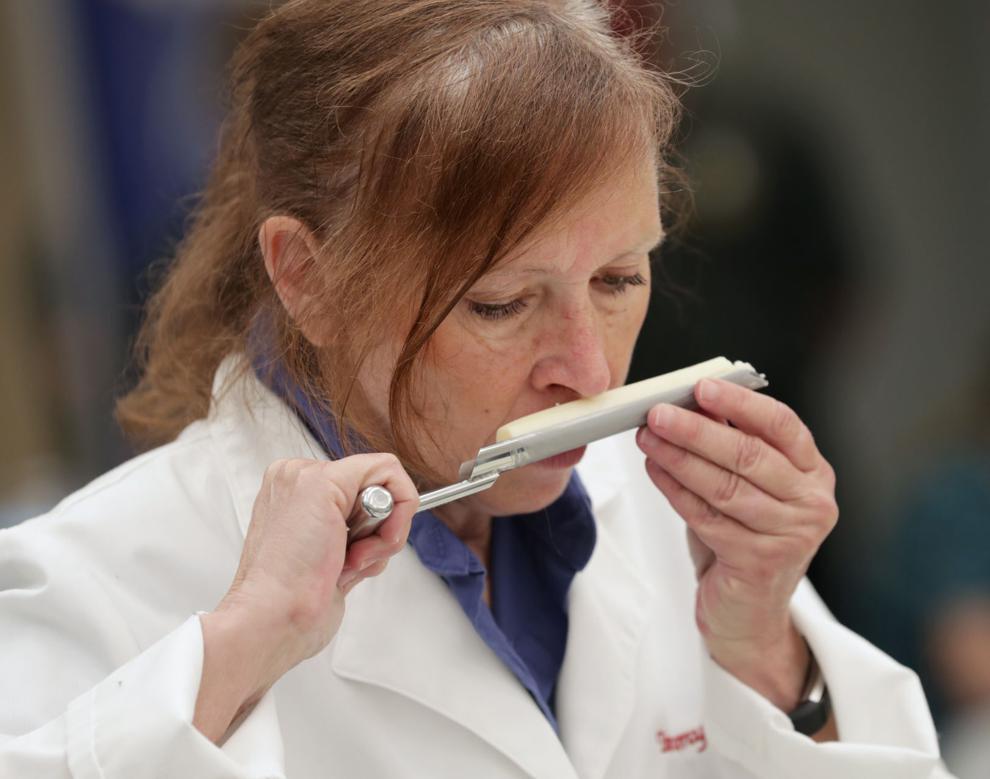 "It's a job that takes training, you've got to get started somewhere. It takes training to know exactly what the flavor is, what the body and texture is," said Robert Bradley, the contest's head judge. "It's a fact of knowing and understanding, having enough training in your background to know what to do and what to call it."
The Wisconsin Dairy Products Association, which hosts the contest, on Thursday announced the dairy product contest grand champions in the categories of ice cream, cheese and butter, and Grade A product. Madison's Chocolate Shoppe Ice Cream won with its vanilla bean ice cream, Crave Brothers Farmstead Cheese, of Waterloo, won with its chocolate mascarpone, and Prairie Farms Dairy, from Carbondale, Illinois, won with its cottage cheese.
The winning products will be auctioned off during the World Dairy Expo, which will be held from Sept. 28 through Oct. 2 at the Alliant Energy Center.
Competition can be stiff, Wisconsin Dairy Products Association executive director Brad Legreid said, adding that all products start with a rating of 100, which is then decreased during the judging process based on factors ranging from color and texture to taste and smell.
Contest winners can use the results in marketing and to stand out among their peers. In addition to the grand champions, there are also class winners in each category. Those that don't win, who Legreid said traditionally still receive grades in the mid-90s, receive feedback from judges to better their product.
"Even if they don't win, the judges are some of the top sensory experts in the country," Legreid said Tuesday. "It sounds kind of schmaltzy, but everyone is a winner in this. The first-place winners get marketing opportunities and everybody gets free (research and development) to find out what is wrong with their product and why they didn't win."
Legreid said the 1,400 entries received this year were a considerable increase from the 100 entries brought in during the competition's first year in 2003, when only two classes — butter and cheese — were judged.
The expo and competition were canceled last year due to COVID-19, and this year entries fell below the 1,500 received in 2019, but Legreid expressed optimism for continued growth in the years to come. While the competition traditionally sees international submissions, only entries from North America were submitted this year due to coronavirus-related restrictions. The competition received entries from 42 states this year.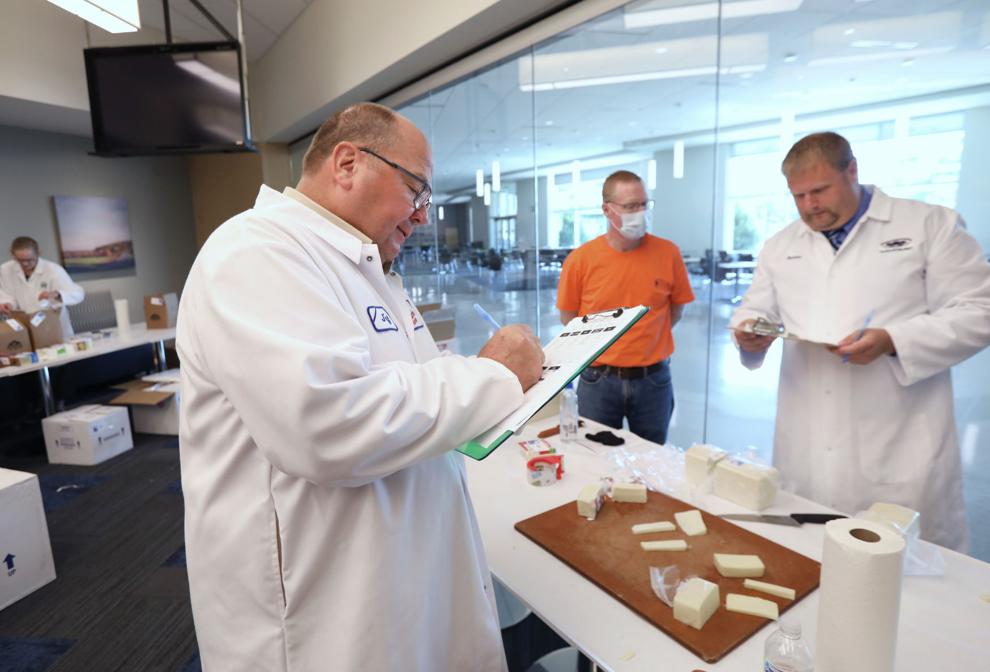 "It's the fastest-growing dairy contest ever," Legreid said. "It has been breaking all records."
Expo planning 'full steam ahead'
One of the Madison area's signature events, the World Dairy Expo was founded in 1967 and has grown into one of the premier agriculture expositions in the world. The expo includes shows, exhibitors, seminars and food events.
The event traditionally brings in 62,000 people from 100 countries for a week each fall to the community, serves as a major economic boon for hotels and restaurants and also draws high-profile visits, such as from then-U.S. Agriculture Secretary Sonny Perdue in 2019.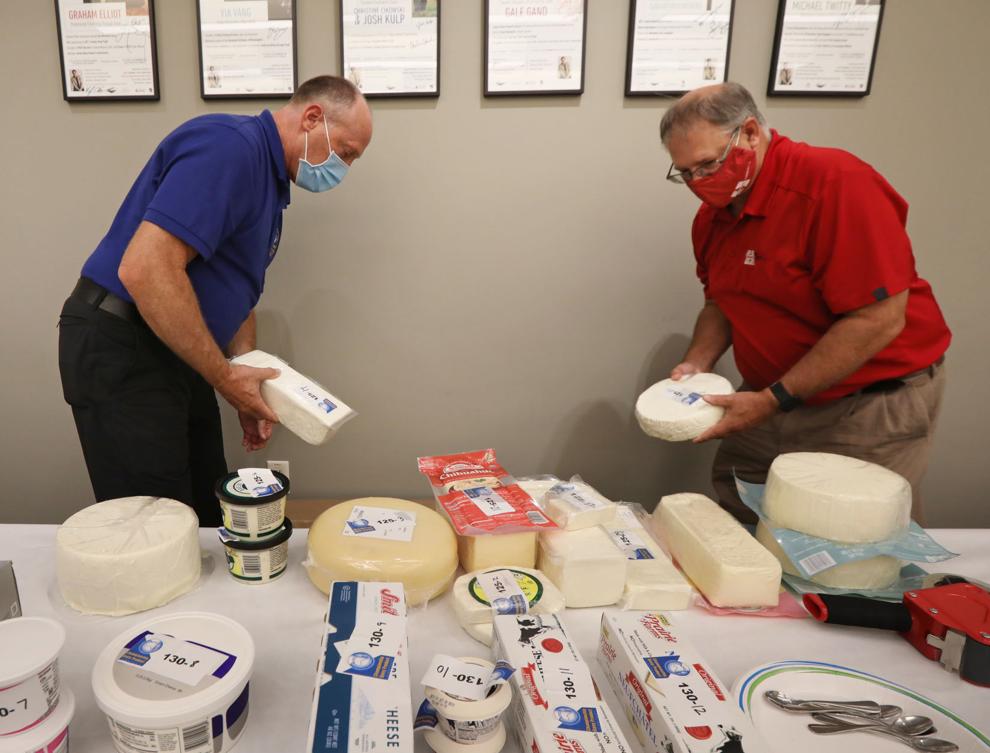 Under the proposed contract, the 2021 and 2022 events would be hosted by the county at no cost to the expo to help recoup losses from 2020.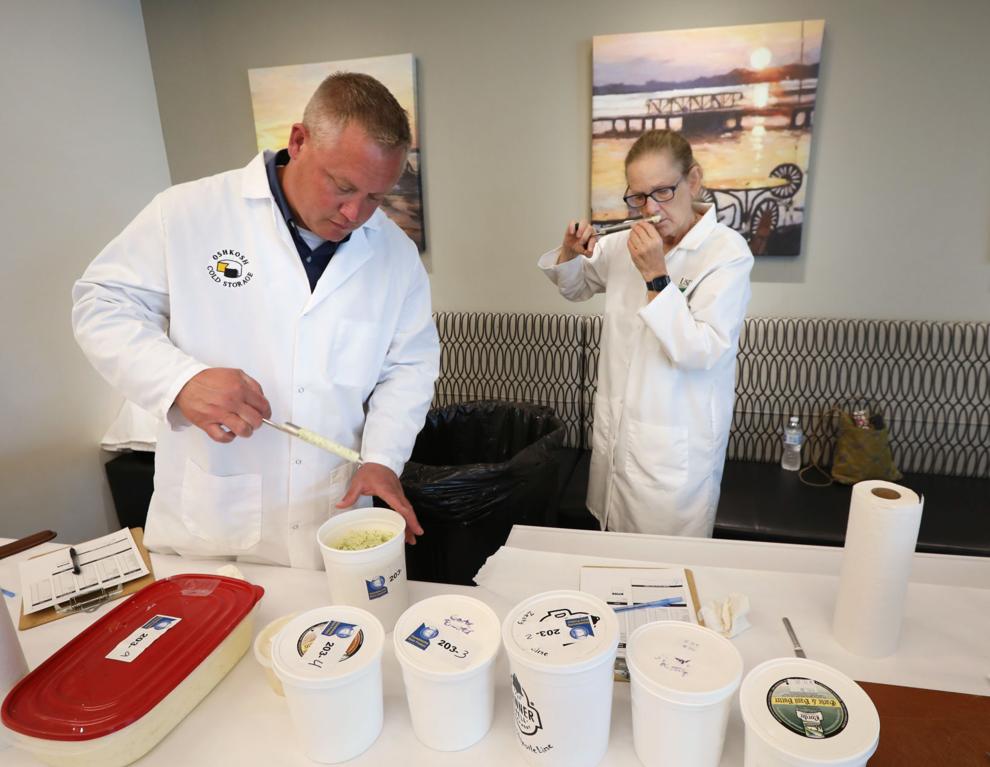 Ultimately, the expo's board agreed in April to keep the event, which has been held in Madison since it began more than 50 years ago, at the Alliant Energy Center. The board has not yet announced a formal decision on the county's offer of a contract extension, and officials with the expo and Alliant Energy Center said in a joint statement Wednesday that organizers remain focused on the fall event and conversations on the contract remain ongoing.
The expo and Alliant Energy Center said plans for the 2021 event are proceeding "full steam ahead," according to the statement, with new educational and networking features, and organizers are maintaining regular contact with county and public health officials.
The overhead doors of the New Holland Pavilions, which are used for housing cattle, will remain open during the event and the facility will make use of its on-site ventilation system, officials said.
"World Dairy Expo is optimistic masks will not be required in the pavilions during our event even if the face covering order is extended," according to the statement.
---
[Correction: An earlier version of this story had a wrong location for Crave Brothers Farmstead Cheese.] 
---