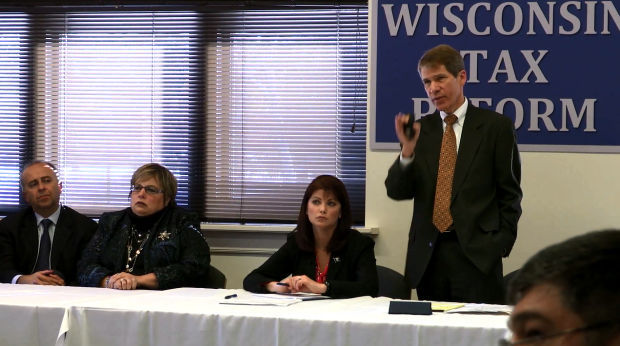 Eleven taxpayers earning more than $35 million a year are projected next year to claim $21.5 million from a state tax credit that effectively wipes out their income tax liability, according to the state's nonpartisan budget agency.
Democrats say the latest details on the state's now fully phased-in Manufacturing and Agriculture Tax Credit reveal the misplaced priorities of Gov. Scott Walker and Republican lawmakers, while Revenue Secretary Rick Chandler said in an interview the credit is working as intended to help increase Wisconsin's manufacturing sector.
Chandler says he doesn't anticipate any changes to the credit in the upcoming 2017-19 budget.
"We think it's a credit that's showing a lot of benefits the way it's structured," Chandler said. "It's one part of an overall tax reduction and economic development strategy."
The tax credit was created in the 2011-13 budget and phased in starting in 2013. It now offers a credit of 7.5 percent of an agricultural or manufacturing company's income. Individuals, who can also claim the credit if they file their taxes as a business owner or shareholder, receive roughly three-fourths of the financial benefit.
The Legislative Fiscal Bureau memo, requested by Rep. Gordon Hintz, D-Oshkosh, for the first time breaks down the distribution of the tax credit by various income levels. It is based on Revenue Department projections for 2017, the second year that the tax credit will be fully phased in.
Overall there are 10,320 individual income tax filers expected to reap $209.1 million in tax credits, or about $20,261 per filer. The group represents 0.3 percent of all individual income tax filers in the state.
Of that group, 1,270 individuals who earn more than $1 million are expected to receive $161.8 million or 77 percent of the total.
The top tier in the report, the 11 making $35 million or more, are expected to receive 10.3 percent of the credit.
"We knew Governor Walker's tax cut for the wealthy was regressive and expensive, but these latest numbers are mind-boggling," Hintz said in a statement. "Apparently he thinks it is just fine that a mere 11 individuals (could) receive over $21 million in tax breaks this year without being required to create a single job."
The LFB memo comes on the heels of a report this week with similar information from the liberal Wisconsin Budget Project finding most of the state's Manufacturing and Agriculture Tax Credit in 2016 went to individuals earning more than $1 million.
That report highlighted that the tax credit has cost the state more than twice as much as originally projected — a projected $284 million in the fiscal year that begins July 1, up from $129 million when it was originally passed. About $81 million of that amount is projected to reduce corporate taxes, while the rest benefits individual tax filers. The state collects about $8 billion in individual and corporate income taxes.
Wisconsin Budget Project director Jon Peacock said the public should be concerned about the latest data not only because it primarily benefits the wealthy, but because state economic growth has been slow "and this credit doesn't seem to be working."
"To be competitive, Wisconsin needs a very diverse economy, with a very well-educated workforce," Peacock said. "We're hurting the Wisconsin economy when we use resources for poorly designed tax credits and have to make cuts in K-12 and higher education."
Chandler disagreed with that assessment, emphasizing Wisconsin's manufacturing job growth has surpassed the national average in recent years. Though he can't directly correlate the job creation with the credit, he said he has spoken with community leaders and businesses across the state who say it has had an impact, especially as other businesses are sustained by Wisconsin's growing manufacturing sector.
He also pointed to other tax cuts that benefit the middle class, such as income tax rate cuts, a property tax freeze and deductions for health insurance premiums and child care.
"I don't accept the premise that by doing this we're not doing other things," Chandler said.
Scott Manley, vice president of government relations for Wisconsin Manufacturers & Commerce, the state's largest business lobby, disputed Peacock's assessment that the credit hasn't worked.
The Wisconsin Budget Project looked at the two years before the credit went into effect compared with the two years after to conclude that manufacturing job growth was the same, but Manley said the better comparison would be the years before and after it was enacted in 2011. From 2006 to 2010, which included the period of the Great Recession, the state lost 81,800 manufacturing jobs and since then has added 34,000.
"Any discussion about repealing or reducing the value of the manufacturing credit is a discussion about raising taxes on manufacturing jobs," Manley said. "If the Democrats want to have that debate in the second-most-intensive manufacturing state in the country, we'll have that debate and we'll win it."
The tax credit for farmers and manufacturers has gradually phased in since 2013, from 1.875 percent of income to 7.5 percent of income in 2016, effectively wiping out almost all tax liability for individuals and companies that can claim the credit. The state's corporate tax rate is 7.9 percent and the top individual tax rate is 7.65 percent.
The tax credit is available to farming and manufacturing companies, but also to business owners who file as sole proprietors, partnerships, LLCs or who own a stake in companies that pass tax liability to no more than 100 shareholders (known as "S corporations").
The tax credit was initially projected to cost the state $360 million over the first five years as it gradually phased in, but the estimate has been revised to $736 million, partly because the initial estimate didn't factor in growth in business profits after 2013, the LFB said.
Todd Berry, president of the Wisconsin Taxpayers Alliance, said there was never any study done of whether it would provide the kind of economic benefits intended.
"There are a number of strategies to grow employment and there may be others that are more or less effective," Berry said. "But we never had those discussions."